Event Information
Location
SXSW Center
1400 Lavaca Street
Austin, TX 78701
Join us on March 12th for the Conference on Food Resilience, Access and Equity (CFRAE) at SXSW 2022.
About this event
The Conference on Food Resilience, Access and Equity (CFRAE) at SXSW 2022!
March 12th 1-5pm, SXSW Center, 14th/Lavaca, Austin Texas
Schedule of Discussions:
Culinary Restoration: Decolonizing the Food Business
This panel focuses on the challenges of removing supremacist cultural practices from their companies in order to create innovative and culturally competent and aware companies, reflective of their heritage.
Joi Chevalier, The Cook's Nook; Eddie Hill, The Collaboratory; Adrian Lipscombe, 40 Acres Project; David Thomas, H3irloom Food Group; Tonya Thomas, H3irloom Food Group
Coming to A Neighborhood Near You: Changing Food Access through Mobility
Some of the discussion will include: the relationship between transportation and mobility to food; the vital need for multiple types of food access, layering types of access; the important societal need for unseen communities to have such visible food experiences.
Kacey Hansen, UT-Dell Medical Center; Ashton Cumberbatch, Equidad ATX; Lisa Barden, Keep Austin Fed; Andrea Abel, Farmshare Austin
Sustaining A Community: Direct Stories on Creating Equitable Food Access Every Day
Discussion will walk us through the challenges and work of providing food access to a targeted, core population, day in and day out.
Dr. Karen Magid, Huston-Tillotson University; Phyllis Everette, Saffron Women's Trust; Dr. Rosamaria Murillo, El Buen Samaritano; Kate Taylor, Center for Survivors of Torture
Everything Old Is (Not) New Again: Black Farm Legacies
Discussion includes a small panel of food entrepreneurs, community leaders, growers, and farmers discussing Black Farm Legacies.
Adrian Lipscombe, 40 Acres Project; Karen Washington, Rise & Root Farm; Jane Taylor, Green Thumb Farming, and Tiffany Washington, Dobbin-Kauv Farm.
This event is free and open to the public with registration, both in-person in Austin, and virtually through our livestream. Hurry though, space for all events is extremely limited.
More SXSW 2022 Food Events HERE.
Our food is directly impacted by our environment. Help us cultivate sustainable cultural norms and BYOB your own bottles & bags.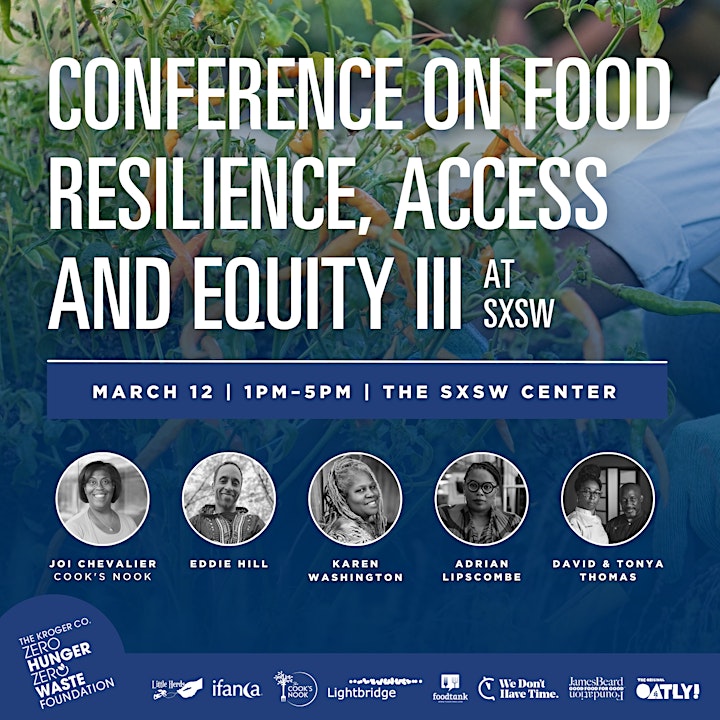 Date and time
Location
SXSW Center
1400 Lavaca Street
Austin, TX 78701