Description
Get inspired by the creative crowd at SXSW in Austin AND explore business opportunities in one of the most important healthcare hubs in the USA!
SXSW is fun, SXSW is inspiration and SXSW is THE place to be in March! SXSWeek® spans 10 days and nights from March 9 –18 in 2018. It includes several festivals, e.g. SXSW Interactive, the SXSW Gaming Conference as well as a Music and Film Festival. In 2017, direct participation in SXSWeek totaled approximately 421,900! With more than 100 talks on Healthcare alone, SXSW is also an important source of inspiration for the worldwide healthcare community. However, the sheer size of the event as well as the intense program makes it hard to focus and talk business. And: some of your most important business partners or the most exicting startups might be in front of you - but film, music and the party might make it hard to see them!
Explore Austin AND Houston!
While SXSW draws many innovators into town for a short period of time, Austin and neighboring Houston are worth a trip for any healthcare expert. They are two of the most important healthcare markets of the US with leading universities, research facilities, corporations as well as private and public hospitals. Over 200 life science companies in the region, and a workforce of nearly 12,300 are focused on the highest growth segments and research areas in the industry, including the specialties of biologics, medical devices, diagnostics, pharmaceutical, contract research, and others. More than 3,700 companies with 93,800 workers make the State of Texas one of the leading biotech states in the country!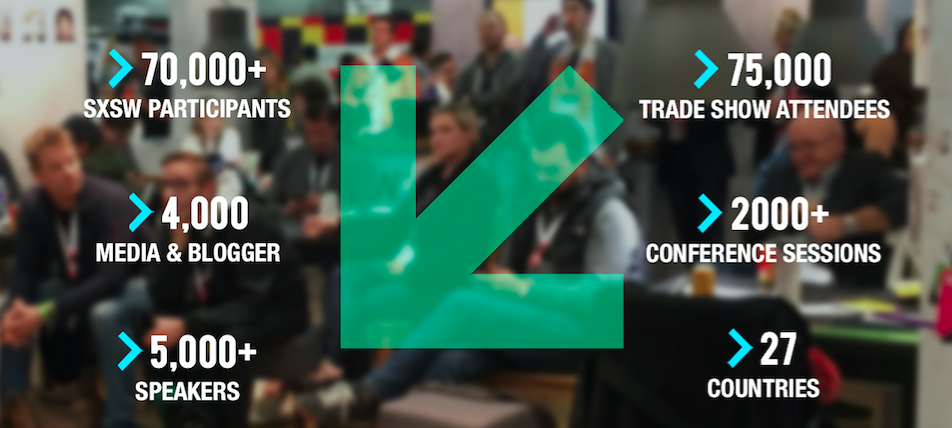 We lead the WAY!
In collaboration with SXSW, in 2018 the global think tank FTR4H (Future4Health) offers curated tours for startups, corporate innovators, healthcare specialists as well as researchers. In 4 days and small groups you will:
Meet up to 10 selected digital health influencers in two of America'ss most relevant healthcare hubs: Houston & Austin
Explore options to participate in the rapid growth of the digital health market in the US.
Scout technology and collaboration partners
Get connected by local experts with influencers such as Hospitals, Government Officials, Research Experts, Startups, Investors, Mentors and Accelerators focussing on Healthcare Tech.
Attend one of the world's biggest innovation Festivals with 70,000+ attendees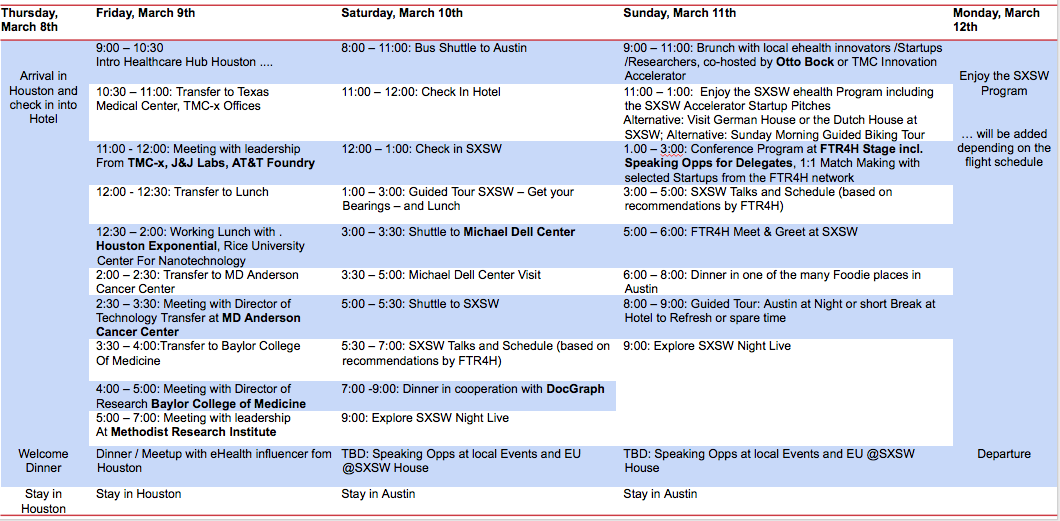 To execute the tour, FTR4H partners with some of the most active innovation and healthcare organisations in Texas such as:
Texas Medical Center
Houston Exponential, Rice University Center For Nanotechnology
J&J Labs
AT&T Foundry
MD Anderson Cancer Center
Baylor College Of Medicine
Michael Dell Center
Merck
Bayer
Interested?
Our tours cost range between USD 3,150 and USD 3,500 and include 1 Ticket to SXSW Interactive worth USD 1,125 (March 9th - March 15th), a curated 3 Day Tour in Houston and Austin with a minimum of meeting with 8 influencers, 4* Hotel Accommodation in Houston and a welcome dinner, pick-up and drop-off at the airport as well as transfer from Houston, and bike rentals in Austin. Accommocation in Austin can be provided upon request. Flights and visa are not included.


Do not procastinate! Get inspired by the creative crowd at SXSW in Austin AND explore with us business opportunities in one of the most important healthcare hubs of the USA!