Description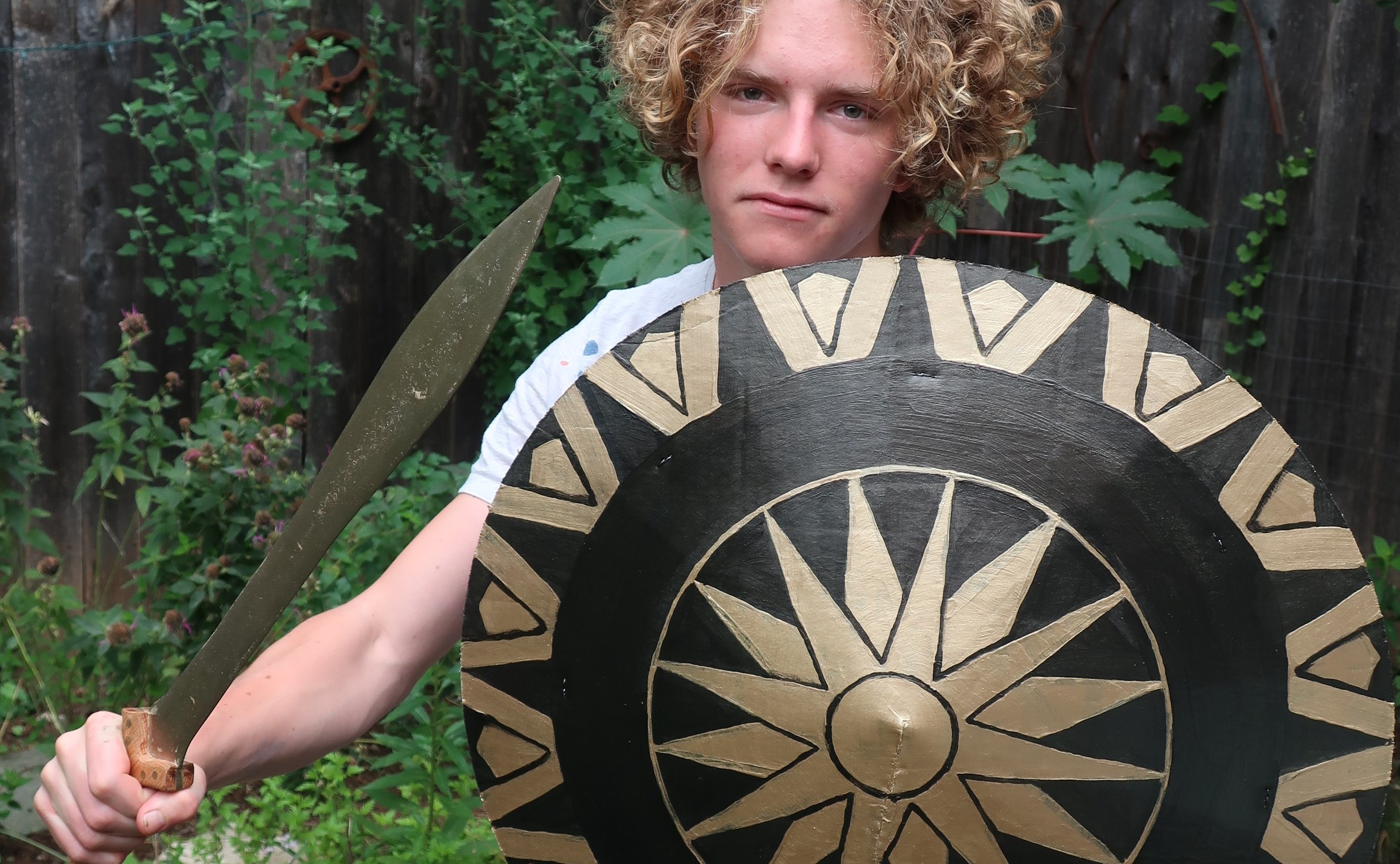 Are you a big fan of Greek mythology? Seen someone making a sword in the movies and wanted to try it yourself? Do you get excited about hands-on science involving fire? Well, this camp is for you! Join us in downtown Austin to learn about the history and science of the Bronze Age, then design and shape a sword of your own out of wood using a belt sander. Next, get your hands dirty making a sand cast of the wooden sword, and watch as we pour an exact copy of it in molten aluminum! You'll also make a leather sheath with a belt loop, so you can wear it proudly around the house or to your next costume party.
You'll also make a battle-worthy cardboard shield displaying your family crest, your love of Doctor Who, or your favorite Greek myth! When your shield is finished, you'll practice your swordfighting skills using foam short swords at nearby Duncan Park!
Later in the week, you'll learn the amazing history of Chinese rocketry and test your precision building skills by making a powerful air-powered rocket that can fly more than 200 feet! You'll also have the chance to participate in high temperature chemistry experiments, such as setting your hand on fire and watching us subject several objects to a glowing hot 1000° sword! If that sounds like your kind of sciency fun, then strike while the iron is hot!
"My son attended the first swordcasting camp; he loved it so much that he and his sister both took it the second time it was offered. It was a fantastic experience both times! They not only made sandcast swords of their design, and cardboard shields; they made rockets and all kinds of science experiments which they loved (Greg is a Middle School teacher with 20 years experience). It was a fun learning experience which I highly recommend. Both kids are talking about "next time" --- given that they usually are fairly reluctant to attend summer camps that is a testament to the awesomeness of the camp (I am thinking I may sign myself up for camp next time too!)"
"My daughter LOVED this camp! Every day she was bubbling over with excitement telling me about all the fun things they did that day. She made a sword (actually two, since she got to keep the wooden model too) and a shield, and did tons of really fun experiments. Greg was Sylvie's science teacher in 6th grade, so we knew he'd give the kids plenty of fun stuff to do while keeping them safe. We'll definitely do this and other camps again!"
"Amazing camp, kid-friendly and kid-brave! My son loved learning how to use a belt sander, molding a wood sword to cast an aluminum one! This camp was awesomely cool! Teachers were patient, kind and positive."
This camp meets at the Headwaters School campus at 807 Rio Grande in downtown Austin, and parking is easy & free. It is open to kids ages 8-14, though exceptions can be discussed on an individual basis. The crafting portions of camp take place in A/C, and the active parts of class are a five minute walk away at Duncan Park.