Actions and Detail Panel
Swolemate
Sat, February 11, 2017, 9:00 AM – 4:00 PM EST
Description
The Second Annual Swolemate Guy-Girl Partner Throwdown is a great way to celebrate the season of love with someone you love! Brought to you by 41South and hosted at CrossFit 1Force, this exciting event will feature balanced tests for Guy-Girl teams in two divisions, both Rxed and Scaled. Get your tickets now, this event sold out fast last year and it will sell out again!
SPONSOR
We are proud to announce that Lululemon Cherry Hill Athletica will be the title sponsor of the event! They will host a custom heated tent outside for athletes to hang out, warm up, wind down and even SHOP! That's right, Lululemon will bring a traveling store right to the event, so you can shop before you drop after the last workout.
PRIZES
Prize packages for both RX and Scaled divisions will include a custom in-store fit session for all 12 podium finishers! All male winners will receive a pair of Lululemon shorts of and all females will receive a pair of pants. You will get to go in store and select your favorite pair, and our very favorite Lemons will be there to help you with a fit session! Winners will also receive prize packs full of awesome loot including 1Body at 1Force massage, Steve's PaleoGoods, KILL CLIFF and much more!
RX OR SCALED?
For RX workouts, expect to move a barbell for any oly lift at 155/105 for reps, 30/24-inch box jumps, deadlifts 275/185 for reps. Proficiency in double unders, chest to bar pull ups, toes to bar, handstand push ups and muscle ups.
For scaled workouts, expect to move a barbell for any oly lift at 115/75 for reps, 24/20-inch box jumps, deadlifts 225/135 for reps. Scaling of any movement will be permitted, but those athletes who scale down below the standard will place after those who complete the workout as written.
JUST ADDED!
You asked, and we answered. We created two new divisions: Guy Swolemates and Girl Swolemates. Please resigter for this division only with your Swolemate and not with your bros. Designed for same-gender couples who want to compete together, the weights on the programming will differ slightly from Guy-Girl Rxed and scaled. There will be one podium finisher each of these new divisions. Please email erin@crossfit1force.com with any questions.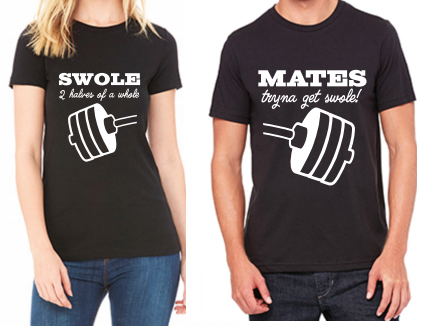 SHIRTS
The shirt design is HOT! Please note that when couples stand together their shirt will feature one barbell, and the design on the ladies shirt will mirror the design on the male shirt. If you a female who prefers a men's cut that's no problem, but it will feature the men's design and you must email erin@crossfit1force.com by January 10 with this request.
STANDARDS
Videos detailing the standards will be released prior to the event. Judges will be trained on what to look for and there will be a head judge circulating around the event to ensure standards. If you see a problem on the floor, please notify the head judge immediately. If you are interested in volunteering for the event, please order your free ticket online so we can order your shirt. You will receive a free lunch and an awesome t-shirt. All volunteer questions can be sent to sammibb11@yahoo.com
ARRIVAL TIME
Doors will open at 8am. The event will start at 9am. An athlete briefing will occur at 8:30am, but this will be brief because standard videos will be released before the event.
BATHROOMS
The 1Force facility is massive, but the traffic will be on event day massive too. Please understand that our plumbing is not designed to handle what will be walking through the door, and EVERYONE must use the Port-A-Potties located outside. 1Force can not risk our pipes imploding from the stress of pre-workout beverages! In order to ensure cleanliness and comfort, we will order more bathrooms than what we need. No exceptions will be made to this rule and the facility bathrooms will be caution taped and locked.