Description
Welcome to our family, you are invited to join us in beautiful Northern Vermont, for this one day musical happening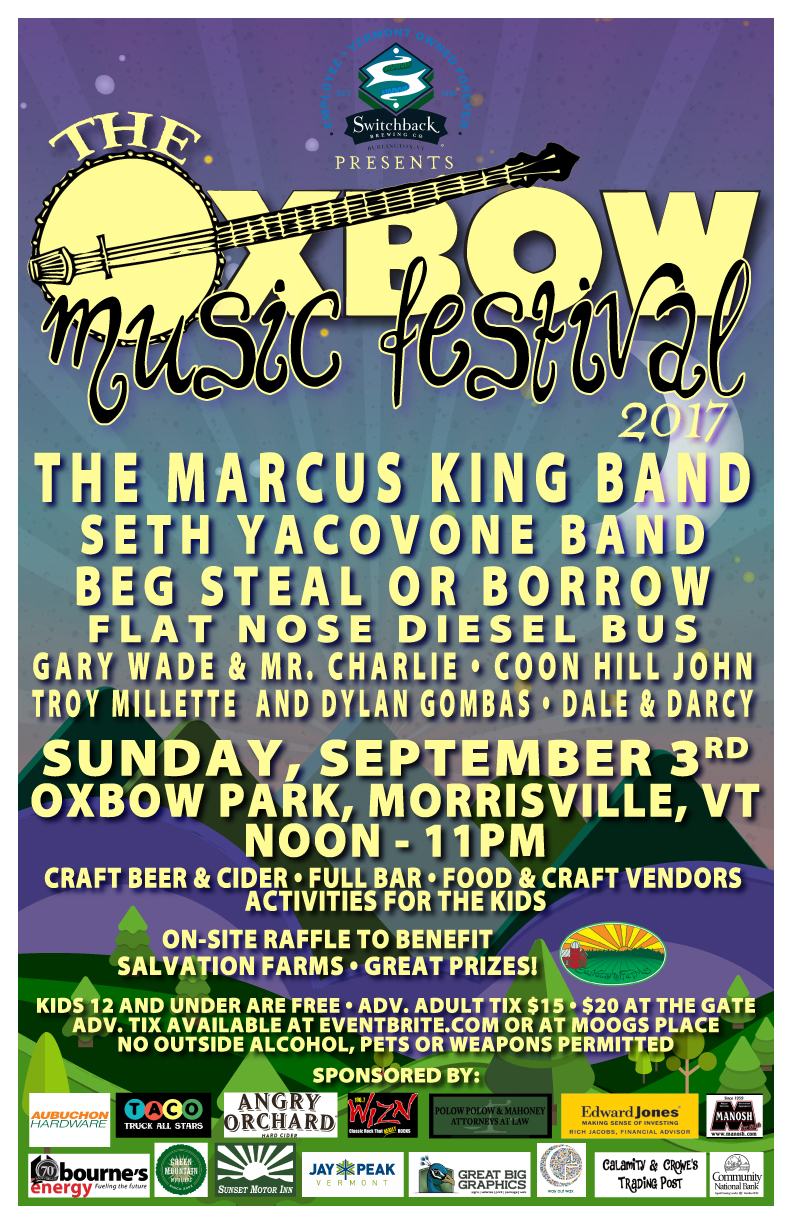 The Oxbow Music Festival, now in its third consecutive year, is an opportunity to celebrate, dance, love and socialize with your neighbors, visitors and music aficionados from far and wide. We offer our guests a one day festival experience, that focuses on the music, while not ignoring the key amenities that make enjoying our show comfortable and welcoming for you.
---
Artist Lineup:
The Marcus King Band
Seth Yacovone Band
Beg, Steal or Borrow
Flat Nose Diesel Bus
Coon Hill John
Gary Wade (MC) w/special guest Mr.Charlie as a duo
Troy Millette and Dylan Gombas (acoustic Duo)
Dale&Darcy
*Lighting Design by Illuminatrix
*Sound by JBL Sound
* Merchendise official Oxbow Music Festival T-Shirts by Calamity and Crow
More Artist TBA
---
Location
Downtown Morrisville, Vt., at the end of Portland St., past the movie theatre, just past Morrisville Lumber
10 minutes north of Stowe, 30 min. north of the Waterbury exit off of I89. 45 min east of Burlington and about 45 min south of Jay Peak.
The Oxbow Riverfront Park is a great place to host this community driven, musical get together. The luscious green fields of the park are located a short walk, or bike ride to the downtown Morristown shopping district,which offers, restaurants, shops, breweries and coffee houses. The 180 mile long, Lamoille Valley Rail trail runs right by the park, and the Lamoille river wraps the park on three sides, opening the opportunity to arrive at show via boat, bike or by foot very easily.

---
For the kiddos
> Facepainting, Henna, Tye Dye Workshop, Soccer nets, Hula Hoop's<
---
For the Adults
A full bar from Moog's Place will feature Switchback beer, and Angry Orchard cider on tap along with craft cocktails, featuring Green Mountain Distillers spirits, poured by a experienced bartenders.
There is security for your safety, facilities for your comfort and onsite FREE COLD FRESH WATER, so you stay healthy and hydrated throughout the day.
---
Sponsors
Switchback Brewing Co. is our returning presenting sponsor.
Thank you Switchback for your continued support of our show, and congratulations for becoming an entirely employee owned company this year! We love your beer and your vibe!
Calamity and Crow Trading Post:
We have partnered with C&C for three years running and it has proved to be a great choice. "Handmade aritsan tie dyes, screen printing, & custom music inspired designs" C&C are our official and exclusive Tshirt designers, producers and vendors for the Oxbow Music Festival Tshirts and stage hung taperstries.
Angry Orchard Cider, Our newest sponsor, thanks for joining the team and welcome to our family! Can't wait for a cold cider!!
Rich Jacobs, financial advisor with Edward Jones. Thanks for 3 years of support Rich!!
Bournes Energy, Thank you Bournes
Polow, Polow and Mahoney.
3 years and running! Couldn't have done it without you and your team Dave! Not only is Dave a great lawyer, he's also a huge supporter of live local music.
The Taco Truck Allstars!!
New sponsors, this crew will also be vending on site with TWO trucks. Their taco truck and their Mac Shack! Thanks for supporting our show!!
Aubochon Hardware.
Yet another local business showing their support for their local arts/music community, and they have great products!
The Sunset Motor Inn. Thanks for the support Jeff!
Way out Wax, 3rd year sponsor
Thanks Jimmy, Anna and the whole team at W.O.W.! We love your products
Community National Bank, Thanks for being their to support the arts in your community, we know how important it is to you and your customers.
---
Salvation Farms
This years on site raffle will benefit the Salvation Farms organization. Their headquarters are based in Morrisville but they're work extends around the state.
~ Salvation Farms' mission is to build increased resilience in Vermont's food system through agricultural surplus management
Raffle tickets available onsite the day of the show
---

Vendors

10 Railroad St.: just up the street from the park is their main location, they will have their "Donkey Truck" on site serving great American inspired cuisine. Burgers, BBQ
Pizza on Main: Heralded as the "best pizza in Vermont" ,we are proud and lucky to have them as a business in Morrisville, and stoked to have them slinging their legit hot pizza at our show.
Taco Truck All-Stars. Taco Truck&MaC Truck!! With a growing reputation for some of the best Taco's and yummy mac and cheese meals, no one is going hungry at our show!
Nepalese Himalyan Food, their home base is just up the street at the Riverbend Market where they have acrued a healthy following of regular customers hooked on their delicious cuisine.
Kingdom Creamery, Premium Vermont made ice cream and yogurt, fresh from our Northeast Kingdom Family Farm.

Moog's Place(full bar)
Elmore Mountain Therapeutics
Calamity and Crow Trading Post
---
Places to Stay while visiting Morrisville
The Sunset Motor Inn (802) 888-4956 , www.sunsetmotorinn.com

Located 1 1/2 miles from the park, the Sunset offers reasonable rates and comfortable, clean accomodations for the out of town traveler.
If you'd prefer to camp, please check out Elmore State Park, or one of the many campgrounds and RV parks in the area.
---
Things to bring to the show
Refillable, reusable water containers.

coolers are fine
Sun block and or an umbrella
Chairs, blankets, sun shades, pop up tents (we will help to place pop up tents as to respect others line of site towards the stage. So, no you can't pop up a 10X10 right in the center of the field in front of the stage, but rather pulled back a bit, still with a good view but behind the blanket and chair section.)
Your photo ID for will call and the bar, if you'll be drinking
---
Things to leave at home
Security will NOT permit the following:
Your pets
Glass bottles
outside alcohol, coolers are fine but we will be checking for outside alcohol as this is illegal with our permits.
weapons, we are a peaceful, family oriented event and will NOT permit any weapons.
fireworks, do I really need to say that?
BAD VIBES: ANYONE WHO IS EXHIBITING ANY BEHAVIOR THAT IS ILLEGAL, RUDE, CONFRONTATIONAL OR GENERALLY DISTRUBING TO ANYONE ELSE AT THE FESTIVAL WILL BE ASKED TO LEAVE, OR FORCED OFF Of THE FESTIVAL GROUNDS BY SECURITY AND THE AUTHORITIES WILL BE CALLED.
WE'RE A FAMILY FRIENDLY EVENT, COOL? COOL. RESPECT GOES BOTH WAYS. PLEASE AND THANK YOU
RAIN OR SHINE,TOGETHER WE WILL RAISE THE VIBRATION OF OUR COMMUNITY ON THIS DAY.
~ "Without Love in the dream, it will never come true" Robert Hunter ~