[Switch~ Ensemble] plays Ammann, Mettens, van Eck, Thorpe Buchanan, Dohi, and the world premiere of Up Close by Katharina Rosenberger
About this event
We invite you to join the [Switch~ Ensemble] for an evening of new and recent works in our debut performance of the fall season and return to in-person performance as a full ensemble. The centerpiece of our performance is a major new work by Katharina Rosenberger. Commissioned by [Switch~], Rosenberger's Up Close was composed during her Guggenheim Fellowship prior to the pandemic and workshopped in San Diego before the premiere was cancelled due to COVID-19. Up Close is performed in the dark and scored for ensemble, gesturally-driven amplification, and interactive lighting.
Tickets: $15 (adults) $10 (students/seniors) in advance. $20/15 at door.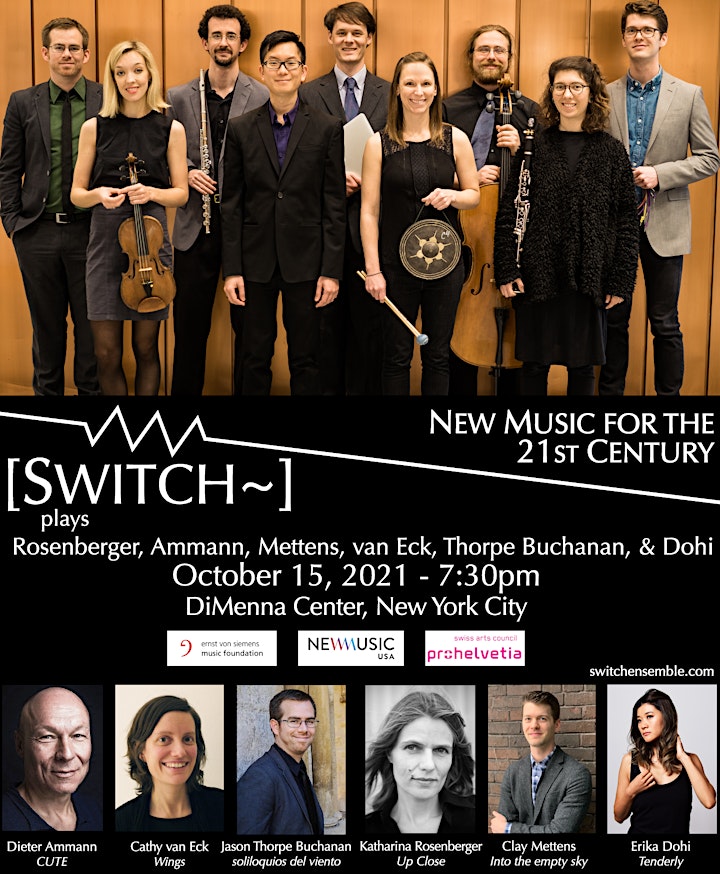 Program:
Erika Dohi: new work (World Premiere)
Dieter Ammann: CUTE
David Clay Mettens: Into the empty sky (NYC premiere)
Cathy van Eck: Wings
Jason Thorpe Buchanan: soliloquios del viento (US premiere)
Katharina Rosenberger: Up Close (World Premiere)
About:
Following a year-long period of collaborative development, [Switch~] is delighted to present the premiere of Katharina Rosenberger's Up Close for ensemble, gesturally-driven amplification, and interactive lighting. Rosenberger's use of lighting and heavy amplification foregrounds the act of performance, drawing the audience into a wondrously detailed world of microscopic, previously unheard sounds. The performers, speakers, and lights are spatialized around the audience, immersing the listener in an experience that blurs the boundaries between performance and installation. [Switch~]'s commissioning of Rosenberger was supported by New Music USA and the Guggenheim Foundation.
Our exploration of physical space continues with Cathy van Eck's Wings, which manipulates the resonant feedback frequencies of a room. Three performers' movements with large sounding boards create a constantly evolving landscape of drones and pulsations. CUTE, by Dieter Ammann, showcases our flutist, Zach Sheets, and clarinetist, Madison Greenstone, in a work of radiant virtuosity and pale delicacy.
Another [Switch~ Ensemble] commission is a brand new collaborative work from Erika Dohi, described as a "virtuosic" (NY Times) and "barrier-defying artist" (Mix Magazine). Osaka-born and New York-based pianist Erika Dohi is a multi-faceted artist with an eclectic musical background, and joins [Switch~] for this evening's premiere of her new work.
We also highlight two works by [Switch~] composers Jason Thorpe Buchanan and David Clay Mettens. Thorpe Buchanan's soliloquios del viento, written in 2016 for the Talea Ensemble and EXAUDI vocal ensemble at Royaumont, was revised in 2017 to embed the six voices, saxophone, and viola parts within the electronics, superimposing veiled readings of Neruda's poetry upon one another with layers of rich, complex instrumental and electronic textures, performed here in its US premiere. Throughout Into the empty sky, Mettens's subtle use of electronics generates uncanny instrumental mimicries, enabling the performers to adopt guises of other members of the ensemble. Mettens' Into the empty sky was premiered in 2017.
These five works uniquely complement Rosenberger's in their deeply knowledgeable and refined embodiments of each instruments' technical capabilities, harnessed for brilliant color and musical effect, as well as conceptions of acoustics, performance, and stagecraft that produce captivating, three-dimensional works unlike common listening experiences.
This performance is made possible thanks to the friendly support of the Ernst von Siemens Musikstiftung, the Pro Helvetia Foundation, and New Music USA.
Organizer of Switch~ plays Rosenberger, Ammann, Mettens, van Eck, Thorpe Buchanan, Dohi