Description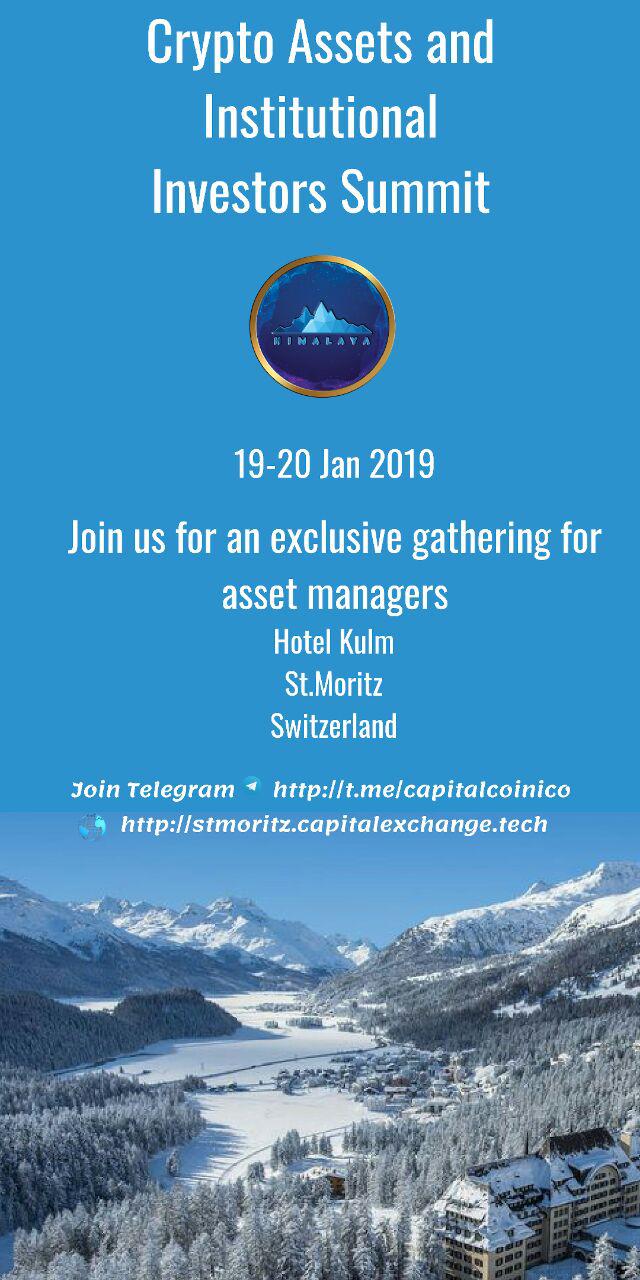 Join us during the World Economic Forum in spendid alpine surroundings in the most luxurious, unspoilt and blissful Swiss resorts for 2 days of exclsuive networking with the institutional investors/ Asset managers and global thought leaders in crypto to explore the theme of Institutional Capital in Crypto.
VISIT OUR WEBSITE FOR DETAILS:
http://stmoritz.capitalexchange.tech
Register for tickets here
http://cryptoassets2019.eventbrite.com
AGENDA TOPICS:
Listen to expert investors and crypto fund managers

Meet the most exciting blockchain startups

Understand crypto regulaions in Switzerland and Liechtenstein

Be the first to learn about Smart Securities and developments in the Security Token landscape

How to create and launch an ISTO (INITIAL SECURITY TOKEN OFFERING), as an alternative to IPO

Understand risk-management, custody and other operational problems of investing in and managing crypto funds, crypto assets

Learn about institutional grade custody solutions and other infrastructure coming to crypto economy

Network with early institutional investors in crypto over 2 full days at the majestic alpine luxury resorts

Forecasts on crypto trends in 2019 and beyond

How to launch a crypto focused fund

How to identify the best ICOs and STOs

Learn about crypto fund management from veterans who manage institutional money in crypto
WHO WILL YOU MEET ?
Accredited Funds

Family Office Investors

Pension Funds & Insurance Asset Managers

Chief Investment Oficers

Endowments

Foundation Managers

Select Crypto Projects : ICOs & STOs
WHO SHOULD ATTEND?
Blockchain entrepreneurs

ICOs & STOs currently fundraising

Risk Managers

Blockchain Researchers

Academicians

Blockchain Consultants

Crypto Investors

High Networth Individuals exploring Alternative investment opportunities

Representatives of Funds

Crypto media
WHAT WILL BE DISCUSSED?
A snapshot of the year gone by - 2018 and lessons for the future

Select Pitches by ICOs , STOs & Crypto funds

Industry Outlook : When will the crypto winter end?

Investment theses presented by leading Digital Asset Investors

Global update on crypto regulation

An overview of Stable Coins

An overview of new products being launched in crypto

The emerging landscape : Wall Street Meets Crypto

Is there any good news for crypto in 2019?
DATES
19 January 2019
10am to 6pm
Investor Pitching & Networking Event
The Kulm Hotel
Evening Recreation & Private Neworking Parties
20 Janaury 2019
10am to 6pm
Swiss Crypto Assets Summit
Suvretta House
Evening Swiss Dinner Experience
EMAIL US FOR ENQUIRIES
TEAM@HIMALAYALABS.COM
JOIN US ON TELEGRAM
VISIT OUR WEBSITE FOR MORE DETAILS
HTTP://STMORITZ.CAPITALEXCHANGE.TECH
ABOUT THE SPONSOR
HCX (Himalaya Capital Exchange): A Security Token Issuance Platform

Himalaya Capital Exchange is a project aimed at creating a tokenised platform for Initial Public Offerings (IPOs) on a global, borderless, stock exchange. The Platform As a Service eco-system would offer an alternative to investment banks that are currently mandated to lead-manage IPOs, and give corporates, governments, and other entities raising public capital a less costly, and more democratic option with instant access to global investors. We are giving entrepreneurs everywhere the chance to create their own shares and bonds, and raise money within minutes from across the world frictionlessly. The platform would run on smart contract algorithms and at a later point make use of Machine Learning and AI in matching and creating a marketplace. This will be a first of its kind securities marketplace governed by token holders. Currently HCX is backed by John Puttick (Founder and Chairman of GBST), Arun Sharma (Deputy Vice-Chancellor at Queensland University), Leanne Kemp (CEO of Everledger), Ghanshyam Dass (ex Director of NASDAQ & Board Member of KPMG), Mario Pazos (Pazos Law, USA) and others. Currently in private token sale before launching the public pre sale of tokens in 2019.

HCX White Paper: http://wolfgangflatow.com/himalaya
HCX Concept Paper3: http://himalayalabs.com/Himalaya-Executive-Summary2.pdf
http://dgcamp.io
https://youtu.be/oSNNzFxuzrg

MEDIA PARTNERS:
ICO Holder
ICO Birds
Smart Money Match
EURUS Forum
Krypton Events
REGISTER TODAY
http://cryptoassets2019.eventbrite.com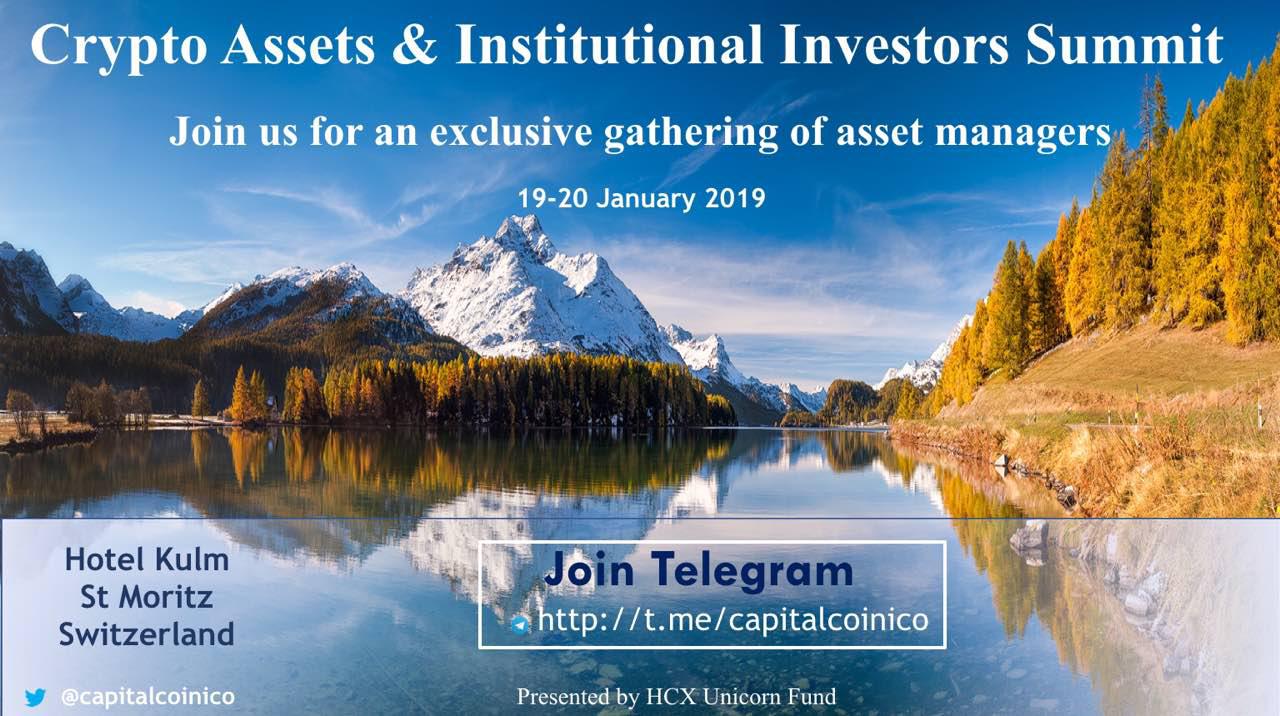 Organizer of Swiss Crypto Assets Summit St Moritz
Fintech Storm Series is a spectacular monthly series which started at Google Campus London for fintech folks by fintech folks. We started in 2014 and have hosted around 100 events featuring 100s of fintech & blockhain companies so far . Our famous speakers include Vitalik Buterin, Founder of Ethereum, Nick Szabo. We have featured 100s of companies and CEOs before they hit big : such as Blockchain.info, Revolut, Currency Cloud, Boku, Zapp, Bango, Everledger, Realex Payments, Sage Pay, Azimo, Invoice Sharing, Friendly Score, Invest Up, Azimo, TransferGo, Ixaris, YoYo, iZettle etc. 
To see detailed profiles of speakers and to register visit:
http://fintechstorm.eventbrite.com