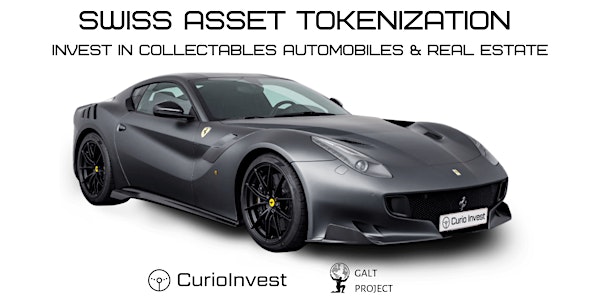 Swiss Asset Tokenization. Invest in Collectables Automobiles & Real Estate
Asset Tokenization. Invest in Collectables Automobiles & Real Estate
When and where
Location
Absinthe Osaka 1-2-27 Kitahorie, Nishi-ku South Yotsubashi Bldg. 102 Osaka, 550-0014 Japan
About this event
All you need to know about tokenization from experts in collectable cars and real estate!
Let's talk about the hottest topic in blockchain: asset tokenization! It's a good opportunity to discuss it during Osaka Blockchain Week. We invite people who interested to know more about an innovative alternative of raising funds for a start-up.
The representatives of Swiss start-up "Curio Invest" and international start-up "Galt Project" will share their experience plus you will have a possibility to network with the people who are passionate about that topic.
The event starts at 7 pm in the Bar 19 - Inside Osaka, with free drinks, pizzas and nice people to hang out with!
Agenda:
7:00 Welcome and introduction
7:30 Vladimir Kislinkii (CurioInvest): Tokenisation of assets. Making money by investing in rare cars or supercars
8:00 Nikolai Popeka (Galt Project): How to build international decentralized land and real estate property registry, governed by DAO of property owners. Consistent accounting of land and real estate by unique geographical coordinates in smart contracts. Instant real estate transactions on the blockchain. Collective real estate investment. DAO of homeowners.
8:30 Break networking (snacks & drinks)
Meet the organisers:
Curio is using blockchain technology to create new Digital Asset Class that opens the global collectors car market to millions of investors around the world in a trustworthy and transparent environment. Our regulatory compliant framework, turns collectables like rare cars into shares represented by stable tokens. This asset class has outperformed the S&P500, gold and other index since 2008
Galt Project is an international decentralized land and real estate property registry, governed by DAO, and self-governance platform for communities of homeowners on Ethereum. Unlike the state property registries, the Galt Project is managed by a decentralized community of property owners using smart contracts. Property records creation, resolution of disputes between owners, trading, mortgage, title insurance and many other operations are performed on smart contracts. Also property owners can unite in communities for voting, fundraising and managing common property.