Description

SWIRCA BrewMile
Friday, July 22, 2016 // 6 pm
Historic Bosse Field Parking Lot
Four beers, four laps, make the run before the SWIRCA BrewFest. This official pre-event is the perfect way to kick off the BrewFest weekend. The race will be held on Friday, July 22nd at Historic Bosse Field's parking lot. The race will begin with a 12 oz. beer that will be consumed in the "Chug Zone" before the runner can begin their lap. Four laps, four beers. We will have three different race categories- competitive, relay and fun run.
This race will follow official Beer Mile Rules. To The Finish LLC, will provide the bib chip timing.
Race Categories
Competitive- This race is for the serious runners. The fastest male and female runners will become the King and Queen of the BrewFest and receive a prize package including VIP tickets.
Relay- Groups of four people each drinking one beer and running a quarter mile (1 lap).
Fun Run- Not a serious runner? No problem! Want to walk the race? This run is for you. Run, walk, skip, do whatever you need to do to finish the race. The Fun Run will consist of four beers and four laps.
Registartion for the BrewMile will begin at 5 pm. The race schedule will be released closer to the event. Other activities for the night include a beer garden, food vendors, human fooseball, cornhole, music and more!
The beer will be Coors Banquet in 12 oz cans. No outside beer may be used.
Runners must be 21 years old or older with valid ID to compete or enter the beer garden.
Costumes are encouraged!
Designated Drivers are required.
No runner will be allowed to compete until their desigated driver has signed in. Relay teams may have one desginated driver per team.
This is a rain or shine event. No refunds can be issued.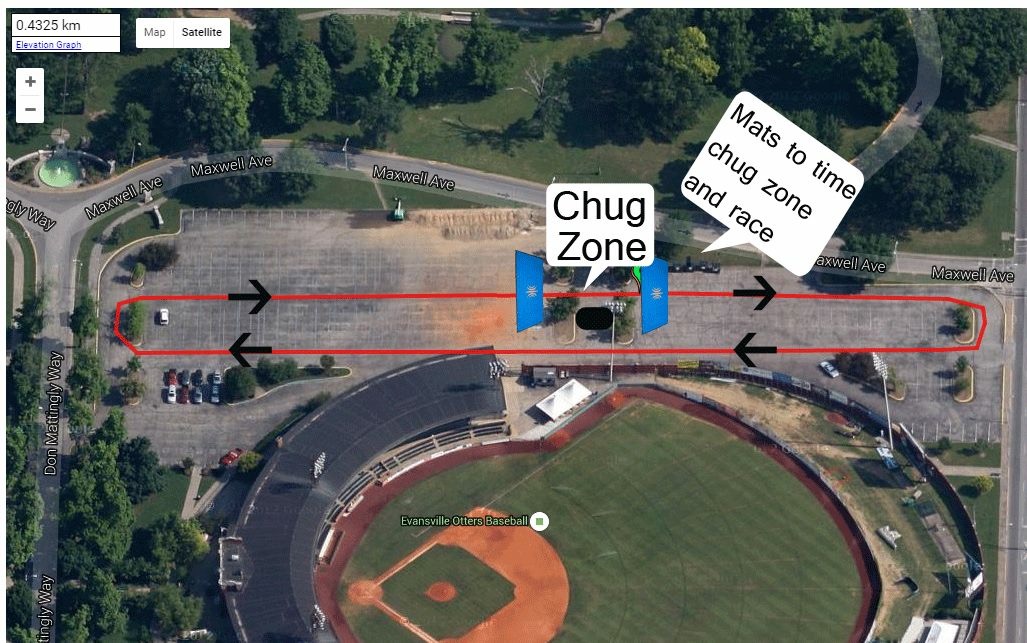 FAQs
Do I have to have a Desginated Driver?
Yes, every runner is required to have a designated driver. No runner can compete until their DD has signed in. Relay teams are permitted to share one DD per the four team members.
Are there ID requirements or an age limit to enter the event?
All runners must be 21 years or older with a valid ID. No one without an ID will be permitted to run. Anyone wanting to enter the Beer Garden must also be 21 years or older. Guests coming to watch can be of any age.
What are my transport/parking options getting to the event?
As the race will occur in the parking lot, parking will be available across the street at Crawford Doors and within Garvin Park.
What can't I bring to the event?
CAN'T BRING: weapons, open bottles, glassware, alcohol, drugs or paraphernalia or firearms.
All beer for the race will be provided by SWIRCA. If you wish to have an additional drink, you can purchase one in the beer garden. No alcohol can leave the beer garden.
Can I bring my own beer?
No, the beer will be provided by Coors Brewing Co. To comply with the Official Beer Mile rules, the beer must be greater than 5% alcohol served out of a 12 oz. can. We will be serving Coors Banquet beer.
We will also have a beer garden selling beer during th event. This is open to runners and spectators.
Can I have a pinch runner/ pinch drinker?

No, each competitive runner must drink the beer and run the lap themselves.
If you feel as if you are unable to finish the beer or race please stop. Listen to your body and do what's best for your health.
Can I shotgun/ puncture/ bong the beer?
No, the can cannot be punctured any way. This will keep the race consistent with official beer mile rules.
Do I have to bring my printed ticket to the event?
We will have registration lists at the door but to be safe, please bring your ticket with you.
What happens if it rains?
This is a rain or shine event. If severe weather hits, we will assess whether to cancel or not. A cancellation will be notified via email and social media.
What is the refund policy?
This event is a fundrasier for SWIRCA & More, we can't refund tickets.
Where can I contact the organizer with any questions?
Any additional questions can be sent to brewfest@swirca.org.