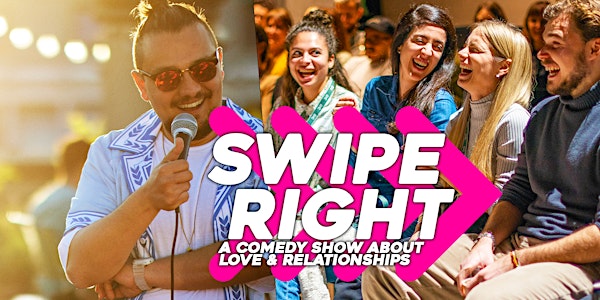 Swipe Right Strasbourg: A Comedy Show About Love, Dating & Relationships!
Swipe Right Strasbourg: A Comedy Show about Love, Dating & Relationships! At LAAB Strasbourg
When and where
Location
LAAB Strasbourg 1 Rue du Bain Finkwiller 67000 Strasbourg France
About this event
Swipe Right : A Comedy Show about Love, Dating & Relationships! At LAAB Strasbourg!
You call it madness, but I call it love. This Comedy Show is for the romantic singles, couples & anything else in between! Comedians will do their best material on love, dating, sex & relationships! Also expect to play some interactive games, including a dating/relationship advice segment, game show, q&a & lots of spontaneous fun! It is a one-off show, so do not miss this one!
A purpose of human life, no matter who is controlling it, is to love whoever is around to be loved. That's what American Writer Kurt Vonnegut thought. So come out & show some love at this very special night! As always we will also feature a mix of our loveable & hilarious local comedians! Come on down for an evening of hilarity, drinking and great comedy!
Featuring:
AHMET BILGE is a mess. He grew up in the US, matured in Turkey & now he's slowly decomposing in Switzerland. Despite being a "chubby young starving artist" in one of the world's most affluent countries, his outlook on life, witty jokes and embarrassing personal anecdotes is honest, silly & likeable. He loves to speak with the crowd & perform off the cuff while playing around with the audience. Rising to be one of the top players in Switzerland, he is branching out to the World Wide comedy scene with performances in Thailand, Germany, Austria, Slovakia, The Czech Republic, Hungary, Luxembourg, Amsterdam & France.
RUBEN GARCIA is a New Yorker by birth & Dominican by blood but he's feeling quite at home in Europe, charming crowds with his laid back natural Comedy stylings as well as his razor sharp observations about the idiosyncrasies of European life. If you see him once you'll never forget his performance. A seasoned NYC comedian, he has already made his mark in Europe performing on some of the best stages in Germany, France & Switzerland!
More local comedians will be on the lineup!
Frequently Asked Questions:
-------------------------------------------------------------------------------------------------------------------------------------
Q: Is the show in English?
A: YES. Swipe Right is always in English.
Q: What's the format of the show?
A: It's a very unique mix Comedy night filled with :Standup Comedy, Q&A's, Spontaneous Crowd Work Moments & even a Comedy Game Show. We have enough entertainment for the whole night & there'll be something for everyone!
Q: Do I have to participate in the Q&A or Game Show?
A: No of course not! But the Q&A is anonymous & the Game Show is only for willing participants, so if you like you can just sit back & enjoy the night, but if you want, you can be more involved. Remember: the more involvement, the higher the chances that you might get lucky!
Q: Is the show for singles or couples?
A: Both. It's about Love, Dating & Relationships so we will cover any & every type of situation. The show is also a great place to meet other people in a casual & fun environment.
Q: Is it going to be funny?
A: You betcha.
Any Other Questions:
Email: theamericanstandupshow@gmail.com with the title "TheASSHEI"
Doors at 18:00 pm,
First show at 19:00 pm.
Second show at 21:00 pm
Estimated show end: 23:00 pm
Legal Disclaimer: Comedians may film their sets as well as the audience during the comedy show. By buying a ticket you consent to being filmed in this public space. If you ever have a problem with any clip published online you are very welcome to contact us & ask to have it removed, we are happy to accomodate you. Thank you for your understanding.