Swing That Cat with guests Hotsy Totsy - Jazz It Up Philly Spotlight - Live at Vesper

Wednesday, October 12, 2016 from 7:00 PM to 10:00 PM (EDT)
Event Details
Swing That Cat with Special Guests Hotsy Totsy
Performs at Jazz It Up Philly Spotlight
Jazz It Up Spotlight "spotlights" both, Philadelphia's talented, up-and-coming, jazz artists as well as established jazz artists. Reminiscent of the great supper club era of days gone by, take a musical journey, through the timeless sounds of Jazz with Swing That Cat with special guests Hotsy Totsy. Come see these incredible artists, who revel in the unbridled fun, energy, and musicianship that capture the essence of the Jazz, as we present music that has defined many generations. Dress to impress and enjoy.
Cocktails, Dinner, Dancing and Fun!
Doors open at 7pm, show starts at 7:30

Discounted validated parking right next door.

Cocktails in the lounge or dinner in the dining room.

Special Restaurant Week 3 Course Dinner for only $35

100% of the ticket Price Goes To Support Live Jazz and Blues Artist and Supporting Industries In Philadelphia,  Enhancing Our Creative Economy. When you buy a ticket you help support Live Jazz & Blues Thrive and Survive.
Discounted validated parking right next door.
Also Join us for the After Party  with more Live Music at 10pm down in the secret hidden Speakeasy, (Be Sure To Get Your Special Password at the Show.)
Starring Swing That Cat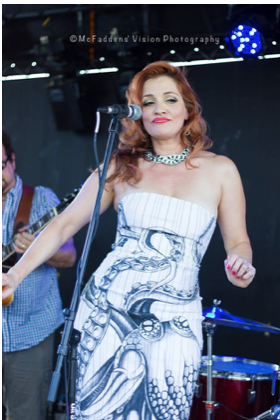 Front and center is Michele Peraino, a modern day Rita Hayworth meets Catwoman, with a vocal range and style that blends the sultry Jazz sound of Sarah Vaughan, with the bawdy early Rock and Roll roar of Etta James. 
But hang on for the twist -  Swing That Cat! also features Hugh Alan Luck on flute as their Lead Guitarist. Backed by more crazy cats including Chris Peraino (Guitar), Pat Ream (Bass) , Jim Cooper (Drums), Andrew Donaghy (Saxophone) and Rick Yensen (Trumpet, Trombone, Tuba) they all call South Jersey their home, and have been building a following in the Philadelphia area that draws fans from all around.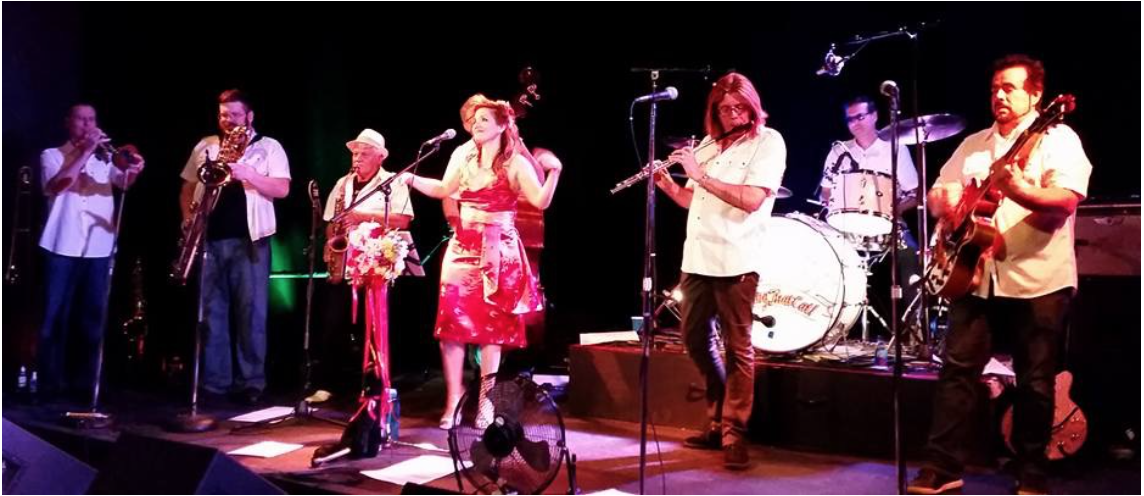 Swing That Cat! is not simply a throwback band. They draw their inspiration from a time when one hand of Swing was moving into Jump Blues, Rock and Roll and the other was headed for Bebop Jazz.   Their original compositions sound fresh and inventive, and even if you are not up and dancing, you find yourself bopping in your seat.
Recently Swing That Cat! recorded a live show at Philly Sound Studios and is planning for a release of an album and film of the event in late 2016.  
What the Band Says: " We've been featured and accepted in a wide range events, clubs and festivals backed by Rock, Jazz, Rockabilly, Swing, and Blues communities.  We're able to draw a rock crowd, a jazz crowd, a rhythm and blues crowd and stand out within each of those fanbases.  Why? Well we built this band for perform and never forget that we want to entertain the audience, but get them moving to the beat as well. Hey – If you come see us and your evening had a happy ending, then we did ourselves right."
On The Band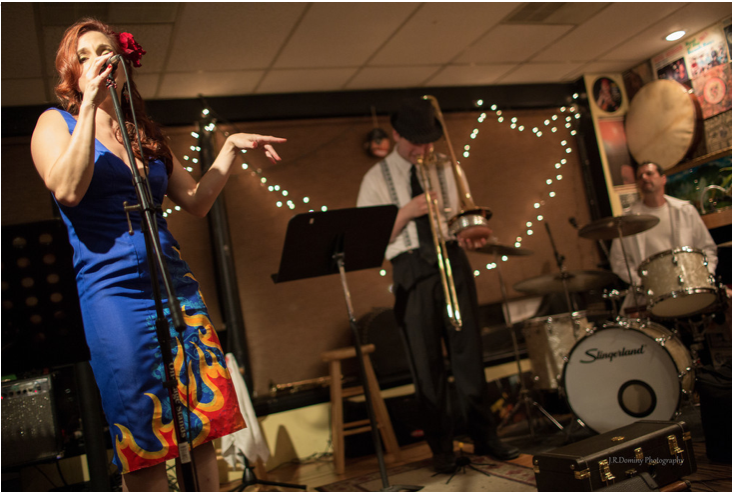 Swing That Cat! came together in 2013 as the next step in Michele's journey that blends music, art and a passion for creating.  What started out as free-form jam sessions, with as many as 13 musicians whom had met playing the annual One Night of Song and Dance in Wenonah NJ, quickly gelled into a tight group of people who enjoyed playing together.  The tipping point came when a friend said, "you should have a band", and Chris Peraino looked at Michele and said, "We are all in this together, I'll carry, but you have to lead."
In just over 3 years, Swing That Cat! has played 100 dates from clubs like KungFu Necktie in Philly to Shrine in Harlem, to Festivals like Hollystock, Ladybug, and the Tall Ships, to unusual opportunities such as the Mutter Museum, and anchoring the house band for WXPN's Monster Ball at the Trocadero.  
"Being selected to open for Cherry Poppin Daddies in 2016 was quite an honor and a validation that we are doing something right", say Michele Peraino, "We looking to make sure we live up to the task, turn a few heads, and shakes some tails!"
On Influences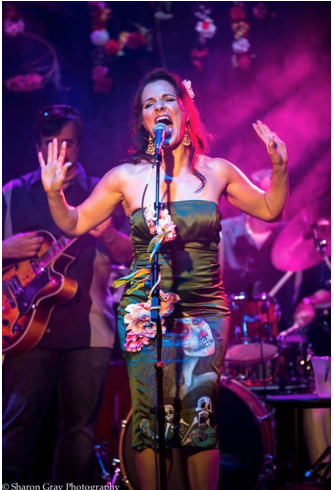 "What drew me to the music that we play and how we perform is my love for old musicals from the Golden Age of Hollywood," says Michele, "The combination of glamour, style, talent and showmanship inspires me to not just sing, but give the audience a performance that entertains."
"At first people thought Swing That Cat was just a cover band with a retro style," says Michele with a slight grin.  "So they were surprised when we started writing originals and performing in venues supporting independent artists.  Sure we do some standards, and we are inspired by Sarah Vaughan, Etta, Ella and Billie Holiday, but we also love what's going on in Europe with a new generation of singers like Imelda May, Cara Emerald and the Speakeasies.  It's proof that this music is not trapped in an Era, and can live and breathe today alongside all genres."
Special Guest Hotsy Totsy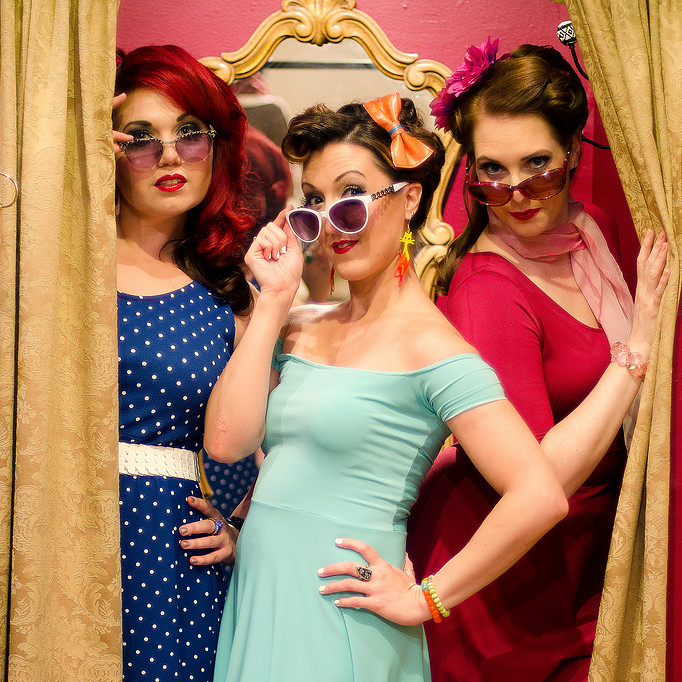 Long time best friends Jenny Pilong, Diana Carino, and Amanda Brizzi (each accomplished performers in their own right) decided that they were stronger together than apart (#thepowerofthree). The girls went on to, together, create an original sound that manages to both highlight their individual talents while fostering unique harmonies and a seamless blend of voices. Hotsy Totsy prides themselves on a sound that is more about the whole...three voices becoming one...than any, one, single voice. The result is a refreshing, new spin on the girl groups of the 1940s, 50s, and 60s. High Heels and Harmony. 
"Hotsy Totsy is their time machine. The three singers climb out and it's 1948 onstage, those giddy post-war days of swing and songbird groups like the Andrews Sisters, and they come back and it's 2016, and here they are. But Hotsy isn't peddling retro camp.
Below the surface of the makeup, it's all about their harmonies, soaring and intricate, as the Collingswood-based trio salutes the jitterbug girl groups but fashions its own contemporary sound in the quest to be not just different, but memorable."
                                

~ John Scanlon, COURIER POST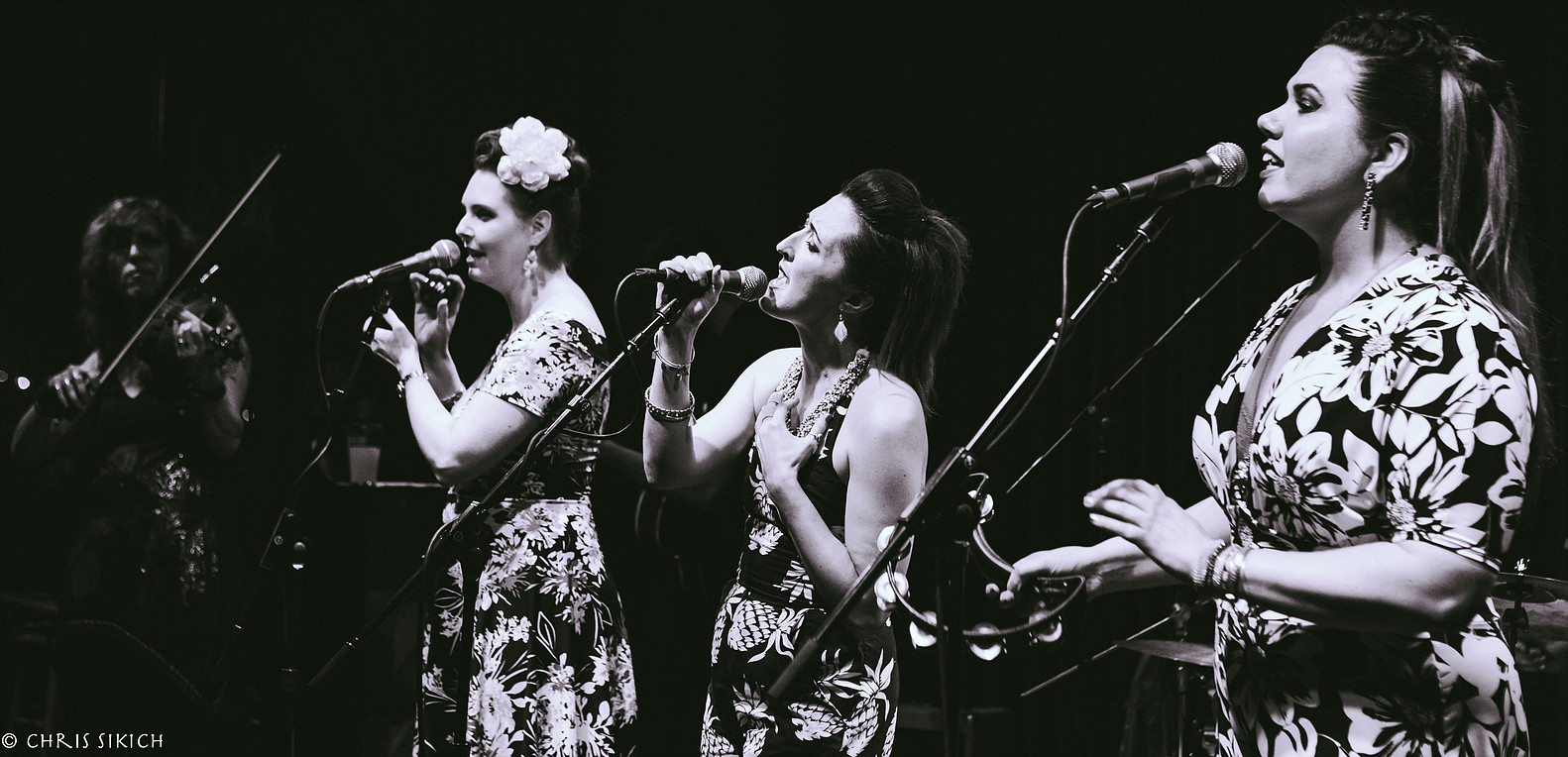 Hotsy Totsy made its Philadelphia debut in the winter of 2014 at Ortlieb's Jazzhaus as part of a Patsy Cline and Willie Nelson Tribute show put together by Dani Mari of Brookladelphia. It was there that they debuted their very first original song, "Baby Bye Bye". Since then, the girls have been on a roll, playing venues that include: Philadelphia's World Cafe Live, Union Transfer, and the TLA, Smyrna Opera House in Delaware, Tellus 360 in Lancaster, PA, Bus Stop Music Cafe in Pitman, NJ, and The Brooklyn Music School in NYC. As they honed their stage skills, they continued to write and arrange new material, ever inspired by the many gracious and amazing artists they were privileged to encounter along the way.
Last spring Hotsy Totsy ran a successful Kickstarter campaign and went into the studio with accomplished singer-songwriter, composer, and producer, Andrew Lipke of The Record Lounge. Their debut album, entitled: Fresh Pineapple, was released June 16, 2016.
Your Master of Ceremonies Buddy Scheerer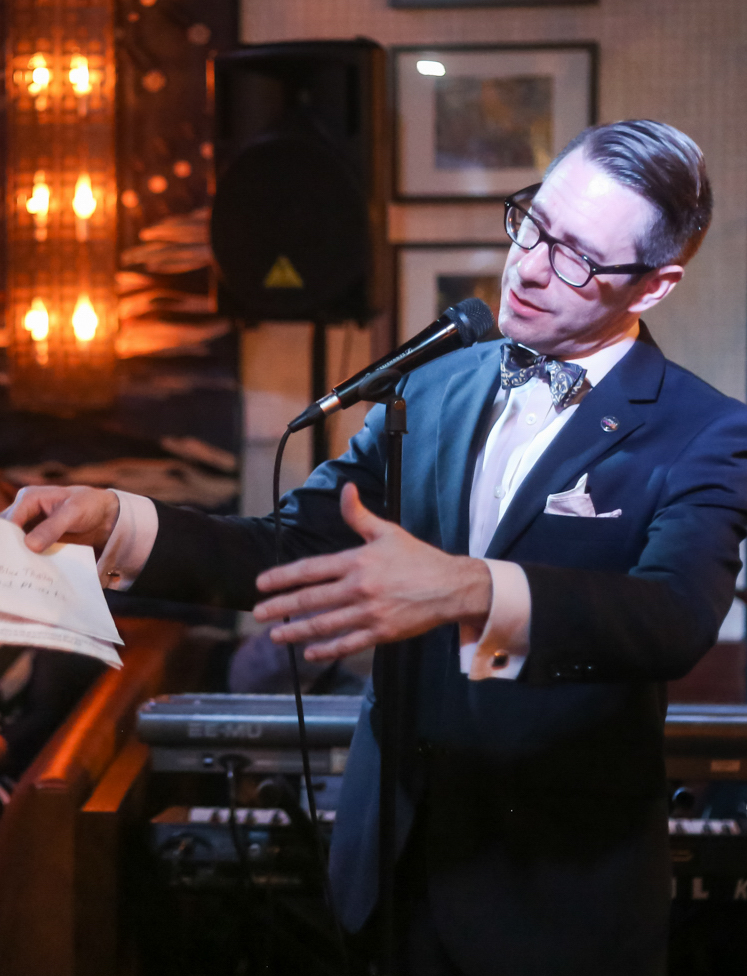 Buddy Scheerer is currently Director of Sales for The Philly POPS; his eighth year with the company. He has held positions with such local cultural organizations as The Philadelphia Orchestra and The Annenberg Center for the Performing Arts. He is an ambassador of all things music and very much enjoys connecting audience and performance; he may also enjoy the spotlight…just a little.
The experience that is Vesper.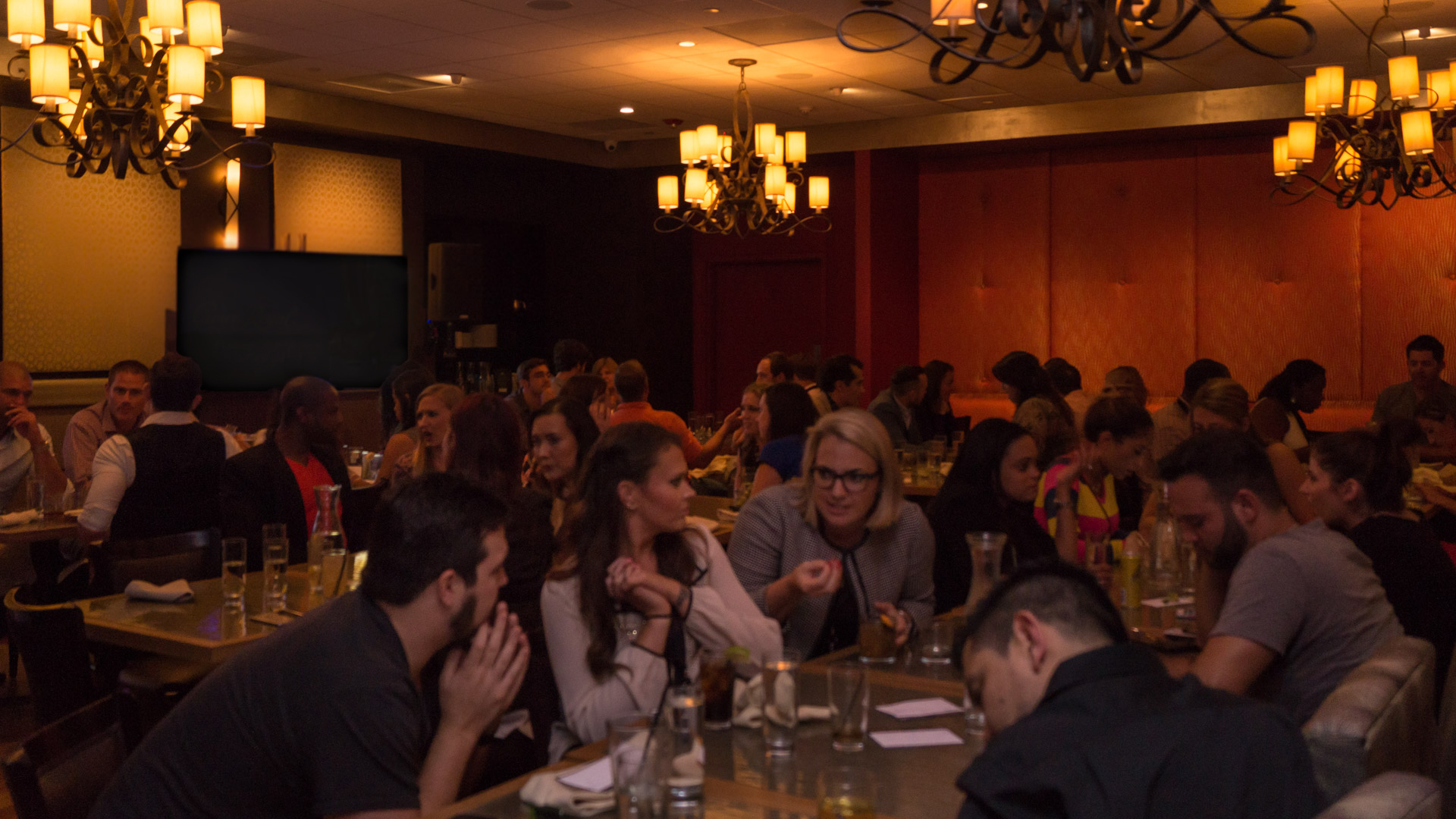 A hideaway in the heart of Philadelphia, Vesper is a modern-day supper club with an Old World feel. We invite diners into an era when meals are events to look forward to and luxuriate over: appreciating the complexity of a cocktail, every fresh ingredient, and your companion's conversation.
With its shadowy past of mob deals, bathtub gin, and general debauchery, Vesper was re-invented in 2015 by owners Brendan Smith, Chuck Ercole, and John Barry. The restaurant is a relaxing, removed oasis for an entire evening's worth of entertainment.
During Vesper Club's mid-century incarnation, prohibition lured out a mischievous side in every person, however there were also stringent rules of etiquette to abide by in polite society. Etiquette guides offered advice such as "do not shake a lady's hand first, let her do it."
While we're not so stuffy or particular nowadays, we pride ourselves on offering a refined environment for enjoying a cocktail after work, a client lunch, or date night. We advise 'smart casual' dress and appreciate your leaving flip flops and baseball hats for more desultory environments.
At Vesper, you may come for Happy Hour and wind up dancing to our live music until last call. We recommend making meal reservations and allowing yourself to open up to an evening of possibilities.
Come Join The Fun an Have A Great Time With Us!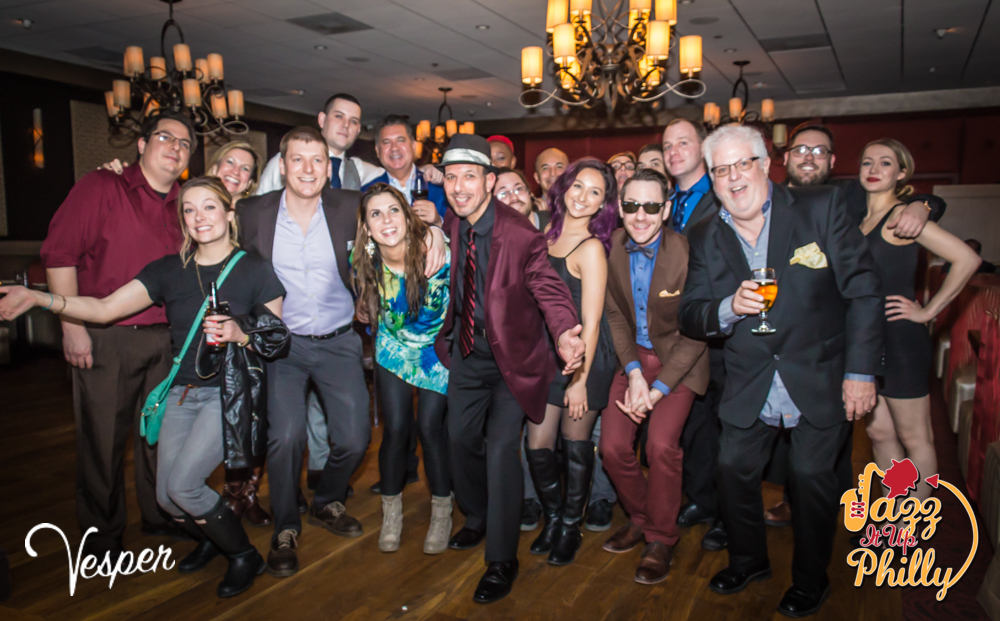 Have questions about Swing That Cat with guests Hotsy Totsy - Jazz It Up Philly Spotlight - Live at Vesper?
Contact Jazz It Up Philly
When & Where

Vesper
223 South Sydenham Street
Philadelphia, PA 19102


Wednesday, October 12, 2016 from 7:00 PM to 10:00 PM (EDT)
Add to my calendar
Organizer
Jazz It Up Philly
Jazz It Up Philly will give Philadelphians and their neighbors an extraordinary evening of live Jazz and Blues entertainment. These monthly live shows that will feature live Jazz and Blues bands and vocalists from the Philadelphia, New Jersey and Delaware area. Website:  JazzItUpPhilly.com; To Sponsor an Event Call 267-888-6440. Sponsored By: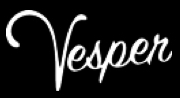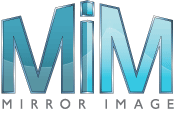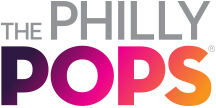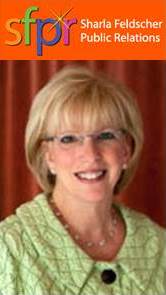 Swing That Cat with guests Hotsy Totsy - Jazz It Up Philly Spotlight - Live at Vesper