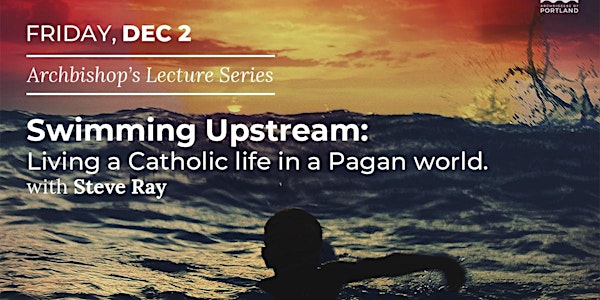 Swimming Upstream: Living a Catholic Life in a Pagan World with Steve Ray
The Archbishop's Lecture Series welcomes Steve Ray, who will speak on Living a Catholic Life in a Pagan World.
When and where
Location
St. Joseph Catholic Church 721 Chemeketa St. NE Salem, OR 97301
About this event
When: December 2, 2022, 7:30-9pm
Where: St. Joseph Catholic Church (Gymnasium), Salem
Admission is free but please RSVP. Thank you! Any questions, please contact Rolando at rmoreno@archdpdx.org or 503-233-8315. Hope to see many of you on December 2!
Steve will presentation is:
Swimming Upstream: Living a Catholic Life in a Pagan World
Pagans worshiped many gods. Christians were allowed to worship Jesus along with the pagan gods as one among equals. Caesar too claimed divinity. But Christians said, "No!" They would bow only to the one true God and refused to burn incense to pagan deities. Because of their unflagging principals, they became persecuted outcasts, treated with malice. Sound familiar? With his usual enthusiasm, Steve explains how culture is falling back into a new paganism (we call it pluralism) with the West, worshipping at the altars of comfort, affluence, and self indulgence. He'll get your heart pumping as he challenges you to swim upstream and make a deadly choice: to stay faithful or keep your head and lose your soul.
* * * * * * * *
Prior to 1994, neither Steve or Janet his wife, had ever set foot in a Catholic Church. After studying many books to convince their best friend and recent convert, Al Kresta, that the early church was evangelical, Steve and Janet backed their way right into the Catholic Church. On Pentecost Sunday, 1994, they entered the Church at Christ the King Parish in Ann Arbor, Michigan. Steve began writing a letter to his father explaining why they became Catholic. This letter soon became the book Crossing the Tiber: Evangelical Protestants Discover the Historic Church, published by Ignatius Press. CURRENT Since then, Steve's passion for the depth of truth found within the Catholic tradition has led him to walk away from his business and pursue what he really loves—writing, speaking, producing Catholic films, and leading pilgrimages to biblical lands. Steve and Janet have been to the Holy Land over 170 times exploring, filming, and leading thousands of pilgrims. Steve is a regular guest on Catholic radio and TV including Catholic Answers, Ave Maria Radio, Relevant Radio, and EWTN. He also writes Bible studies for Catholic Scripture Study International.