Event Information
Location
Albert Pier ( note! The google maps pin isn't in the correct location . We are situated on the pier - near the bus station)
Albert Pier
Penzance
TR18 2LL
United Kingdom
Snorkel with blue sharks in Cornwall!
About this event
Join us on a unique shark snorkelling trip in search of blue sharks!
The Southwest of Cornwall is hugely attractive to blue sharks at certain times of the year, they come here to feed on the nutrient-rich waters that are unique to the area.
We operate at the peak times of the year for swimming with blue sharks in Cornwall.
We have a 90% success rating and although it's highly unlikely, there is a chance you may not see a shark - we are not a theme park with captive animals, nor would we want to be. Part of the excitement of this experience is being out on the open ocean not knowing what you are going to encounter. It's what makes this trip so amazing.
Although the sharks are the main focus of the trip– there's also a fantastic range of marine life in the area, so you'll have a chance of seeing minke whales, common dolphins, bottlenose dolphins, sunfish , basking sharks, porpoise and much more.
IMPORTNANT INFO!! PLEASE READ....
AGE RESTRICTION AND SNORKELLING EXPERIENCE
This trip isn't aimed at beginner snorkelers. If you are new to snorkelling then this trip might not be for you.
Please make sure you are comfortable using a snorkel and mask.
You do not need a dive qualification to join our trips. This is snorkelling only. No diving.
We normally head 10-20 miles off shore. The chum is dropped in the water and then we wait. The sharks may appear after 30 minutes or 3 hours. It can sometimes be a little rocky whilst we are stationary waiting in the boat, but once they appear they normally stay with us for a couple of hours.
We prefer not to take children under the age of 14. If your child is under 14 and a confident swimmer plus has experience in open water get in touch.
Anyone under the age of 18 must be accompanied in the water with an adult/guardian.
SCHEDULE
• Arrive at least 20 minutes before departure to allow time to park, get changed and pay.
• Due to tides, the departure time will be confirmed 48hrs before the trip - but it's always between 9-10AM.
• Listen to the captain's safety briefing
• We will head out to our shark snorkelling destination!
• On the way out we will discuss in detail how to safely swim with the sharks.
• The iced chum is placed in the water and we wait for the sharks. (This can be anything from 1-3 hours)
• We aim to return to the harbour by 5 pm. Depending on the sharks and weather conditions we could be back at a different time.
• Say our good-byes!
COST AND HOW TO BOOK
Please view our availability calendar to check dates and space availability.
PRICE PER PERSON £180
8-10 people per trip.
DEPOSIT £60PP required at the time of booking.
The remaining amount is due on the day and is to be paid at the office either on card or with cash.
PRIVATE BOAT CHARTER (max of 8 passengers) £1000
PRIVATE BOAT CHARTER (max of 10 passengers) £1200
You will be contacted 48 hours before the trip to let you know if the forecast is ok to go.
*Please note, we cannot pay or help towards reimbursing for any cancelled accommodation if the trip cannot go ahead.
*****IMPORTANT PLEASE READ ALL OF THE BELOW*****
MEDICAL
You will be asked to complete a medical form on the day of the trip.
If you have a medical condition or had recent surgery, please contact us and we can email over the medical form. You'll need to bring a signed doctors letter stating you're fit for the trip.
WHERE TO MEET AND TIME OF DEPARTURE
MJ MARINE CHARTERS
Unit 4 Albert Pier
Penzance
TR18 2LL
Walk onto the pier, the sailing club will be on your left. We are another 20 metres or so down the pier next to Marine Discoverys office.
PARKING
All day parking is available in the harbour car park. £8 for 24 hrs.
Payable by card, cash or Just Park app.
Note: the nearby public toilets require a 20p coin
WETSUIT AND EQUIPMENT
We dont provide wetsuits, please bring your own or hire from one of our recommened hire outlets. We recommend at least 5mm thickness.
When entering the water you MUST be dressed in DARK colours. YOU MUST WEAR a DARK FULL LENGTH WINTER WETSUIT, HOOD, GLOVES and BOOTS/SOCKS and you do so entirely at your own risk.
Avoid any large patches of white or yellow. Logos are fine. If you have bright patches then you could cover them up by wearing a black top/rash vest/leggings over the top.
We ask you to wear dark colours so we blend into the ocean, not for warmth. These clothing rules are not optional.
You can hire black winter wetsuits at Porthminster beach St.Ives Surf School.
https://www.stivessurfschool.co.uk/hire
If you are looking to buy wetsuit/hood/wetsuit socks/gloves. Head over to West Cornwall Surf.
http://www.tombstonesurf.com
We have a limited number of black snorkel and masks/fins/boots/gloves/weight belts available to hire. These need to be pre-ordered at the time of booking.
SAFETY
Your safety is our priority.
At blue shark snorkel we provide you with the safest interaction possible.
We are diligent about checking the latest weather forecast and sea conditions. If the conditions are not suitable then we will cancel.
Blue sharks are very intelligent and will approach objects (including humans) very slowly and cautiously. Once they are comfortable with our presence they will become more inquisitive. We have the experience to monitor the well-being of each shark we swim with, providing you and the sharks with the safest encounter.
You will always have a qualified guide with you in the water.
Safety ropes are attached to the back of the boat for you to hold onto if you wish.
CHECKLIST
• Black/Dark wetsuit (no large patches of neon, bright yellow or white. logos and dark colours are fine)
• Black wetsuit hood/gloves/socks or boots. (Logos are fine)
• Black/Dark snorkel and mask (avoid white, yellow)
• Dark Fins
• Windproof coat
• Towel
• Hat/sunglasses
• Suncream
• Drink and lunch (WE PROVIDE HOT DRINKS ON THE BOAT)
• Sea sickness tablets!!!
PHOTOGRAPHY
Blue sharks are a favourite for any underwater photographer. Their beauty and inquisitive nature allow incredible close up encounters.
The nose of a blue shark is covered in electroreceptors, which enables them to detect and interpret magnetic energy produced by other fish and also our cameras.
Some sharks are quite happy to rub their noses on camera equipment, so if you are bringing a go pro, please attach it to a stick or handlebar plate.
THE BOAT
Celtic Fox is a well-appointed evolution 38, powered by a 500 hp Yanmar engine. She has a flush toilet and seating for all.
There's plenty of space for camera gear and snorkel equipment but please only bring what is necessary.
We use frozen chum to reduce the fishy smell. Please use seasickness patches/tablets if you suffer from seasickness.
WHERE TO STAY
Premier Inn Hotel
https://www.premierinn.com/gb/en/hotels/england/cornwall/penzance/penzance.html
Longboat https://www.longboatinn.co.uk
Penzance Backpackers http://www.pzbackpack.com
TERMS AND CONDITIONS
CANCELLATIONS DUE TO SEA CONDITIONS.
• Blue shark snorkel has the right to cancel the scheduled charter at any point leading up to the trip due to adverse weather conditions.
• If it is necessary to cancel the charter due to circumstances beyond Blue Shark Snorkels control, you can choose to reschedule for an alternative date or receive a full refund.
• In the event of customer cancellation then Blue shark snorkel will try to re-sell the space/s/charter. If we are unable to resell then the following will apply;
Up to 20 weeks before the trip date - Loss of deposit
4 -16 weeks before the trips date - 50% payment will be taken.
Less than 4 weeks before the trip date - 100 % payment will be taken.
• It is the individual's responsibility to make sure they have read the details of our trip and snorkel/free dive within their own training limits and experience.
• Blue Shark snorkel and all its associates will not be held liable for loss or damage of any personal belongings/equipment/camera equipment.
• If one individual is booking the charter on behalf of others, it is their responsibility to make the other members of the group aware of the terms and conditions.
• There's no money back if we don't see the sharks.
INSURANCE
Our insurance only covers you when you are in the boat so if you require in-water cover you will need to arrange this privately.
WHY ARE BLUE SHARKS IN CORNWALL?
Through May to October the South West of Cornwall is hugely attractive to blue sharks. They come here to feed on the nutrient-rich waters that are unique to the area.
The blue sharks that we see in Cornwall range from 4-9ft in length, although they can grow as large as 12ft.
We see both male and female blue sharks on the south coast of Cornwall, although the majority are females and juveniles, with the females being the larger of the two sexes.
Male blue sharks tend to travel south towards tropical climates and the females and juveniles travel east to more temperate climates, seasonally moving between breeding areas in the north west Atlantic and pupping areas in the north east and north Atlantic.
WHEN IS THE BEST TIME OF YEAR TO SNORKEL WITH BLUE SHARKS?
The blue sharks visit our waters throughout May-October.
The best time is from mid June through to mid October.
Unlike other locations around the world it's not uncommon for us to have half a dozen sharks around us at one time but we must also accept that the sharks may not always turn up.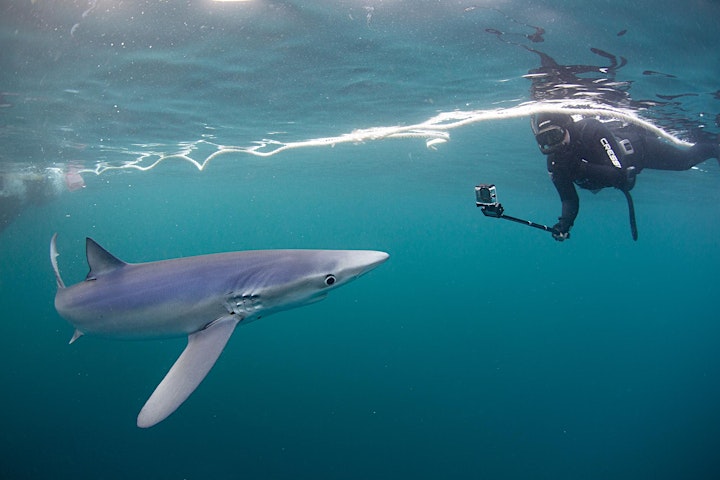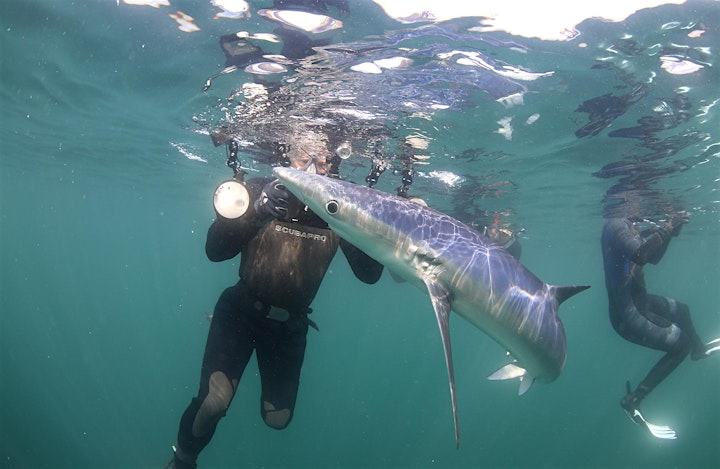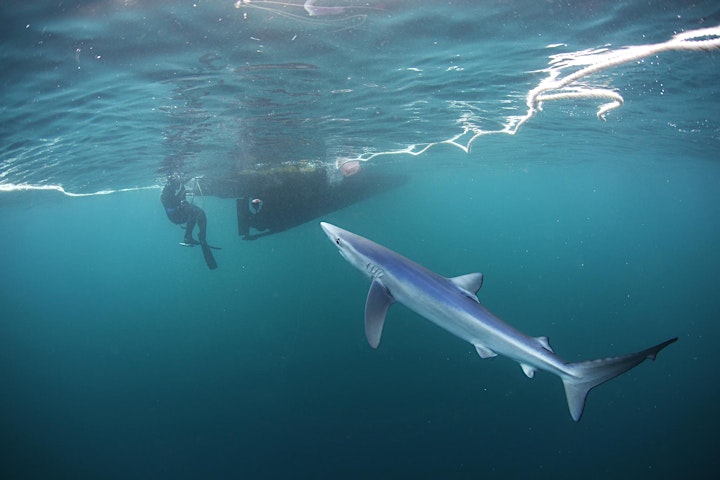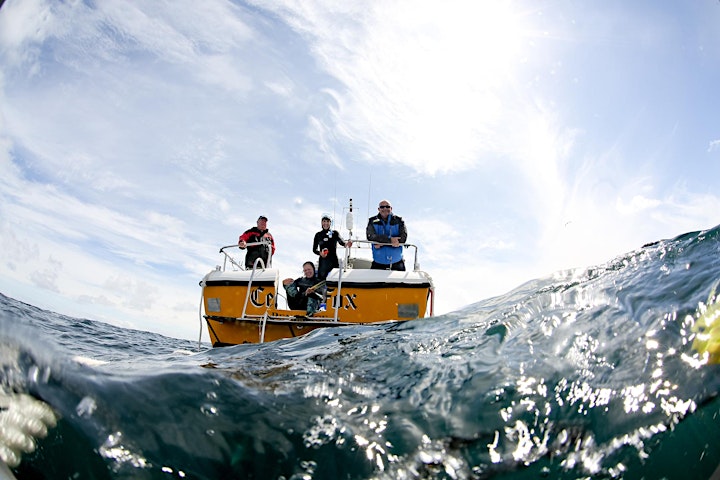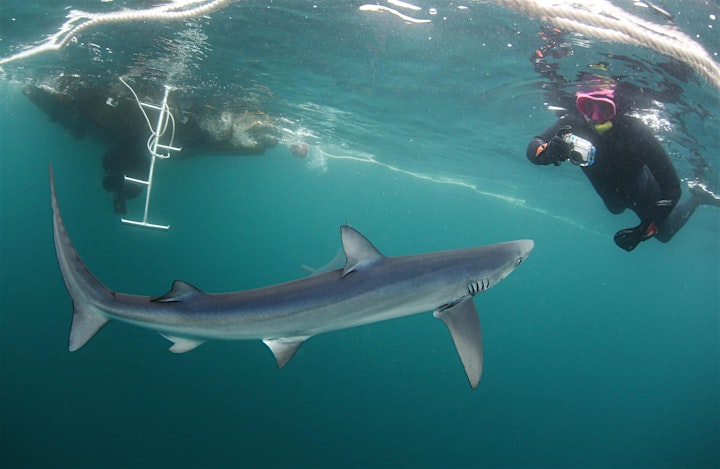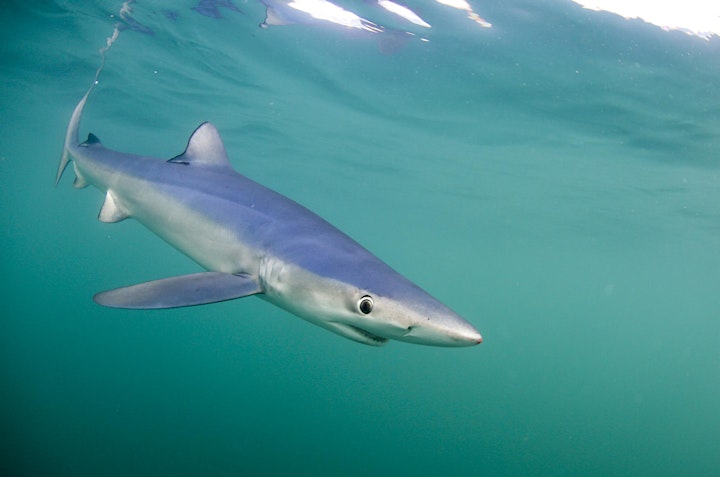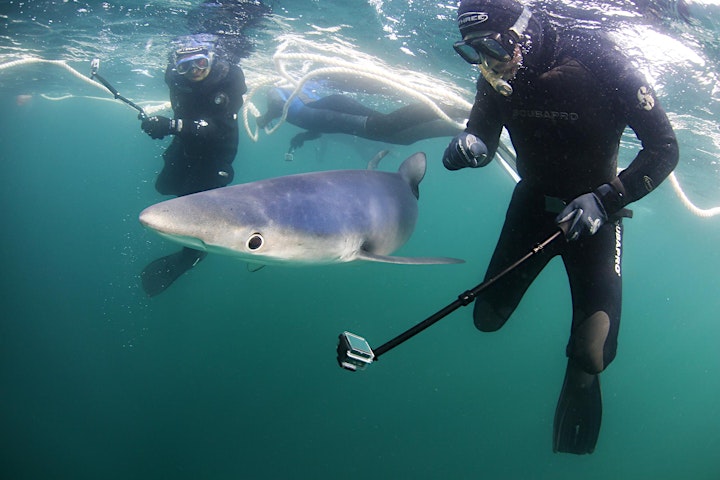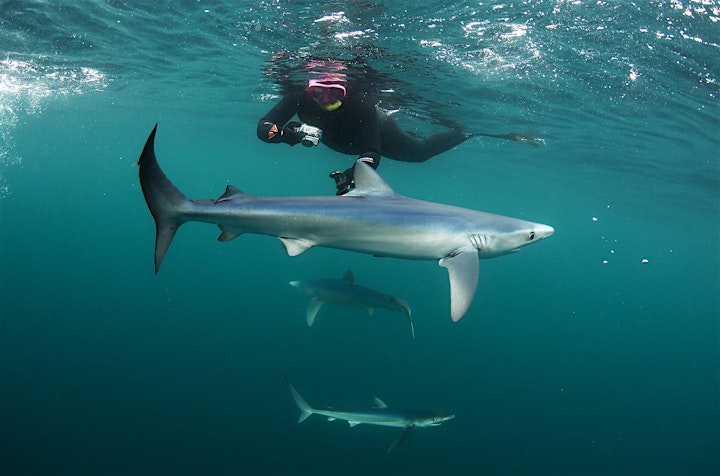 Location
Albert Pier ( note! The google maps pin isn't in the correct location . We are situated on the pier - near the bus station)
Albert Pier
Penzance
TR18 2LL
United Kingdom