SWE's Engineering Exploration Experience at Columbia University
About this Event
This spring, Columbia University's Society of Women Engineers (SWE) will be hosting its 8th annual Engineering Exploration Experience! This event is dedicated to introducing high school girls to the exciting opportunities available in all branches of engineering through workshops led by professors, panels where students can speak with female engineers, and design challenges mentored by Columbia students. We hope to encourage high school girls to pursue engineering academically and professionally.
Attendees must fill out this parent permission and photo release form.
*Lunch, t-shirts, and materials for the design challenges will be provided. Please use the fee waiver option if the registration fee poses a financial concern.
Should you have any further questions, comments, or concerns, please feel free to contact Yamini Ananth, outreach coordinator, at yva2002@columbia.edu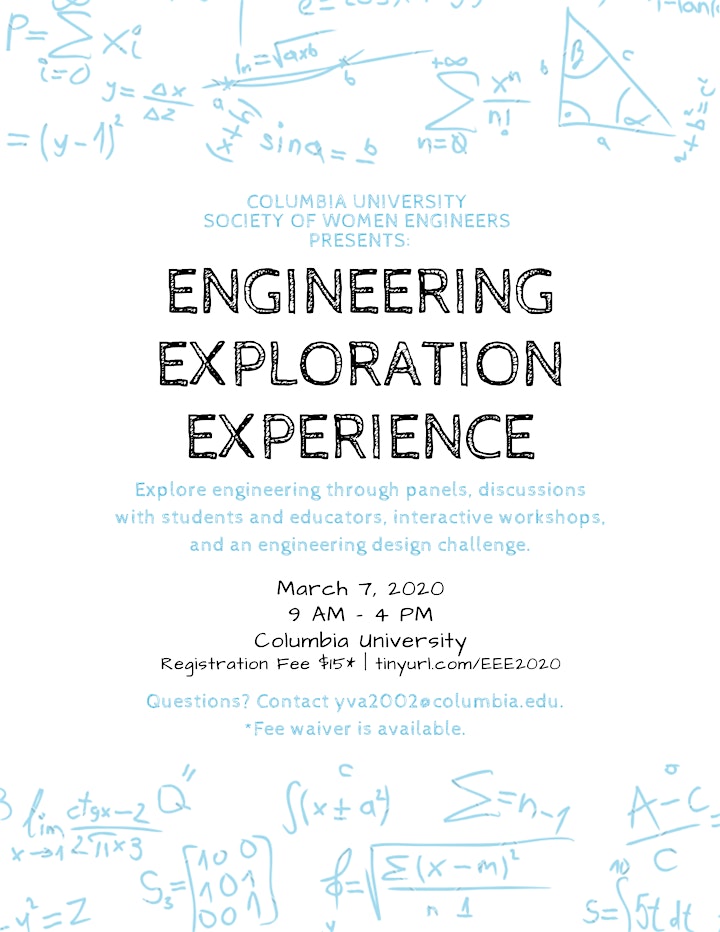 Approximate Event Schedule
9:00 Check-In
9:30 Welcome Address by the EEE Committee
9:40 Academic TED Talks
10:30 Session I : Interactive Workshops //Student Experience Panel
11:30 Session II: Interactive Workshops//Student Experience Panel
12:30 Design Challenge
1:00 Lunch Break and Engineering Student Expo
1:45 Industry TED Talks
2:45 Information Session with Undergraduate Admissions//12th Grader Session
3:30 Art of Engineering Projects and Engineering Demos
4:00 Closing Remarks