Description
Join us for Sweets, Sips and Style Tips!
Generously sponsored by :: ALG Style, Waxing the City, Vivere-Audubon, Touro Infirmary, Bittersweet Confections, FRESH BAR, Pearl Wine Co and Cleaver & Co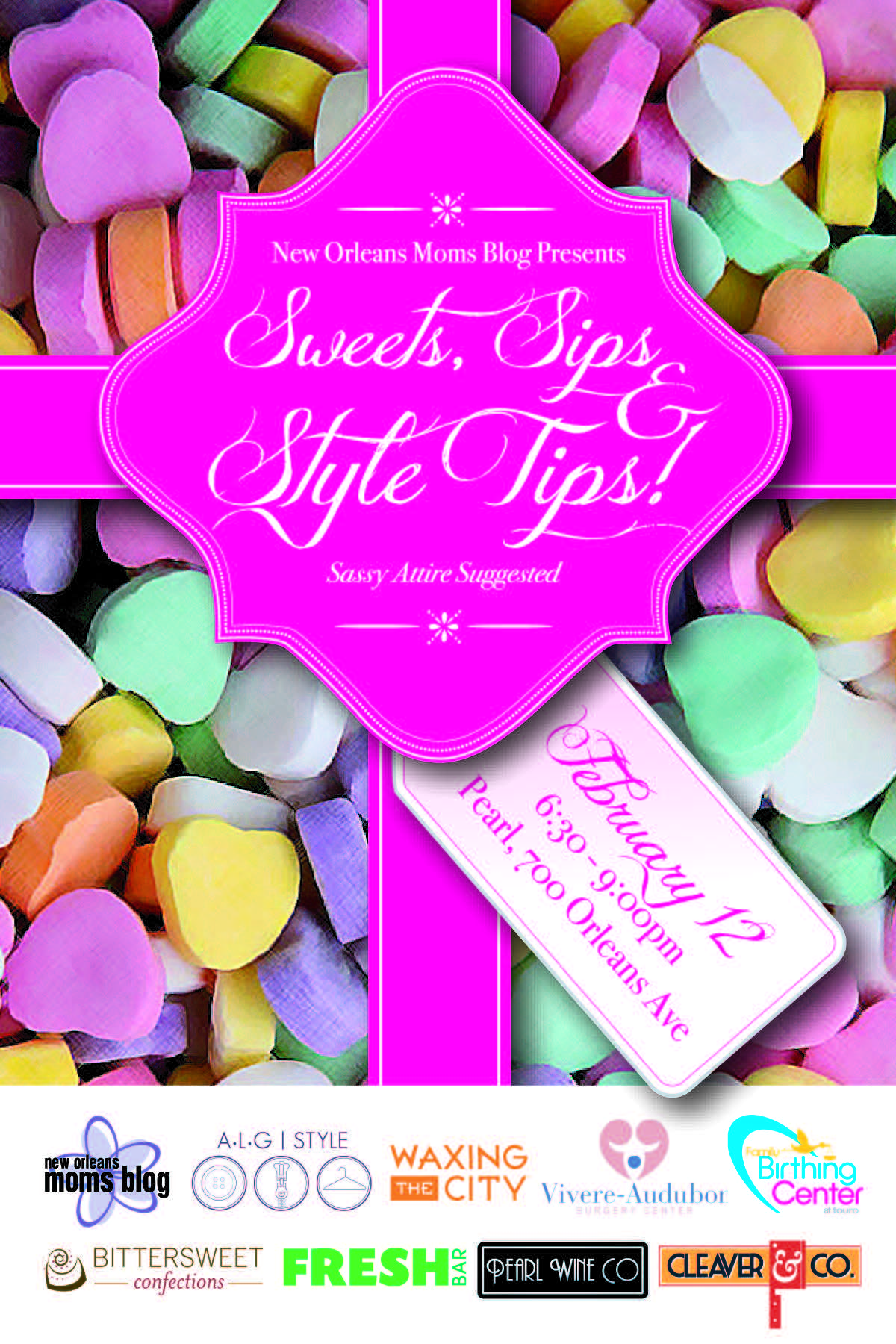 The Details for the Evening...
The event starts at 6:30pm. You will be greeted by the team, given a name tag and 2 tickets. You can use the tickets for wine or bubbly (or a non-alcoholic beverage of your choice). After your 2 tickets, we are excited to let you know it's $5/glass wine night! Just remember to make arrangements to drink responsibly, ladies.

From check in, we ask that you grab a friend and make yourself at home! Find the FRESH BAR salads and mini wraps, try Cleaver & Co's red beans, sip your wine, savor some desserts from Bittersweet - enjoy your old friends and make some new ones.

Make your way to Waxing the City's table. They will be on hand with estheticians to chat with you about their new store on Magazine Street and waxing technique.

From 7:15-8:00pm there will be a fun (and we are sure funny) presentation by ALG Style. You might remember them as our Fashion Fairy Godmothers or perhaps you met them at LOFT? These girls are full of energy and amazing fashion tips! They will be sharing some awesome tips and tricks that are sure to have you walking away more stlyish than when you arrived.
Around 8:00pm, following the presentation, we will announce the lucky giveaway winners! From there you are welcome to stay as long as you like to enjoy the company and the wine bar. Following the Dishcrawl and our LCM Moms Night Out we noted that moms usually like to keep the party going. We are thrilled with this location as a Moms Night Out because it is open until midnight. No need to seek out another locale: stay, relax and enjoy as long as you like.

As always we assure you that the giveaways and swag will be fabulous - you will not be disappointed!
Swag and Giveaway Sponsors (this will grow!)
Giveaways ::
Waxing the City :: Pretty Please Nail Polish :: Savvy Root clutch :: Kismet Cosmetics :: Christie Froom Photography :: ALG Style :: H20 Salon & Spa :: E. Sabrie Studio :: Sobou :: Pearl Wine Co :: In The NOLA :: Mrs. Meyers :: Dry Bar Bleu ::
Swag ::
Atomic Burger :: Power Ice :: Iconic :: Kismet Cosmetics :: Life Yoga :: Lipscapes :: Luzianne :: Waxing the City :: Creole Crack :: ALG Style :: Paris Parker :: Thibodeaux School of Music :: Hanleys Salad Dressing :: Nurse Nikki :: Premier Fitness :: Savvy Root :: E. Sabrie Studio :: The Critter Cure ::Nola Pilates / Xtend Barre New Orleans :: Pearl Wine Co :: Touro Infirmary :: Bittersweet Confections :: Brownie Brittle :: Dr. Kevin Kirchner :: Feet First :: Palm Tree Playground :: Reginellis Pizza :: Vanity Skin & Beauty :: AND MANY MORE!
#nombmomsnight is the hashtag again
As always, we encourage the use of social media leading up to and at the event. Christie Froom Photography will be on hand, but get out those camera phones and share the fun, using the hashtag #nombmomsnight so that you're able to connect with your new friends!
Charity of Choice::
Every Moms Night Out that we host includes a special charity of choice. For this event we will be donating to the Ronald McDonald House. We would love it if you would participate by bringing a donation for this wonderful cause. You can check out their list of needed donations HERE.
If you purchase your ticket now through December 31, 2013 at midnight CST your ticket will be $28. After that, all tickets will be $35. All sales end January 27, 2014 at midnight CST - no exceptions. No tickets will be sold at the door.
Disclaimers: ALL TICKET SALES ARE FINAL. NO REFUNDS. NO RAIN CHECKS. We will do our best to assist you in finding another mom to exchange/give/or sell your ticket if the need arises and/or if time allows. Additionally, everyone that purchases a ticket will be subscribed to our email list (if they have not been already) in order to provide the most timely and up to date event info. All moms must be over 21.