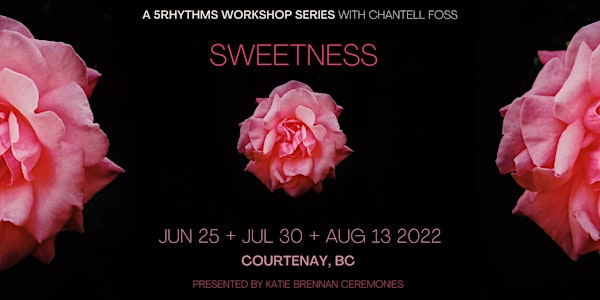 Sweetness - A 5Rhythms Workshop Series
Event Information
Location
Courtenay
3902S Island Hwy S
Courtenay, BC V0R 2V0
Canada
Refund policy
Contact the organizer to request a refund.
Eventbrite's fee is nonrefundable.
A 5Rhythms Workshop Series - embodied movement + conscious dance bathed in Sweetness.
About this event
Don't the hours grow shorter as the days go by?
You never get to stop and open your eyes
One day you're waiting for the sky to fall
The next you're dazzled by the beauty of it all
~ Bruce Cockburn
Yes, it's true. The winds shift, the hours feel short, and the sky often feels heavy. And yet, it's true: spring sweetens the air and summer is coming. Let us stop and open our eyes. Let us put ourselves directly in the path of the beauty of it all.
None of us know how we'll feel when we rejoin communal dance after and within times of turbulence. My response is to provide a practice space of fundamental softness, sensitivity, patience, curiosity, and care.
In a word: SWEETNESS.
In this precious world, we're chronically exposed to existential trouble. Sweetness might seem irrelevant to the sobering weight of all that's afoot. It's not. It's essential.
Noticing, recovering, and sharing sweetness = survival. It's water in the desert. We can locate it, we can collect it, we can share it. We can even generate it.
Using 5Rhythms practices to dance, rest, and inquire, this workshop series will give space and time to unearth and linger with the sweetness that's absolutely necessary for perseverance and for walking through life in a good way. Chantell and Katie will connect and balance engaged explorations, settling intervals, and integrative ceremony.
5Rhythms is a powerful, guided freeform dance practice. It engages the human body and awareness in movement expression, and encourages our reconnection to aliveness, resource, and discernment.
ABOUT:
Chantell Foss has taught 5Rhythms since 2014 in contexts ranging from community centre drop-in classes, to in-depth workshops in BC and abroad, to trauma recovery groups. She's nurtured continuous weekly practice in Quw'utsun, moving outdoors during the pandemic to continue tending to communal well-being. She holds practice with justice and equity intent. chantellfoss.com
Katie Brennan is a certified Lifecycle Celebrant®, a Metaphysical Minister, and a Ceremonial Artist who creates safe sacred spaces for personal transformation. She has danced 5Rhythms since 2013 and produced workshops since 2015. katiebrennanceremonies.ca
WE LOVINGLY WELCOME people of all cultures, colours, creeds, all genders and sexualities, all sizes, all abilities and life stages, any health status, and any financial circumstance. You don't need to feel strong or energetic to join us. If you're breathing, you've got all you need. Chairs available for seated dance.
We are grateful and humbled to dance on the stolen, occupied territory of K'ómoks First Nation, "care takers of the 'land of plenty' since time immemorial". May our gathering and our process produce mindfulness of the continuous wounds of the colonization of this place, and remind us to move towards just, dignified, and thorough decolonization.
Covid - These sessions will comply with whatever Covid measures are in place here in BC at the time of each session. At this time, we welcome all no matter your vaccination status. We also welcome those who may wish to wear a mask throughout their time moving with us.
DETAILS:
Saturday, Jun 25th: 11 - 6pm
Saturday, July 30th: 11 - 6pm
Saturday, Aug 13th: 11 - 6pm
Location: Royston Hall - 3902S Island Hwy S, Courtenay, BC
COST:
Accessible pricing is part of our heart-centered offerings and practice. If you'd like to attend and cost is a barrier for you, please contact Chantell to discuss options.
Per session:
Supporter: $145
Standard: $125
Supported: $100
Supporter: $435
Standard: $375
Supported: $300
Sign up for the Full Series by May 4th + SAVE $20! Use discount code SWEET20 at checkout
Location
Courtenay
3902S Island Hwy S
Courtenay, BC V0R 2V0
Canada
Refund policy
Contact the organizer to request a refund.
Eventbrite's fee is nonrefundable.