Description
It is time for Super Bowl 51! Calling all families and football fans! Join The Professional Football Players Mothers Association moms from all around the NFL! Come enjoy an all day carnival style watch party where we bring back all of the fun of a child in an adult party that is fun for the entire family. Come watch with the pros!
Come enjoy live DJ performances all day long starting at NOON up until game time and then after the game concludes listen to more music until 10pm. Special Performance by Hip Hop Artist and Producer Kia Shine and Singer, Songwriter and Actor Torion Sellers, Music by DJ Pete Mash and Recording Artist and Producer DJ Flip Millionz

Enjoy Cotton Candy, SnoCones, both for the kids and speciality ones for those over 21+ with sponsored product along with funnel cakes, kettle corn and Christians Tailgate's favorite dessert, their fried Oreos
Compete in a 10 Team First Come First Sign Up Celebrity Cornhole Tournament for Prizes. Teams that make it to the final round of two team championships will have one celebrity or NFL player on their team to compete the for the 1st and 2nd Place Prizes. Entry is limited and included to 3 on 3 players and each admission inlcudes 3 VIP tickets for admission to play in the tournament.
Watch the Game on a 6 foot Screen with full complete area surround sound. This will be the biggest party in the Heights all day for two low prices .

Tickets start at $25 for all day General Admission
$50 VIP gets access to all of the carnival activites and to watch the celebrity cornhole tournament and preferred seating area for the Big Game and discounted drinks with the sponsored product.
A portion of the proceeds will benefit three Houston area charities, Mutt Mesh Rescue, PugHearts, The School of Wags. Come see some adorable animals up for adoption as well and help make a difference for these dogs that need a home with your entry fee.

https://www.youtube.com/watch?v=MbMd_K99kRY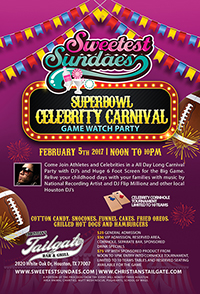 Organizer of Sweetest Sundaes Carnival Super Bowl Watch Party Celebrity Cornhole Tournament
Push Media Group was founded in 2001 and has been a part of the professional media community for well over 25 years with award winning and sponsored photographers as part of their staff. The Push Media Group has also hosted some of the elite celebrity events with athletes and entertainers and to date has raised over 100,000 for various charities nationwide.