Description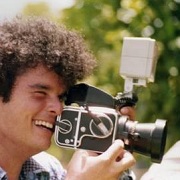 The Andy Sweet Photo Legacy Foundation will showcase a collection of iconic images taken by Andrew John Sweet, a young photographer living and working in Miami Beach in the late 1970s. His life and his art were cut tragically short when he was murdered on October 16, 1982. Andy left an extensive body of work that exhibits a level of creative maturity far beyond his years.
His photographs are a testimony to a rich but often overlooked period of Miami Beach's cultural heritage. Andy Sweet returned home to Miami Beach after receiving a Masters degree in Fine Arts from the University of Colorado at Boulder in 1977, to photograph the old world Jewish culture that then distinguished South Beach.
Andy's aesthetic vision was as fresh as his colors. He rejected formalist theory and idea-driven imagery in favor of immediate and unmediated responses, of living it up and aligning himself with the people he knew he was privileged to photograph.

Andy's life and photography have been featured in the Washington Post, Oxford American Magazine, Lisa Stone Arts, Miami Herald's Tropic Magazine, Miami New Times, among others.
"Sweet" is the first solo exhibition of the photography of Andy Sweet. Curated by Dana Keith and Ed Christin.
Exhibition: Free, (optional donation), viewable before and after films.