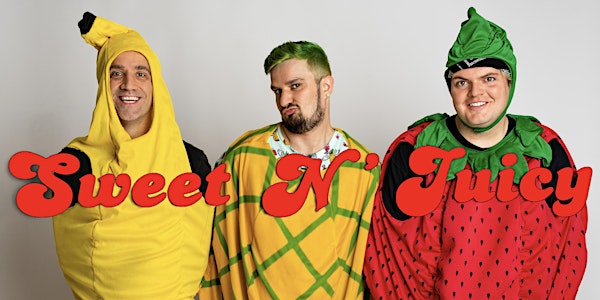 Sweet N' Juicy plays 1st St.Bar
We're back.
When and where
Location
1st Street Bar 656 South Coast Highway 101 Encinitas, CA 92024
About this event
Come laugh, smile, and be merry with the West Coast's favorite party band, Sweet N' Juicy. Sweet the Banana, N' the Pineapple, and Juicy the Strawberry entertain the Pacific Northwest and beyond with their fruity funk and funny rapport.
Members of the band have written music with Blondie, performed internationally, and backed Grammy Award winners.
"The funnest band in America." - Ryan Woodland (The Replacements)
"...strangely intoxicating and addictive..." - Ron Hartman, The Chronicle
Spotify:
https://open.spotify.com/artist/2cjdtloDDa3B7o2MXM2Oco?si=zENaXBOxTFWHlqG01TRF3Q
Social:
https://www.instagram.com/sweetnjuicymusic
https://www.facebook.com/sweetnjuicymusic
Website:
https://www.sweetnjuicymusic.com/