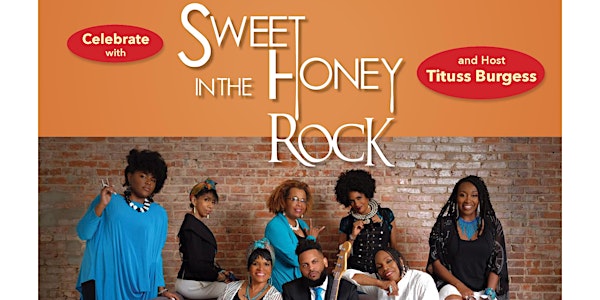 Sweet Honey in the Rock & Nona Hendryx - Juneteenth: The Struggle Continues
Event Information
Location
Adler Hall at The New York Society for Ethical Culture
2 W 64th Street
New York, NY 10023
Celebrate Juneteenth and support Harlem Mothers S.A.V.E. in their fight to end gun violence!
About this event
Celebrate Juneteenth with a special performance by the Grammy Award-winning African American female a cappella ensemble Sweet Honey In The Rock! Hosted by Tituss Burgess, all proceeds will benefit Harlem Mothers S.A.V.E. in their fight to end gun violence.
Pre-show meet and greet and post-show cocktail hour tickets available!
Notice: Proof of COVID-19 vaccination, photo ID, and mask are required to attend.
About Sweet Honey in the Rock
Sweet Honey In The Rock® is a performance ensemble rooted in African American history and culture. The ensemble educates, entertains, and empowers its audience and community through the dynamic vehicles of a cappella singing and American Sign Language interpretation for the Deaf and hard of hearing. Sweet Honey's audience and community comes from diverse backgrounds and cultures throughout the United States and around the world, and includes people of all ages, economic/education/social backgrounds, political persuasions, religious affiliations, sexual preferences and differing abilities. Visit them online at sweethoneyintherock.org.
About Harlem Mothers S.A.V.E.
Harlem Mothers S.A.V.E. has been a grassroots movement advocating for victims of gun violence and their families since 2006, organizing marches, town hall meetings, forums, and fighting for sensible and responsible gun laws. They partner with local, city, and state officials and agencies, as well as other community leaders and organizations, to provide victim services to families and individuals dealing with trauma from gun violence. Visit them online at harlemmotherssave.org.
About The New York Society for Ethical Culture
Founded in 1876, The New York Society for Ethical Culture is a non-theistic, Humanist community dedicated to ethical relationships, social justice, and environmental stewardship. A cornerstone of the Progressive movement and a longstanding home for activism in New York City, the Society's members put ethics in action to organize, educate, and build coalitions to end racism, poverty, and war; abolish the death penalty; welcome refugees and immigrants; fight climate change and pollution, and more. Visit them online at ethical.nyc.
Date and time
Location
Adler Hall at The New York Society for Ethical Culture
2 W 64th Street
New York, NY 10023