Multiple Dates
Sweet Harmony Warehouse / Art Edit
An exhibition of art and photography in a warehouse in central Manchester. Sunday December 8th - Wednesday December 11th Midday - 7pm
About this Event
Sweet Harmony is about the people and places at the heart of British rave culture, then and now.
All ages welcome.
Presented by Highsnobiety, Sweet Harmony, size? and The Warehouse Project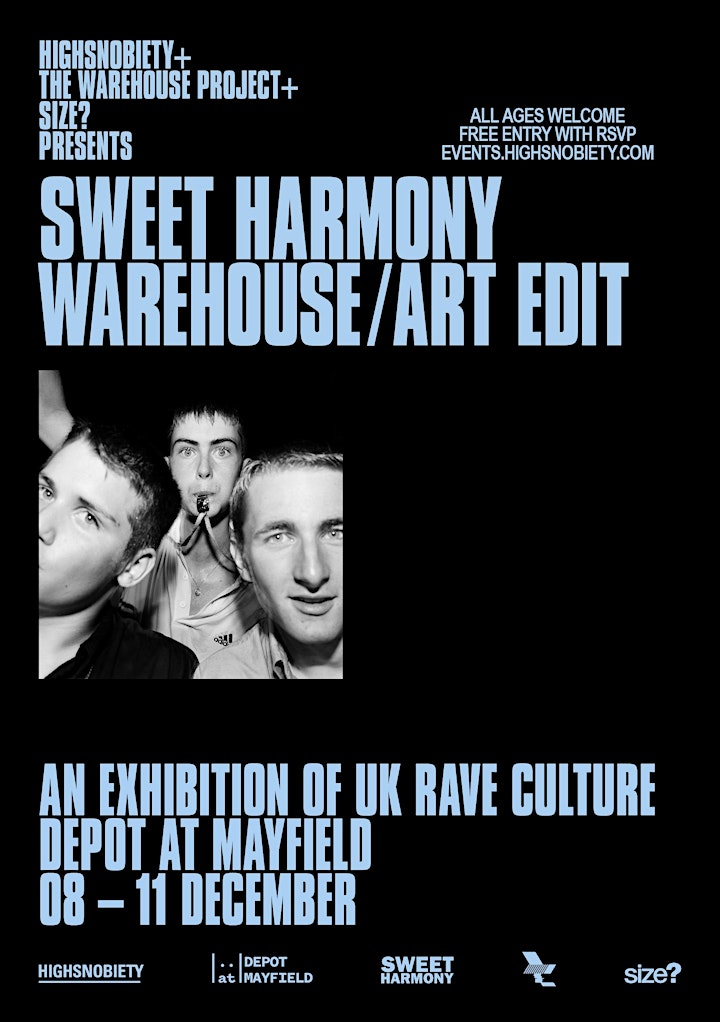 Info:
Sweet Harmony Warehouse / Art Edit is the first exhibition of art and photography to take place in a venue widely considered to be the new home of UK rave, and takes visitors from the days of Acid House and The Hacienda, right through to the movements and collectives that are keeping that legacy alive for generations to come.
It features a wide array of photographs, video and sculpture, inspired by and recovered from the golden era of British underground culture, and has a particular focus on Manchester and other Northern powerhouses. 
Each pays particular attention to the ecstatic crowds at the heart of it all.
Head to events.highsnobiety.com for more information.
The immersive warehouse exhibition is free to enter and open to all, and will take place inside the Depot at Mayfield, the current home of contemporary rave heroes The Warehouse Project.