About this Event
Sweden Makes Music is an annual live showcase event introducing Swedish pop artists to New York audiences.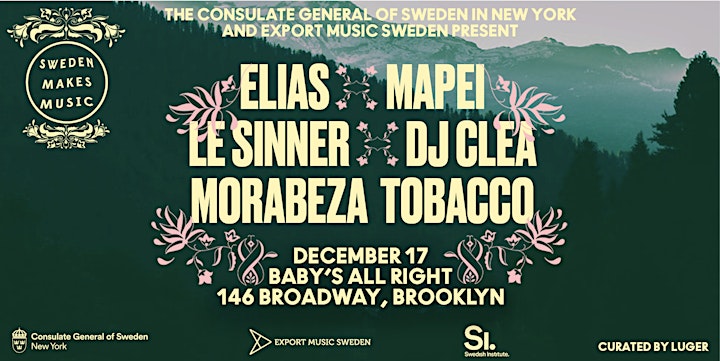 This year's line up features...
ELIAS
Stockholm-based Elias has been described by Noisey as "a concoction of James Blake soulfulness and Bon Iver potential," while i-D compared his "gorgeously profound voice" with FKA twigs, Spooky Black, Anthony Hamilton and Sam Cooke. He released his debut album Entwined last year and already dropped two singles – "I Give You The Best" and "Neon Lights" – in anticipation of an upcoming EP.
> https://open.spotify.com/artist/0UCLbPGOhtnYf29U7qbfLf
MAPEI
Mapei is a Swedish-American artist who playfully connects the dots between soul music and today's club and hip-hop vibes. She's been compared to M.I.A, remixed by Frankie Knuckles and Chance the Rapper, and recently dropped a new album, Sensory Overload, signaling another level and brand new chapter in her career.
> https://open.spotify.com/artist/6baWjwY7WiVPCZcW7pqqhz
LE SINNER
Le Sinner is a Malmö-based rapper who never follows conventions. Since achieving global fame with his debut single "Paris" in 2017 and peaking at #1 on Spotify's Viral 50 in the U.S., he's been hailed by the likes of DJ Snake, Beats 1, Vibe and XXL. With the future looking bright, he's ready to start making moves in New York.
> https://open.spotify.com/artist/7ia9Mj4e6Te5oJwgjM29g5
DJ CLEA
With ten years of experience behind the decks, Stockholm-based DJ Clea is one of the brightest stars on the Swedish circuit. Known and beloved for her melodic and progressive take on dance music, her sets are always multi-faceted and creative – the kind of deep house crafted for both late-night club floors and lazy afternoons in the sun.
> https://open.spotify.com/artist/5ZSGfblqHsmriplkJOoAWx
MORABEZA TOBACCO
Morabeza Tobacco is the hazy lo-fi pop duo of Vanilla Stillefors och Gustav Jennefors, who took their name from a local bodega and smoke shop in Stockholm. Their first single "TTYL" was quickly discovered and praised by NPR, and their self-titled debut album drew rave reviews for its "entrancing atmosphere" by The 405.
> https://open.spotify.com/artist/0zce27eTR25aKpjQ7CvOA7
Sweden Makes Music is presented by the Consulate General of Sweden in New York and Export Music Sweden, curated and produced by Luger, with additional support from the Swedish Institute.