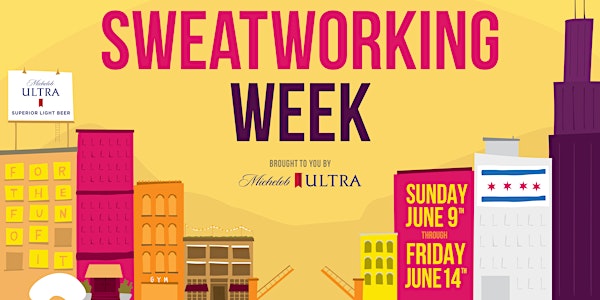 #SweatworkingWeek with Michelob ULTRA: Y7 Yoga at Chicago Athletic Association Hotel
When and where
Location
Chicago Athletic Association Hotel 12 S Michigan Ave Stagg Court on the 4th Floor Chicago, IL 60603
Refund Policy
Refunds up to 1 day before event
Description
Here's what you can expect from Y7 Yoga:
You've seen them on Instagram, you've popped into the studios in New York CIty or LA, but never before have you rolled out your mat with this Tribe Called Sweat in Chicago. And it just might be a preview of something to come ;) In the studio, you can always expect a premium experience - infrared heating, candlelight, yoga mats provided for you, lockers and towels at the ready, and can't-be-beat music.
With Y7, you'll flow through our sequences with intention, braiding postures together that will open, stretch and restore your body from the inside-out. Each class will help link breath and movement, deepen the connection of mind and body, and bring a greater consciousness to your subtle body. We will peel back the layers through a smart and safe yoga sequence, carefully choreographed to music that ranges from Cardi B to A Tribe Called Quest. Come to class with an open mind, stripped of any and all expectations you carry of yourself, and take an hour long vacation of body exploration, transformation and movement. All levels welcome.
Here's what you can expect June 14 at Chicago Athletic Association Hotel:
With our new school P.E. class we created in partnership with The Chicago Athletic Association Hotel, we're conjuring the feelings from P.E. class - when it was all a game, but we threw in some new-school flair. June 14, you'll find us mashing up the nostalgia of elementary school gym with some of the things we love from adulthood: Hot music, cool instructors and a cold Michelob ULTRA afterwards.
After the workout, stay for the ultimate dose of spirt. Sport your squad logos or come with your favorite crew and we promise you the ultimate kick off for your summer sweat. You'll imbibe, you'll take part in our healthy potluck, and you might just be surprised by what's in store.

About #SweatworkingWeek
Twice a year, we put our heads together to create a schedule of workouts that entices Chicagoans to try new things and meet new people, all while working out across the city. Each time we host #SweatworkingWeek, it changes, it evolves.
As we started planning the seventh edition of #Sweatworking Week, we wanted to reconnect to those roots: trying new things, yes, but more importantly, seeking out FUN ways to move. And so, we set out to plan this June 2019 #SweatworkingWeek around the theme of "for the FUN of it." You'll find workouts that don't necessarily feel like workouts when you're doing them (hi, tennis social), or recreational activities that are so fun, you don't even notice how much you're sweating (like, say, a morning of Rollerblading). This ticket - like the rest of the tickets during #SweatworkingWeek June 9-14, 2019 - signifies a workout that's not only sure to be an excellent fitness experience, it's been aSweatLife-approved as a workout we all want to do "for the fun of it!"