Description
aSweatLife is bringing women together in 7 cities across the country for the signature event series, #Sweatworking. The night will include fitness, goal setting and conversation about equal pay and BEING BOLD as women in the work place.


What is Equal Pay Day, and why do we host #Sweatworking around it?
Equal Pay Day is traditionally a more somber day, a day that acknowledges the time at which women typically catch up to their male counterparts in salary from the year before. We're hosting #Sweatworking on this day, to uplift badass females in our community while getting in a workout. The community created at #Sweatworking events is powerful, so we're leaning into that power to channel the energy on Equal Pay Day towards something productive.
Denver event details - #Sweatworking for Equal Pay Day:
Shift Cycle Sunnyside will be hosting a 45-minute sweat session, before we enage in a panel discussion and goal setting workshop to round out the night. In honor of Equal Pay Day, our conversation and goal setting will be focused on BEING BOLD in the workplace as females. Through a panel discussion led by female, fitness entrepreneurs in Denver, including Fierce45 founder Torrey Newman, Compass Fitness founder and lead instructor Jillian Keaveny, Shift Cycle founder and master instructor Whitney Herman and CFO of Sweat Cosmetics Emily Hines - you'll be inspired by their stories, followed by a workshop about BOLD REQUESTS: How To Ask for What You Want with goal coach and leadership consultant, Jacki Carr. After the workout, panel and workshop; you'll have the chance to mix and mingle with some of Denver's most inspiring females.
What to expect at Denver's #Sweatworking for Equal Pay Day?
6:00 - 6:45PM: Shift Cycle class, led by boss babe founder and master instructor, Whitney Herman. *Limited spots available for the workout portion of the event - so purchase your ticket soon!

7:00 - 8:00PM: Panel discussion about "BEING BOLD" with power house females from the Denver fitness community, followed by the hands-on workshop with Jacki Carr, BOLD REQUESTS: How To Ask For What You Want.
BONUS: All #Sweatworking attendees will have access to aSweatLife's digital Salary Negotiation Workshop via the SweatWorking app.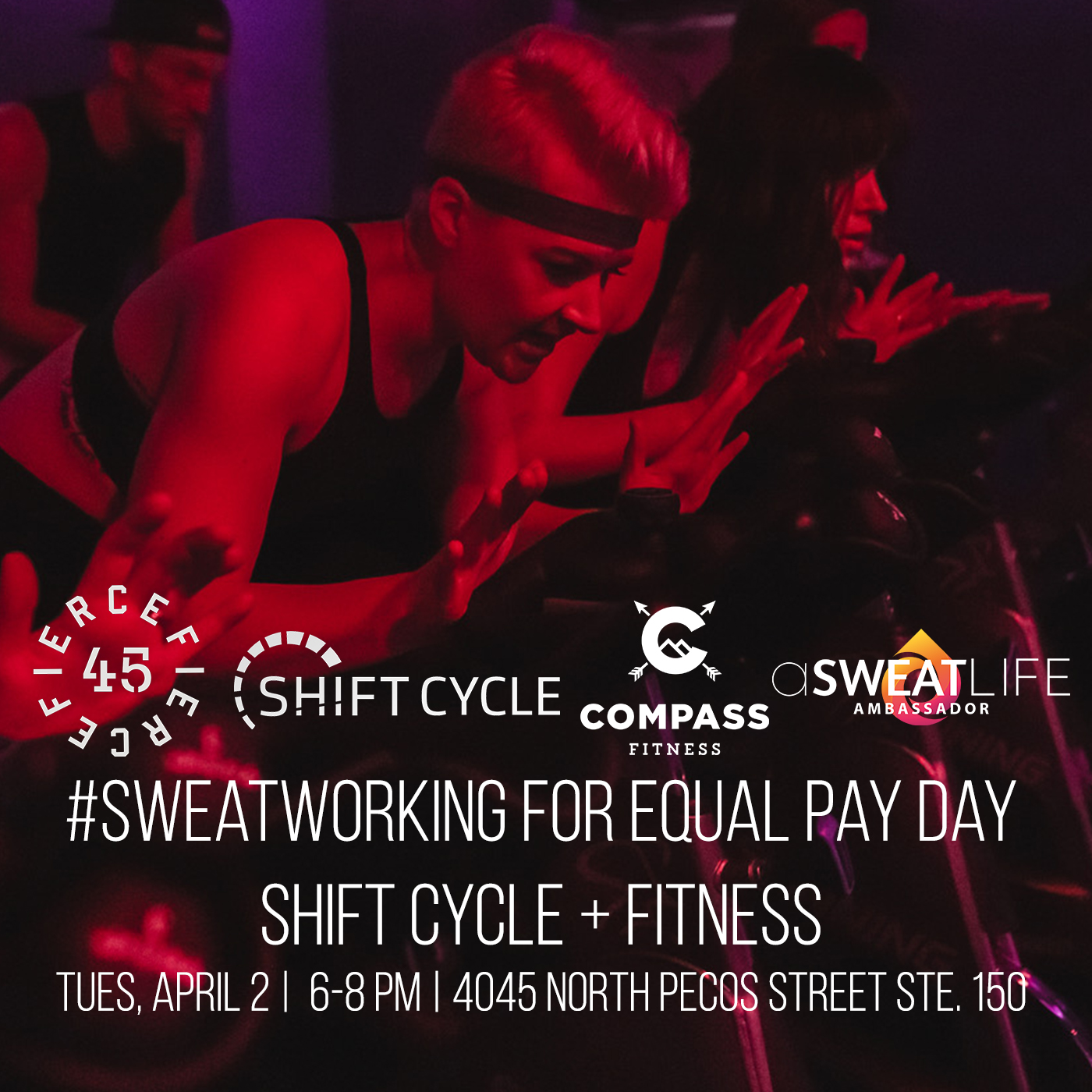 What's the SweatWorking app?
In a continued effort to make fitness the catalyst to living your best life, in January of 2018, aSweatLife launched the SweatWorking app, which offers on-demand workouts created by certified coaches right to your phone. But the (killer) workouts aren't the only thing that make this app so special; SweatWorking was built to expand community values, empowering users to try something new with the power of a cheerleading, goal-getting support system behind them.
About aSweatLife and #Sweatworking events:
aSweatLife is an online publication that helps readers live their best lives – their happiest, healthiest, most connected lives – through content and community, using fitness as the catalyst. As part of building connections (networking) and exploring new workouts (sweating), the #Sweatworking event series was born. #Sweatworking events involve fitness, education and networking - whether you're looking to connect with brands and thought leaders, or make new friends. Headquartered in Chicago, #Sweatworking has expanded to Dallas, New York, Los Angeles and most recently, DENVER - as of Spring 2019!
aSweatLife is a best-in-class media company that helps you live your best life — through workouts, yes, but also through mindfulness, nutrition, community, and empowerment.