Location
Gio's Pizza and Bocce
2420 Shattuck Avenue
Berkeley, CA 94704
Description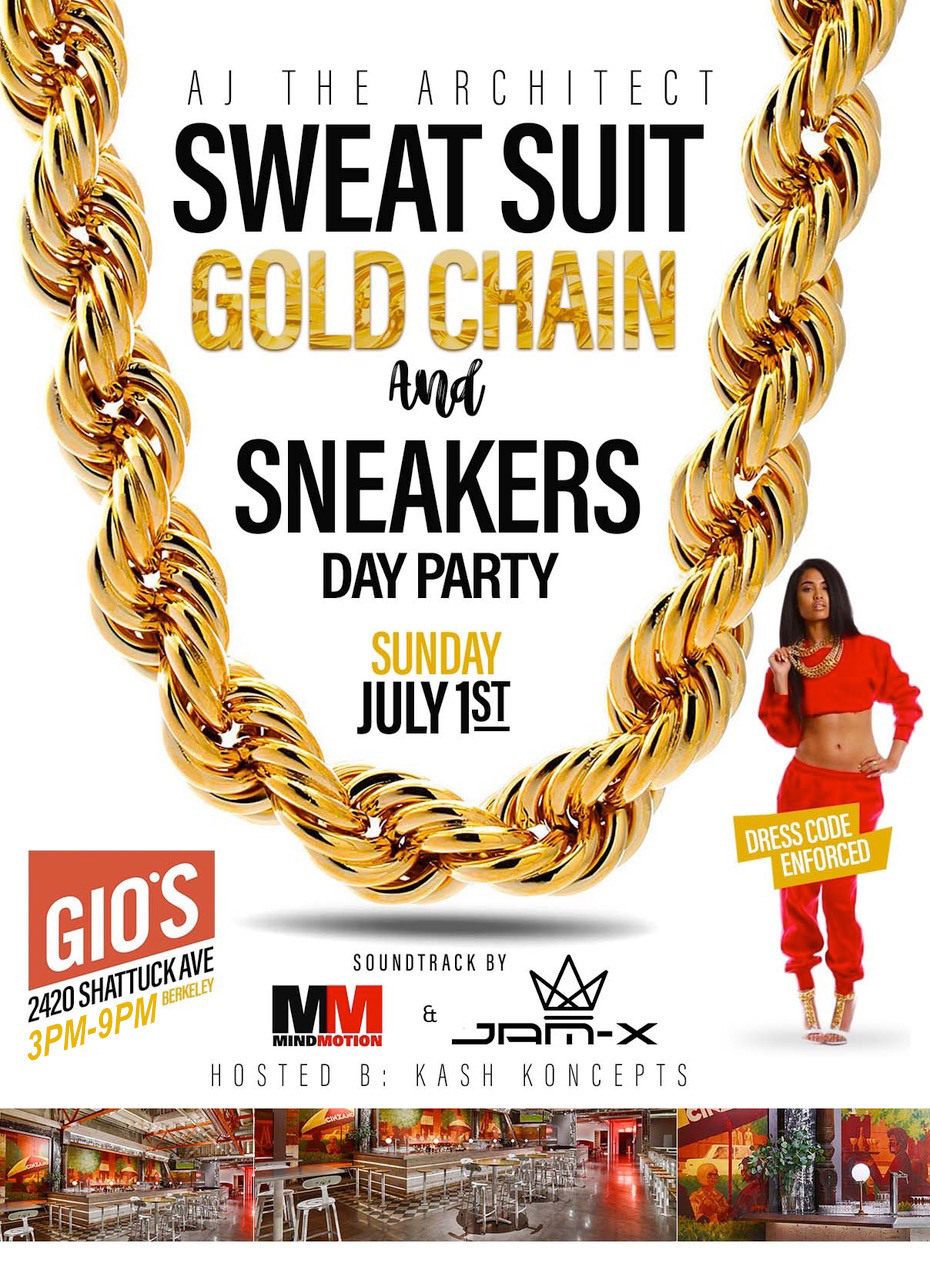 New Day Party Alert!! New Location!
FIRST 100PPL ON GUEST LIST NO COVER BEFORE 4:00PM
PERFORMANCE IS SCHEDULED*
WHEN: SUNDAY JULY 1, 2018
WHERE: GIO's 2420 SHATTUCK AVE
"SWEATSUIT, GOLD-CHAIN & SNEAKERS"
THIS IS A FASHIONABLE AFFAIR...
So before you run out and purchase those shell toe Adidas you might want to read further...
Don't get us wrong, you are more than welcome to rock your old school attire but we are encouraging a much more fashionable approach. Athletic Apparel has become far more than gym attire these days. Today we have new styles and fly fashions in a number of brands. Fila, Champion, AACU and Le Coq Sportif just to name a few. You can always add a little old school flavor by rocking your favorite gold chain or hat from back in the day.
Like the dress code we have our DJs mix both old school & new. The perfect blend of Gold School Hip-Hop & R&B with the right amount of today's hits. YOU DON'T WANT TO MISS THIS AFFAIR!
Fashionable track suits, Joggers and sweatsuits are required for entry. High fashion sneakers are encouraged but not required. Jewelry is also NOT a requirement. SHORTS or SWEATS ONLY, ARE NOT part of the dress code. Please review photos.
RESERVED TABLE / BOTTLE SERVICE
There is a $50 charge to reserve a table. Tables hold 2-5 people. THERE IS A $200 MINIMUM FOR EACH TABLE. (You and or your group must purchase at least $200 in food and or beverages) Reservation fees do not apply.
$175
Jameson
Moët Imperial Rose Nectar
Kettle One
$200
Ciroc
Don Julio
$250
Hennessy
Taxes & Gratuity apply
For larger groups pls contact ajthearchitect@gmail.com