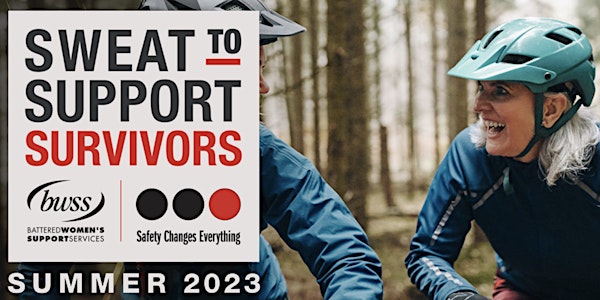 Sweat to Support Survivors Challenge Information Session with BWSS
Join our information session and learn more about how to help bring safety and justice to survivors of domestic violence through fitness.
Date and time
Tue, Jun 13, 2023 6:00 PM - 8:00 PM PDT
Location
1945 Cornwall Ave 1945 Cornwall Avenue Vancouver, BC V6J 1C8 Canada
About this event
WHAT IS THE SWEAT TO SUPPORT CHALLENGE?
For the 3rd year, Battered Women's Support Services (BWSS) Sweat to Support Survivors is launching their peer-to-peer summer fundraising challenge to get active, boost energy, promote self-care and wellness, and support survivors from all walks of life.
A choose-your-own-adventure challenge to prevent and combat gender-based violence.
July 15th – August 15th, 2023
This information session is a free, accessible event for active people of all ages, as well as fitness, yoga, and wellness professionals who are passionate about giving back to their community and offering their clients an opportunity to move, sweat and raise much needed support for survivors of gender based violence and funds for BWSS's essential services.
WHAT CAN YOU EXPECT IN THIS INFORMATION SESSION?
What you can expect from this information session is a better understanding of BWSS's programs and services and why they are essential to our community, women and children.
You will have the opportunity to learn more about how the fitness and wellness industry can play a critical role in social justice, and creating more inclusive spaces for survivors to access.
The many ways you can get involved with the Sweat to Support Challenge.
The opportunity to network within your industry and with like-minded professionals.
Free coffee, tea, snacks and a highly motivational space to collaborate.
HOW CAN I GET INVOLVED?
1. Come to the information session and find out more.
2. Register as a Sweat to Support Partner. If we've peaked your interest already, there are many ways to get involved. BWSS is looking for health and fitness professionals to donate their gym/studio and/or classes to go directly to this event.
This could be donating proceeds from a regular workout class, creating a karma class, a client monthly challenge, team fun run - the possibilities are endless.
Your participation in Sweat to Support Survivors will allow us to stay on the frontline 24/7 to provide crisis support, counselling, support groups, legal advocacy, employment counselling, housing support, outreach, and more.
Sweat to Support Website: https://www.bwss.org/sweat-to-support-survivors/
To Register as a Sweat to Support Partner email Leona Greene, Fundraising Chair at BWSS: Leona@bwss.org