Event Information
Location
Embassy Suites by Hilton- Old Town
1900 Diagonal Road
Alexandria, Va 22314
Description
The Sweatpants and Chill Retreat is back and better for 2019. It is the ONLY women's conference centered on the Relax, Relate and Release method while tossing out the normal "business attire required" dress code to focus on the real work to be done and encourages attendees to show-up COMFORTABLE, MISSION FOCUSED and READY TO BUILD their #MindBodyBusiness.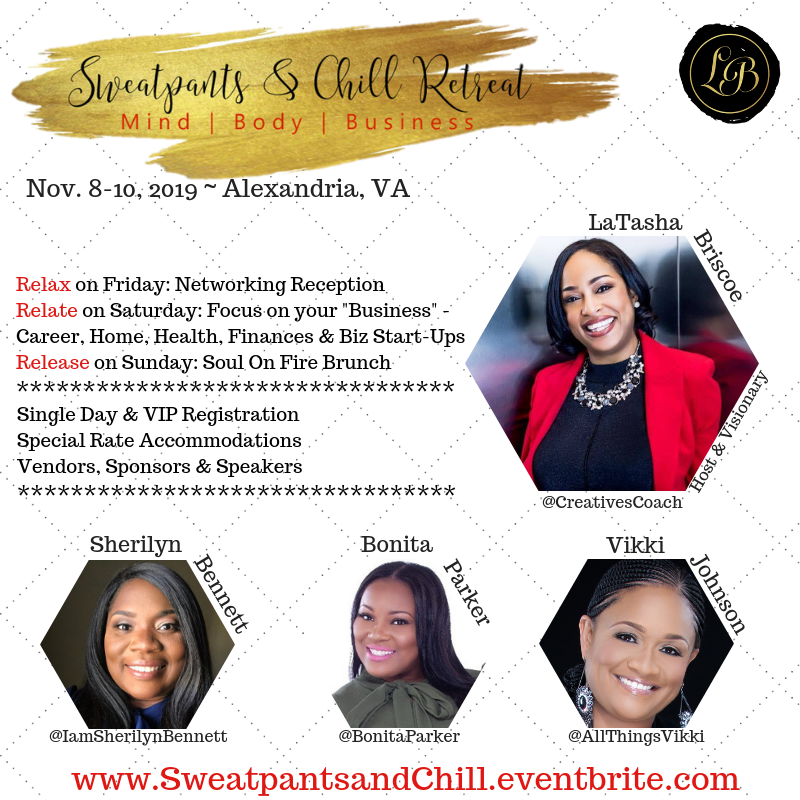 What does that mean you ask? We chat with our attendees between conferences to find out what they need need. While this retreat is designed for small business owners, entrepreneurs, and boss ladies that are juggling a career, we invite all women to join us because there is always something they will receive during the event that is guaranteed to change their life. The retreat has a focus on the whole person concept to develop each area simultaneously to ensure a strong foundation.
In other words... Your personal life has to be healthy and intact in order to ensure your professional life grows as expected while dedicating time to your self-care and spiritual well-being. It all must work together. Then we deep dive into the details.
We have speakers, Relevant topics for Home, Business and Personal Life. Real Techniques and Engaging Methods that you will learn and try during the retreat. There is an exciting Networking Experience planned so that attendees can meet and greet over Cocktails and Conversations.
DOOR PRIZE DONATIONS and SPONSORS: SUBMIT YOUR PROPOSAL!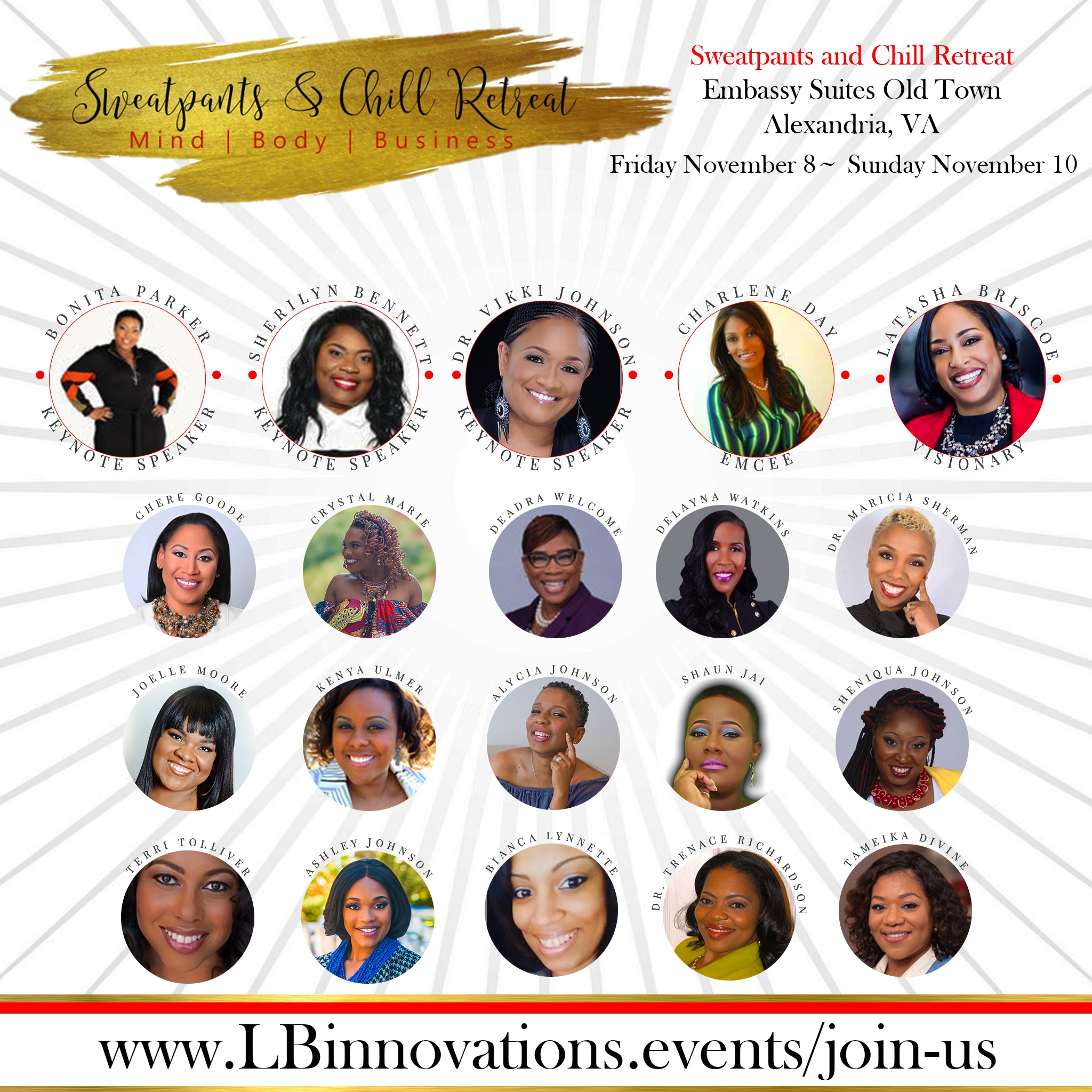 Sponsorship opportunities are available. Complete this form to submit your sponsorship proposal. For more information. Be sure to join our mailing list to stay up to date on announcements about the event.
Please note, ALL DEPOSITS ARE DEDUCTED FROM "BALANCE DUE" and all payments are non-refundable. Registration may be transferred to another guest. Please notify the event host of any changes to your registration. Please note vendor policy upon confirmation.
Join the Facebook group to check out the presenters, speakers, vendors, exhibitors and sponsors!!!
FAQs, need more information? Visit www.LBInnovations.events/join-us
Women, ages 18 and up.
Make this a "stay-cation" weekend.
Women that are serious about focusing on their #MindBodyBusiness
You do not have to OWN a business, to be serious about YOUR BUSINESS
Real applications, resources and tools so that you leave ready to WORK!
VENDORS, SPONSORS, SWAG DONATIONS Welcomed!
Locations and Parking/Transportation?
Discounted room rates at $165/night. ROOM BLOCK HERE.
Complimentary Wi-Fi Throughout the Hotel and Conference Space
Discounted Hotel Parking
Complimentary Trolley and Shuttle Access to the hotel lobby.
Easy access across the street from the Kings Street Metro Station.
Close enough to "home" that you can choose to drive in everyday .
Attire and What to Bring?
Seriously, dress comfortable. Yes we will be taking pics and snapping selfies but we want you to come ready to work.
Business Casual. Sweatpants are NOT required. This caused confusion last-year but jeans are just as comfy.
Complimentary Wi-Fi Throughout the Hotel and Conference Space- feel free to bring tablet or laptop to take notes.
Business cards if you have them.
Workout clothes and a mat if you plan to join us for the yoga session.
Money to shop and support our vendors.
How can I contact the organizer with any questions?
What's the refund policy?
There are no refunds. Registration can be transferred to another attendee. Contact LB Innovations directly for special circumstances.
Date and Time
Location
Embassy Suites by Hilton- Old Town
1900 Diagonal Road
Alexandria, Va 22314