Event Information
Location
Embassy Suites by Hilton- Old Town
1900 Diagonal Road
Alexandria, Va 22314
Description
While 2018 has come to a wrap, we are gearing up for 2019! SAVE THE DATE and RESERVE YOUR EARLYBIRD TICKETS NOW! More details to include the speaker line-up will be released soon. #STAYTUNED
We have 22 speakers, Relevant topics for Home, Business and Personal LIfe. Real Techniques and Engaging Methods that you will learn and try during the retreat. There is an exciting Networking Experience planned so that attendees can meet and greet over Cocktails and Converstaions.
DOOR PRIZE DONATIONS and SPONSORS: SUBMIT YOUR PROPOSAL!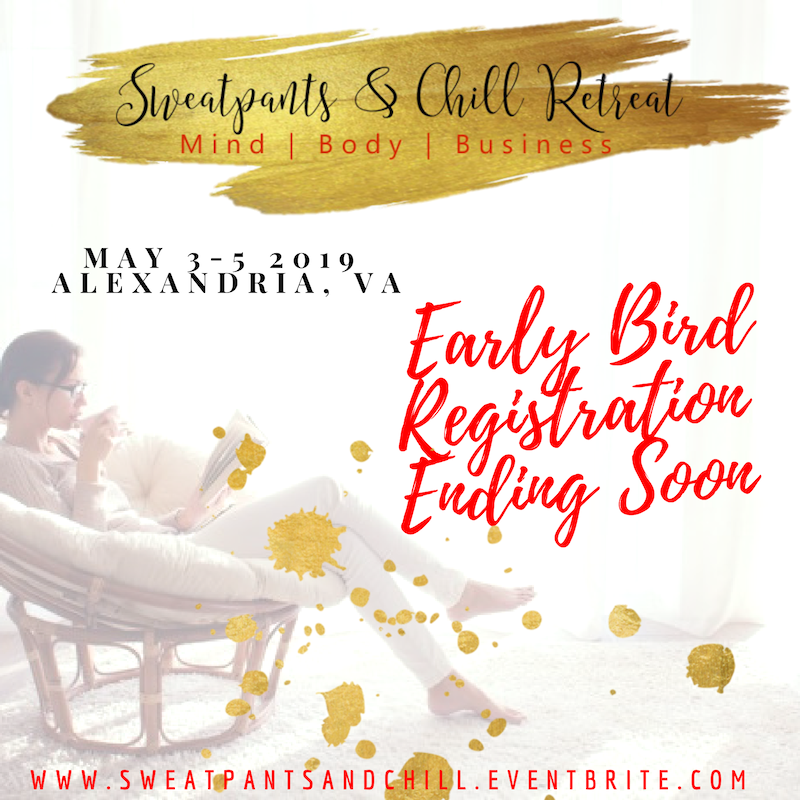 Check out our 2018 Speakers and CLICK HERE to stay up to date on our 2019 Speaker Announcements! WHO SHOULD ATTEND:
Women, ages 18 and up.
Make this a "staycation" weekend.
Women that are serious about focusing on their #MindBodyBusiness
VENDORS, SPONSORS, SWAG DONATIONS Welcomed!
WHAT IS THE SWEAT PANTS and CHILL RETREAT:
3-days of POWERFUL, ENGAGING, CONNECTIONS on topics that MATTER.
Real applications, resources and tools so that you leave ready to WORK!
WHERE IS THE RETREAT:
The Embassy Suites by Hilton-Old Town, Alexandria VA.
Discounted room rates at $179/night.
Complimentary Wi-Fi Throughout the Hotel and Conference Space
Discounted Hotel Parking
Complimentary Trolley and Shuttle Access to the hotel lobby.
Easy access across the street from the Kings Street Metro Station.
Close enough to "home" that you can choose to drive in everyday .
WHEN IS THE RETREAT:
Fri., May 3- Doors open at 3pm; network reception and pre-vendor shopping 5-7pm
Sat., May 4- Doors open at 8am; We have reserved the Hotel Restaraunt for Breakfast Service 7am-9am
Sun., May 5- Brunch begins at 9am.
Flexible onsite registration, just in case your are driving in daily.
WHY ARE WE HAVING THE RETREAT:
Come as you are but EXPECT TO LEAVE DIFFERENT!
There are tons of conferences but we wanted an atmosphere that was about digging deep into who you are destined to be from the inside.
Connect with and support other sisters who have been in your shoes or traveling a similar journey.
Sweatpants are not only comfy, it creates an appearance of casualness that we can all relate.
Feel free to wear your heels but most importantly, be ready to release whatever has been holding you back and RECEIVE guaranteed direction from our speakers.
Registration Opens Friday at 4pm and Saturday at 8am
Sponsorship opportunities are available. Complete this form to submit your sponroship proposal. for more information. Be sure to join our mailing list to stay up to date on announcements about the event. Speakers will also be announced soon. Join the Facebook group to be the first to know!
Please note, ALL DEPOSITS ARE DEDUCTED FROM "BALANCE DUE" and all payments are non-refundable. Registration may be transferred at least 60-days prior to event to another guest. Please notify the event host of any changes to your registration. Please note vendor policy upon confirmation.
SPEAKERS ARE ANNOUNCED RANDOMLY EVERY FEW WEEKS LEADING UP TO THE EVENT!!! Join the Facebook group to check out the presenters, speakers, vendors, exhibitors and sponsors!!!
Date and Time
Location
Embassy Suites by Hilton- Old Town
1900 Diagonal Road
Alexandria, Va 22314