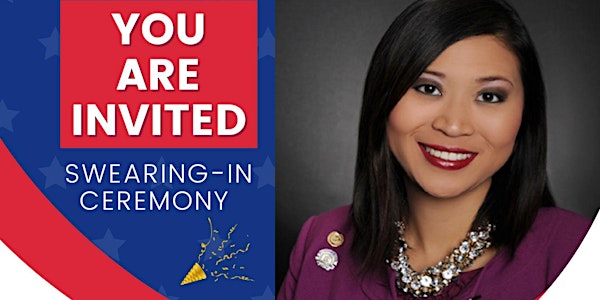 Swearing-In Ceremony, Mountain View School District (Los Angeles County)
While we wait for the results to certify. You are coordinately invited to the Swearing-In Ceremony for Cindy Wu by Hon. Fiona Ma, CPA.
When and where
Location
Mountain View School District 3320 Gilman Road El Monte, CA 91732
About this event
The Mountain View School District is a K-8 district covering part of El Monte and South El Monte. We proudly serve approximately 5,000 students at eight schools, as well as the educational needs of approximately 560 infant through preschool children and families through its highly engaging Head Start State Preschool and Children's Center programs. Full Day Kindergarten is offered at all eight schools and Full Day Transitional Kindergarten is offered as selected sites.
Cindy Wu, the first person that looked like her, was the first to be elected to the Mountain View School Board in the150 year history of the district in 2018. She is a trailblazer not only as the first AAPI (Asian American Pacific Islander) to be elected to this school board but also the first AAPI woman elected to any public office in the City of El Monte and the City of South El Monte. She brings Diversity, Equity, and Inclusion to this space and hopes to continue being a "Bridge Builder" in the community.
As a second term Board Member, she will continue to be a voice for the voiceless, a voice for the children to have the resources and the education they so deserve. In 2022, she was awarded "Women of the Year Education" by Los Angeles County for her work in her community and in Los Angeles County. In 2021, she was elected President by 93 school districts in LA County to lead the Los Angeles County School Trustees Association (LACSTA). She is passionate about financial literacy, anti-bullying, and increasing after-school programs such as tutoring, math, and sports. She will continue to work toward the safety and education of our children.
She has always had a deep admiration and respect for those who serve our community. She is extremely honored and humbled to be able to "make a difference" in this community. She is extremely humbled by the overwhelming trust and support of her community. Each single person that has reached out holds a special place in her heart, and she hopes to continue the dialogue and conversation to elevate El Monte and South El Monte, especially enhance culture integration and understanding within the communities.
Thank you for taking the time to celebrate this EPIC time when we will transform our district into one of the best districts in San Gabriel Valley, where our children will have the opportunity to continue to high school and higher education to transform their lives and the lives of their families.
With elected positions, also comes the influx of great responsibilities. She is ready to LEAD, ready to BRIDGE THE GAP, ready to help the school district reach the next level of SUCCESS!
Thank you for taking the time to learn about Cindy Wu and support this movement of elevating the community. Thank you for being a part of her journey to GREAT SUCCESS!
See you on December 13 at 4:45 pm.
Swearing-In Ceremony: 5:00pm-6:00pm (Everyone welcome to stay for all or portion of the school board meeting)
School Board Closed Meeting: 6:00pm-6:30pm
Regular School Board Meeting: 6:30pm-9:00pm
Guest remarks starts at 6:30pm
*Pending Certified Election Results