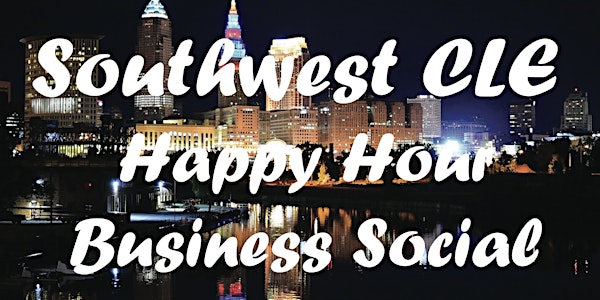 SW/CLE Happy Hour Business Social!
SW/CLE Happy Hour Business Social. First Wednesday of the Month! See Details for Locations!
Date and time
Wednesday, April 5 · 4 - 6pm EDT
Location
Mulligan's Bar & Grille 20880 Royalton Road Strongsville, OH 44149
About this event
BIG ANNOUNCEMENT: We heard your feedback, and we are implementing it! Our networking organization is converting to a monthly after-hours business networking group!
Southwest CLE Business Network Group changed to SW/CLE Happy Hour Business Social! Instead of weekly Tuesday morning meetings, we will be gathering the first Wednesday of each month from 4-6pm, at local establishments in the Southwest Cleveland area.
Join us for our Happy Our Social event on the first Wednesday of every month from 4-6pm at an upbeat social venue. This month it will be at Mulligan's Bar & Grille in Strongsville.
See you then!
Our Group:
In business not only is it important who you know, but how many people you know. To be successful, you need to maximize your exposure and one of the most effective ways to gain exposure is through Networking. We are here to help you Build Relationships which leads to Referrals which leads to Business Growth!
We believe in networking. We believe in its power so much that we want anyone to be able to network anytime and anywhere they want, as often as they want! We get right to the heart of networking which is, people. With a focus on the development of personal relationships, business growth happens naturally.
In-Person meetings! Come join us for FREE.
Thank you,
Bill DeMarco, Group Leader.
About the organizer
Complete Tax & Wealth Planning Firm
Preparing for retirement is a life-long journey that demands solutions that can adapt to dynamic lifestyles and investment markets. That's why we are dedicated to providing investment management, tax-efficient strategies and strategic wealth planning to those business owners, career professionals and families, from the beginning to near and in retirement. As a financial and tax, advisory firm, our primary focus is to understand your current situation and future goals, review each situation for the impact on taxes, and provide personalized opinion that are designed to achieve long-term investment results. Simply put, we strive to be our clients' trusted advisor.
With this highly skilled team in place, our goal is to help preserve your assets and help ensure your legacy. We provide you with a customized plan that takes into consideration your current portfolio as well as your unique financial goals. We'll create a tailored, easy-to-understand plan that maps out step by step the path to your financial future.
With our complete 360 approach to tax and retirement planning, you're in expert hands with Wealth Management Resources.
Securities offered through Regulus Advisors, LLC. Member FINRA/SIPC. Investment advisory services offered through Regal Investment Advisors, LLC, an SEC Registered Investment Advisor. Regulus Advisors and Regal Investment Advisors are affiliated entities. Wealth Management Resources is independent of Regulus Advisors and Regal Investment Advisors.
For additional information, please refer to one of the following consumer websites: www.FINRA.org, www.SIPC.org.