Swatchroom Salon Party - March 7 and March 8

Multiple Dates
Event Details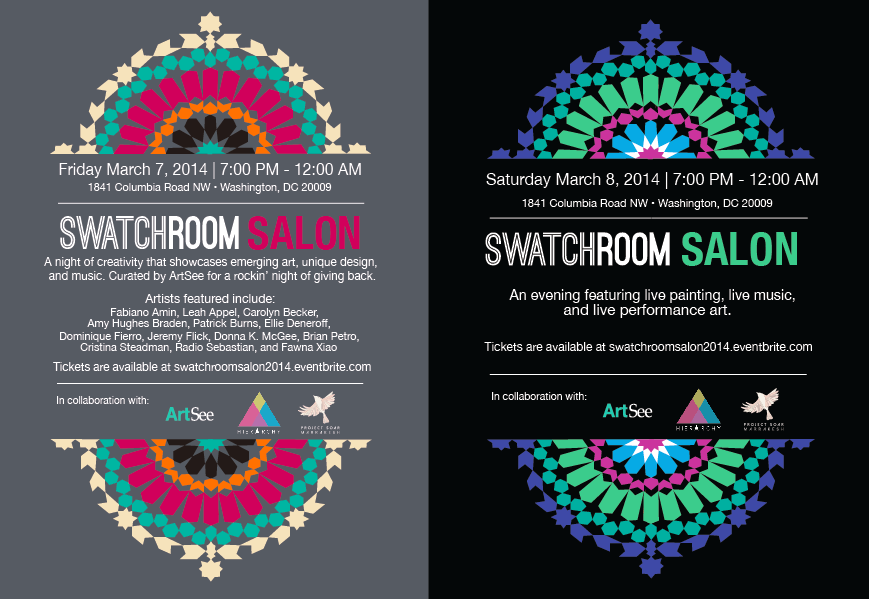 SwatchRoom, the new Shaw-based creative design and fabrication studio, will host its first annual three-day SwatchRoom Salon Party March 7th through March 9th. Curated by ArtSee, an art event services agency, and hosted by Hierarchy, the newest event space by DC's No Kings Collective, the celebration will showcase more than 35 local artists during three distinct events. The Salon Party will be accessible to all levels of art enthusiast, beginning with a showcase of affordable work from emerging artists and culminating in a private event featuring new collections from some of DC's most sought-after artists. 
FRIDAY, March 7th: Introducing DC's Best Emerging Artists
To kickoff the Salon Party, a grouping of DC's greatest emerging artists will be featured on Friday night. Each artist will display their latest work across all mediums: painting, photography, printmaking and more. 
Artists will include: 
Fabiano Amin
Leah Appel
Carolyn Becker
Amy Hughes Braden
Patrick Burns
Ellie Deneroff
Dominique Fierro
Jeremy Flick
Barb Januszkiewicz
Donna K. McGee
Cory Oberbndorfer
Brian Petro
Cristina Steadman
Radio Sebastian
Fawna Xiao 
SATURDAY, MARCH 8th: Celebrating the District's Favorite Artists 
On Saturday night, collectors will have a preview to some of their favorite artists' and designer's newest collections. Attendees will also enjoy live painting, music, performances, and break dancing.
Artists will include:
Gregg Deal - paintings
Kate Warren- photography
Martin Swift - paintings
Jeremy Flick - paintings
Maggie O'Neill -paintings and home goods
Cory Orbendorfer - paintings
Karen Suderman - paintings
Chris Cooley - pottery
Dominique Fierro -photography
Sophie Blake - jewelry
Allison Priebe Brooks (aka Queen Bee Designs)
James Kerns - furniture and lighting
Tariq Tucker - paintings
Carbon Vintage - furniture
McNamara Designs - furniture
Organizer
We are a creative design studio proudly based in Washington, DC.  SwatchRoom is a source of talent, experience, and expertise for creative partnerships with a fundamental practice of promoting local talent first.
Our mission is to create unique objects, spaces, and ideas that inspire. We believe these components improve the quality of life for our clients, our employees, and our community.
Founded in 2013 by Maggie O'Neill  and Warren Weixler, SwatchRoom resulted from the desire to provide a wider array of services, a much greater network of talent, and access to world's best artisans and craftspeople.