SWAP IN THE CITY
When and where
Location
1133 15th Street, NW 12th Floor Washington, DC 20015
Refund Policy
Contact the organizer to request a refund.
Description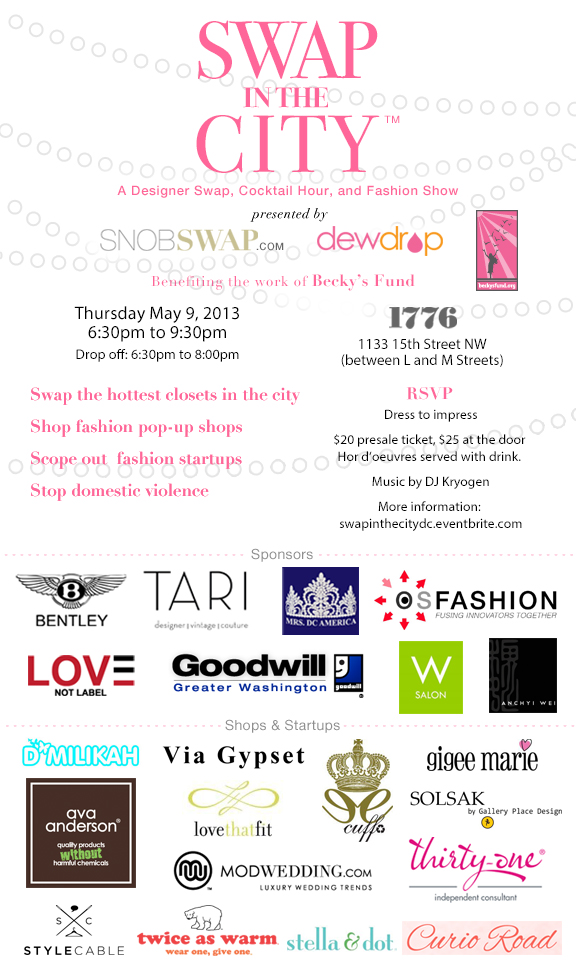 ---
Looking for a ride to Swap the City?
Show up in style with Uber!
We're thrilled to be partnering with UBER to get you to Swap the City in style! Sign up with the promo code SNOBSWAP and get $20 off your first Uber Black Car or SUV ride.
The best part? Uber will donate $5 to Becky's Fund for every person who signs up and takes a ride. Click here to get started!
------PROMO CODE------
SNOBSWAP
---
*First 50 people who register online get a FREE swag bag!*
FAQs:
1. What can I bring to swap?
Bring designer tops, bottoms, dresses, jackets, shoes, handbags and accessories. The items have to be current and fashionable. We will accept vintage items if we feel it is swap-able. Items should be in good to new condition, with working zippers and no missing buttons. Items should be clean. We will not accept any items with holes, stains, or pilling. Items from ALL seasons welcome.
2. What designer brands do you accept?
Bring in designer brands such as: BCBG, Coach, Joie, Splendid, Elizabeth & James, Ella Moss, Theory, Marc Jacobs, Micheal Kors, 3.1 Phillip Lim, Rag & Bone, Seven of Mankind, Joe's, Milly, Missoni, Nanette Lepore, Rebecca Minkoff, Pour la Victoire, Tibi, Vince, etc.
If it's a brand found at Nordstrom or Bloomies, bring it to the party! We will also accept on-style brands such as Zara, Club Monaco, JCrew, Banana Republic, MNG, Anthropologie, and designer collaborations like Jimmy Choo or Versace for H&M, Alexander Wang for Target & Neimans, etc. Of course super designer brands are also welcome like Louis Vuitton, Gucci, Chanel, etc.
3. What should I NOT bring?
Leave your Forever21, H&M, Gap and Old Navy at home!
Gym wear (sweats, sports bras, etc), hair accessories, bathing suits, and undergarments are not accepted, unless the tags are still on.
Fakes will not be accepted. We will do our best to authenticate but we cannot guarantee the authenticity of an item.
Golden rule of swapping is swap items that you would be proud to give to your best friend.
4. Do I have to bring swap items to come to the party?
No, please rsvp and come join the party for fun!
5. How does the swap work?
Here's an easy step-by-step process:
1) Go through your closet and find stylish clothes, shoes, and accessories you no longer wear.
2) Bring in 3 items to the swap (no more and no less).
3) Drop off your items from 6:30-8:00 PM. We will stamp your hand and will give you tickets that coincide with the pieces you brought in.
We will have a color coding system in place to keep swapping equal and fair:
RED = Up to $100
WHITE = Up to $300
YELLOW = Up to $500
BLUE = $500 +
4) Swap begins at 8:00pm. Remember, swapping is not a contact sport! Swaps are fun and a great way to meet like-minded people, so please be nice to fellow swappers.
5) Enjoy your fabulous, new-to-you wardrobe!
6. Can I try on my clothes? If so, where?
There won't be an area where you can try on clothes, but you can certainly try them on over your clothes, or have a couple of your girlfriends cover you up!
7. What happens if I don't find anything I like?
Swap at your own risk. Bring in items you wouldn't mind parting with. If you didn't find anything, at least you got to purge your closet! Of course, we understand if you change your mind. You can still grab the item when the swap starts, if it's still there. But once you drop it off, you've given up ownership of that item.
8. What is the check out process?
Staff will check your voucher when you leave to count the number of items and ensure you got the same level of items you came in with. You can leave with items that are equal or lesser quantity and value, but not more.
9. What happens to the items that aren't swapped?
You'll go home with a good conscience knowing your clothes will go towards a good cause--we donate all remaining clothing from the swap to Goodwill of Greater Washington. On the other hand, we are not a clothing drive. Please leave extra items at home (this goes for men's and kids' clothes, too).
HAPPY SWAPPING! XOXO
For press and media tickets, please contact aspann@brandspanpr.com or 904.476.8003.