Description
SWANx2019 Annual Conference
Join us to meet fresh faces, catch up with colleagues, and sit in on more than 17 unique sessions to find out what's new in library land. Network with our 97 SWAN member libraries, staff from nearby libraries, and library-based organizations as you learn more about the latest and greatest library topics. Our conference will be suitable for all levels of staff and anyone who wants to spend the day learning more about libraries.



Event Details
Check-in opens at 8:30 a.m. at Moraine Valley Community College's Business and Conference Center in Palos Hills. We'll welcome you with a registration packet, coffee or tea, and a breakfast spread of assorted pastries and fruit. We'll kick things off at 9:00 with a welcome address and the keynote speaker, followed by the first round of breakout sessions, and lunch at noon. Lunch options are*:
Ham and Swiss –

Soft baked roll piled with thin-shaved deli ham, Swiss cheese, lettuce, tomato, and onion. Served with fruit, chips, and spreadable condiments on the side.

Overstuffed Tuna Croissant –

Flaky croissant stuffed with our famous tuna salad with lettuce and tomato

Chicken Caesar Wrap –

Grilled chicken breast, romaine lettuce, shredded parmesan cheese, drizzled with Caesar dressing, wrapped in a tender tortilla

Caprese Salad Wrap (Vegetarian) – Fresh mozzarella, sliced tomato, basil, and crisp romaine lettuce, with balsamic vinaigrette, wrapped in a spinach tortilla
Avocado Strawberry Salad (Vegan/Gluten-Free) –

A delightful vegan salad featuring tender baby leaf spinach topped with fresh sliced strawberries, avocado, red onion, and almonds. Served with poppyseed dressing

Door County Salad –

Sundried tart cherries, fresh strawberries, roasted pecans and fresh mozzarella cheese with grilled chicken or steak on romaine. Served with balsamic or poppy seed dressing.

Santa Fe Salad (Vegan) – Chopped romaine, diced tomatoes, red onions, black beans, roasted corn, diced peppers, avocado, tossed with a lime cilantro vinaigrette. Served with crunchy tortilla strips
*if you have dietary restrictions not met by the above options, please let us know and we will work with you to find a suitable lunch option!
Along with the breakout sessions, vendor tables will be set up in the main hall, giving you a chance to get some face time with new and known vendors. After lunch are the bulk of our breakout sessions, and vendor tables will be available throughout the day. We'll wrap up at 4:00pm after a short address from SWAN Executive Director Aaron Skog, along with some fun giveaways!
The registration fee is $30 for SWAN member library staff and $40 for non-SWAN attendees. The event is open to all. Fees are collected to offset the cost of food, which includes continental breakfast, lunch, and a mid-afternoon snack. The full list of sessions, with descriptions, is available here.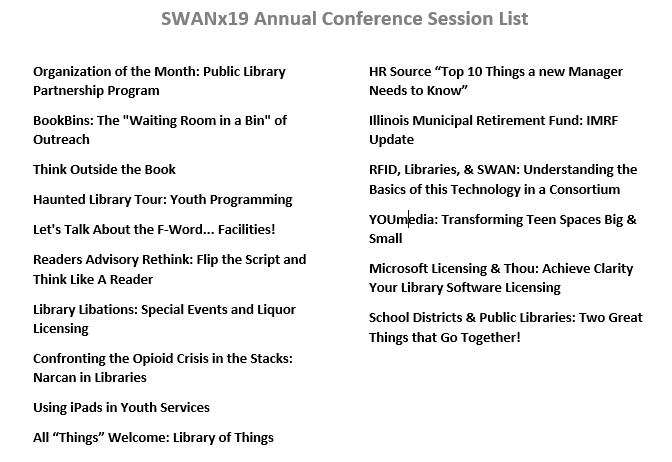 If you have any questions, issues with the registration process, you do not receive your confirmation email, or need special/group order and invoicing, please contact SWAN Office Manager Ginny Blake at ginny (at)swanlibraries[dot]net.
**Please note that your confirmation email will contain a survey for you to choose which breakout sessions that you plan to attend. Please complete this survey, as we need the information in order to complete our room booking. Thank you for your cooperation and we look forward to spending the day with you!**