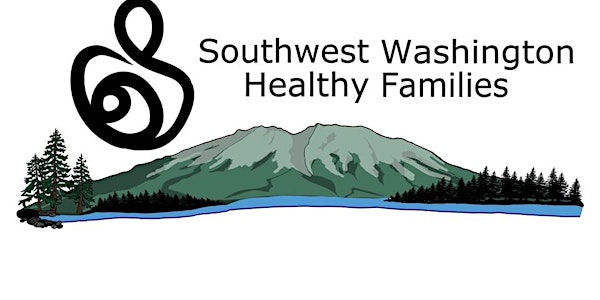 SW WA Healthy Families 4th Annual Conference
It is important that everyone is aware of the implications and impact of perinatal mental health and disorders.
Refund Policy
Contact the organizer to request a refund.
Eventbrite's fee is nonrefundable.
About this event
Welcome to the 2022 SW WA Healthy Families Conference. SW WA Healthy Families and Clark County Public Health are committed to advocating for better systems to provide mental healthcare for all. This year's theme "Being there, With Love and Support for Families in the First Years", we are excited to host speakers to enrich your knowledge and work.
Perinatal Mental Health is a critical public health issue that has been intensified in the past couple of years due to the COVID-19 pandemic. We invite you to join us in this collaborative discussion with a wide range of speakers who will share advancements in research and innovative approaches to mental, emotional and physical healing of those entering parenthood.
Who should attend?
This 1- day conference is recommended for all professionals who work with new and expecting parents including but not limited to, nurse practitioners, midwives, physicians, health educators. early childhood practitioners, birth workers/doulas, home visitors, OB/GYNs, pediatricians, lactation consultants, public health professionals.
Meet Our Speakers
Melissa Rivera, Washington State Healthcare Authority Melissa Rivera has worked in public services for over 20 years with the Department of Social & Health Services and the Health Care Authority combined. She is enthused how Washington State continues to work on improving access to health care for all by creating solutions by way of diversity, equity, and inclusion.
Rue Khosa, ARNP, FNP-BC, IBCLC is a board certified family nurse practitioner, board certified lactation consultant, childbirth educator, and the owner/founder of The Perfect Push, a lactation and parenting wellness clinic. Rue was born and raised in Zimbabwe, where family plays a critical role in supporting expectant and new parents. This type of communal caring, called "kugarira", helps families prepare for a new baby both emotionally and physically and guides them through the often challenging newborn period. Rue created The Perfect Push to bring that experience to Seattle. Rue began her women's health career as a labor and delivery nurse over 10 years ago, at Washington Hospital Centre in DC. She received her graduate degree from Georgetown University, and her undergraduate degree from the University of Maryland, Baltimore. Rue is a Teaching Associate in the Department of Family Medicine at the University of Washington's School of Medicine and an Adjunct Clinical Faculty at Northwest University Buntain School of Nursing.
Tiffany Tibbs Christensen, MPH, CHES is the Perinatal Health Coordinator at the Washington State Department of Health and serves as the ERASE MM contract manager. In her role, she collaborates with state-wide partners to implement programs that improve perinatal health outcomes and are based on recommendations given by the Washington State Maternal Mortality Review Panel.
Mary Kay Ausenhus, MSN, WHNP, CPHQ is the current Director of Safety and Quality at the Washington State Hospital Association supporting the Safe Deliveries Roadmap program. Mary Kay received a Master of Nursing degree from the University of WI-Madison, where she completed the Adult Nurse Practitioner degree with a specialty in Women's Health.
Tiffani Buck, MPH, RN is a nurse practitioner at the Washington State Department of Health. She has worked on the state's maternal mortality review process and coordinates the state's workgroup that is engaged in addressing the impact that substance use has on parents, women, pregnancy, children and families.
Natalie Franz, MPH, is the Maternal and Child Health Data Communications Consultant at the Washington State Department of Health. At DOH, Natalie leads the development of clinical guidelines on lactation and substance use. She also leads efforts to improve how DOH shares maternal child health data. Natalie earned her undergraduate degree in Cellular & Molecular Biology from Western Washington University and graduated from the University of Washington with an MPH in Health Services. Her diverse work experience in perinatal mental health research and workforce development, youth development, and mental health crisis stabilization inform and inspire her work as a public health professional. Natalie is interested in first relationships as a basis for health and well-being, developmental trauma prevention, and promoting patient voice & choice. She enjoys growing vegetables, cross-country skiing, and knitting in her free time.
Mia Edidin , LICSW, Clinical Director is an independent licensed clinical social worker and the Clinical Director at Perinatal Support WA, a non-profit organization that aims to improve mental health care for families during the perinatal period. Mia has worked with families for more than 20 years, specializing in pregnancy and postpartum emotional adjustment, in many settings including home visiting, community mental health, private practice, and in non-profit and community advocacy. Her years in the field as a direct service provider and administrator informs her unique understanding of the perinatal mental health landscape in Washington.
Agenda
For full program details, view the conference agenda.
Continuing Education Credits
SW WA Healthy Families is applying for CERPs. Updates regarding the number credits awarded are coming soon.
Contact:
For inquiries about this conference, please contact:
Yasmina Aknin
yasmina.aknin@clark.wa.gov