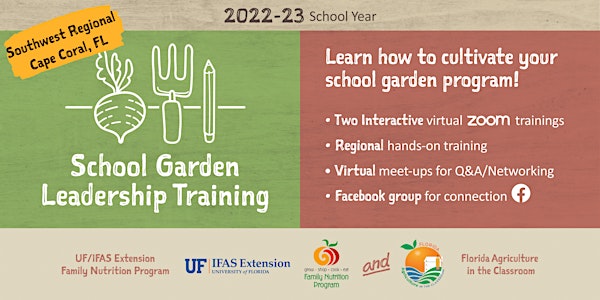 SW Regional Workshop (Cape Coral) - FL School Garden Leadership Training
A hands-on training and networking experience to equip school garden leaders in the Southwest region of FL for success!
When and where
Location
Island Coast High School 2125 De Navarra Parkway Cape Coral, FL 33909
About this event
Florida Agriculture in the Classroom and UF/IFAS Extension Family Nutrition Program are excited to continue hosting a series of virtual and in-person School Garden Leadership Trainings for the 2022/2023 school year. These training and networking experiences are designed for Florida school garden leaders of all levels to build gardening confidence, foster collaboration among stakeholders, and strengthen garden programs for long-term success. We are proud to partner with local school districts and school garden support organizations to make these events possible!
----------------------------------------------------------
EVENT DETAILS
Join us on Saturday, October 8th, 2022 as we offer strategies for managing your school garden program this season. Together we will learn how to hold a successful tasting event or harvest celebration with students during the school year.
Together, we'll explore...
Foundations for a Sustainable School Garden Program; Growing your Garden Team with Student Engagement; Gardening with a Goal; Kid Approved Garden Crops; Planning a Harvest Party or Classroom Tasting Event
Fall Harvest Tips; Food Safety; Cooking and Eating from the Garden with Students; Nutrition Education Lessons; Integrating the Garden into School Culture; Group Harvest: Event Planning Ideas + Group Sharing
Who should attend? This experience is designed for direct K-12 educators, Food and Nutrition Services staff who are involved in school garden programming, school garden support organizations, and volunteers working with school gardens. Those engaged in gardening programs in the Early Childcare and Education setting are also welcome to attend.
Educators from surrounding school districts such as Collier, Hendry, Glades, Charlotte, DeSoto, and Sarasota are encouraged to attend!
Registration is limited to 60 participants. Please register today to reserve your spot and free garden giveaways! If you register and your plans change, please update your registration accordingly or contact us. A waiting list will open once event reaches capacity.
To register, click the red 'Register' button. For questions or assistance with the registration process, contact Tiffany@agtag.org or call 904-207-1626. For local inquiries, contact Susan Hassett at susanpha@leeschools.net.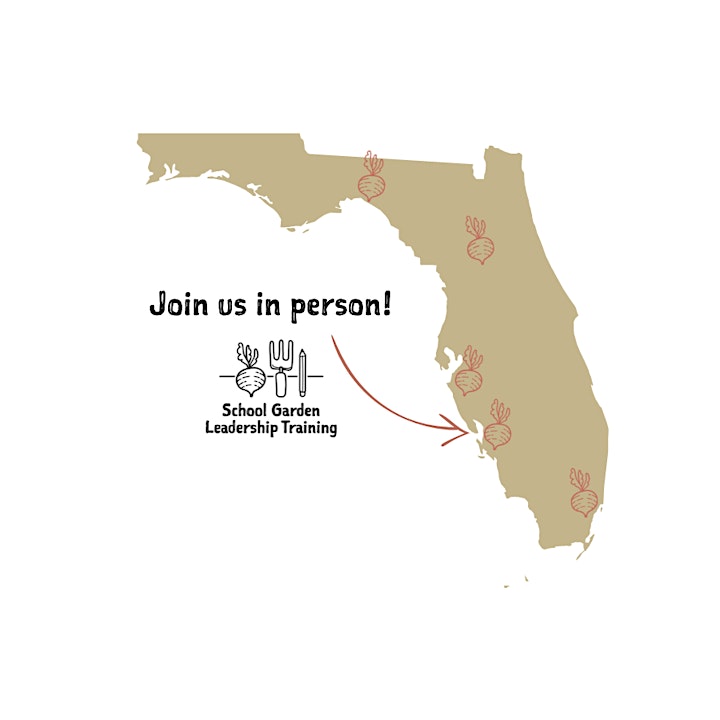 SCHEDULE
8:30 - 9:30 | Registration
8:30 - 9:30 | (Optional) Tour of ICHS school garden
9:30 - 11:30 | School Garden Leadership Training: Part I
11:30 - 12:30 | Lunch + Networking
12:30 - 3:30 | School Garden Leadership Training: Part II
3:30 - 4:00 | (Optional) Networking, Tabling, Giveaways, and Resource Distribution
----------------------------------------------------------
ADDITIONAL INFORMATION
SCHOOL GARDEN TOUR (OPTIONAL): Learn about Island Coast Highschool's innovative Garden to Cafeteria program. Students from the school's agriculture program will host a tour of their school garden, including hydroponic towers and aquaponics systems which grow lettuce and other produce for the school cafeteria.
SNACKS AND LUNCH: Coffee, tea, and light morning snacks will be available. Lunch will be prepared by East Lee Highschool's culinary program and guest Chef using produce from Lee County school gardens! Vegetarian options available.
GIVEAWAYS: Door prizes are available for up to 60 participants. Giveaways include seeds, plants, classroom germination sets, educational materials and more!
Florida Agriculture in the Classroom will provide free nutrition and garden-based curricula and other educational resources for your indoor and outdoor classrooms!
PROFESSIONAL DEVELOPMENT: CEU Credits and Certificates of completion are available.
STAY INVOLVED!
Can't join us in Cape Coral? Check out our other in-person and virtual workshops this school year!
Virtual webinars will be held on Thursday, Sept 29 and Thursday, Dec 1, 2022 from 3:30 - 5:00pm EST. To register for virtual sessions, visit: https://flschoolgardentraining2022.eventbrite.co.
In-person workshops around the state:
SOUTH
Miami | Wed, Oct 5, 2022 | Location: Fairchild Botanical Garden
Ft. Myers | Sat, Oct 8, 2022 | Location: Island Coast Highschool
Sarasota | Date TBA, Nov 2022 | Location: UF/IFAS Extension at Sarasota County
CENTRAL
Alachua | Sat, Jan 28, 2023 | Location: TBA
NORTH
Leon | Date TBA Fall 2022 | Location: TBA

MEET THE HOSTS:
This series is brought to you by Florida Agriculture in the Classroom and the University of Florida IFAS Extension Family Nutrition Program. We are proud to partner with school districts, educators, producers, state agencies, and school garden support organizations throughout the state of Florida.
Florida Agriculture in the Classroom (FAITC) is a statewide non-profit organization that connects kids to healthy food and Florida agriculture through educational resources, teacher professional development, garden grants, and other farm to school programming. FAITC has a vision to ensure every student in PreK-12 education is aware of and appreciates agriculture and natural resources in Florida. FAITC is committed to offering technical assistance safely to schools via in-person visits and remotely during the 2022-2023 school year.
UF/IFAS Extension Family Nutrition Program (FNP) works in many counties across Florida to help limited-resource families access more nutritious food choices on a budget and adopt healthier eating and physical activity habits to reduce the risk of obesity and chronic disease. As one of Florida's SNAP-Ed providers, FNP offers direct nutrition education, technical assistance, and garden funding to schools with 50% or more Free/Reduced Lunch status.
Lee County Healthy Living Collaboration is a multi-tiered collaboration between Food and nutrition Services, Curriculum and Innovation, Environmental Education, Career and Technical Education, and various community partner organizations. The goal of the Healthy Living Collaboration is to improve overall health and increase food security for students and families of the School District of Lee County. We promote healthy minds and bodies by linking multisensory, cross-curricular academics with school gardens, cafeteria menus, nutrition classes, mental health education, industry certification, college and career readiness and community outreach. The Healthy Living Collaborative is also the proud recipient of a 2022 USDA Farm to School grant!
Island Coast Highschool Academy of Natural Resources is a career and technical education program equipping students with agriculture industry certifications, and producing food for the school cafeterias.
THANK YOU TO OUR SPONSOR - WELLS FARGO!
Thank you for supporting school garden education! With Wells Fargo's support we are able to provide a delicious, school garden-sourced lunch prepared by the East Lee Highschool Culinary Program!