Sales Have Ended
Registrations are closed
Thank you for your interest in this event. The registration for this Online Hiring Event has ended. Please make sure to check the Crossover Company Profile for upcoming Hiring Events!
Sales Have Ended
Registrations are closed
Thank you for your interest in this event. The registration for this Online Hiring Event has ended. Please make sure to check the Crossover Company Profile for upcoming Hiring Events!
Description
We're running an Online Hiring Event on January 5th, 2019, to hire SVPs of Professional Services ($400K/yr).
Online Hiring Events are live forums designed to enable you to understand the role and requirements through an interactive Q&A session followed by a self-directed testing process. The testing takes between 3-5 hours to complete. It's worth taking the time to finish all the tests because we evaluate every single complete application to find the top talent.
This event will include all testing required to apply for the role. Upon grading the tests, and if you advance, we will set up an interview with the hiring manager.
You can see more details about this role here:
https://www.crossover.com/svp-of-professional-services?utm_campaign=Jan5event
---
This exciting opportunity allows those who can rise to the challenge, to integrate a factory-style approach to the acquisition, integration, and support of a variety of products in our vast and rapidly growing portfolio. You will be challenged to change your management style to align with our productivity tool WorkSmart Pro, to effectively manage your team and achieve metric goals.
As the Senior VP of Professional Services, your role will be atypical from those found in traditional companies. Our factory style approach allows SVPs to create unified processes that can be implemented across our portfolio and integrated into newly acquired companies. Through evaluating and conducting deep dives into issues, SVPs create strategic action plans to deliver consistently high-quality professional services.
Senior VP main responsibilities are:
Create repeatable professional services and managed services factories

Respond to customer's escalations. In case a service failed the Customer's quality bar, you're going to talk to the customer, figure out why it failed and do a deep dive through all the layers of Management down to the person who delivered the service that didn't meet the quality bar. You're going to identify whether that problem was a management problem, an individual contributor problem, a documentation gap or a quality bar problem and you're going to solve that problem for the entire factory
Assess the change management process. You will execute a change management plan immediately or, if it takes longer than one week to implement the change, you will create a set of quantifiable progress metrics in order to achieve the execution of it. It's more like working for a production supply chain than it is for a typical agile software company

Lead and set the direction for the professional services organization of up to 5-10 VPs of professional services and up to 500 total individual contributors
Candidate Requirements:
Master's degree in Engineering or Business related disciplines

+20 years of experience in Engineering, R&D or professional services

Extensive experience in leading a large organization of +5 VPs and +250 individual contributors

Experience in managing multiple $30M - $50M professional services projects across more than a single product, while achieving 40%-60% of margin

Have perfect spoken and written English

Ability to communicate with several diverse techno-functional teams

Experience in overseeing the implementation process of client-facing SaaS projects

Strong communication, presentation and negotiation skills
Other highly desirable skills/experience include:
Willingness to un-learn management styles that you use before and re-learn how to manage a team under our own "Worksmart Pro" productivity management model

Strong organization skills, experience leading and working across large multi-functional teams with direct and indirect influence

Strong cross-functional experience, project management, consulting technology and process improvement skills

Skilled at communicating effectively with software engineers, technical customer support teams and project managers
Register by clicking the green button. The Webinar address and test platform link will be sent to confirmed candidates by email.
Join our community of remote professionals!
We have over 4,000 Crossover team members and are growing our network around the world. Watch this video to hear from team members in Brazil, Russia, Poland, Argentina, Turkey, Romania, Ukraine, and Hungary. https://youtu.be/L_hhRUutsko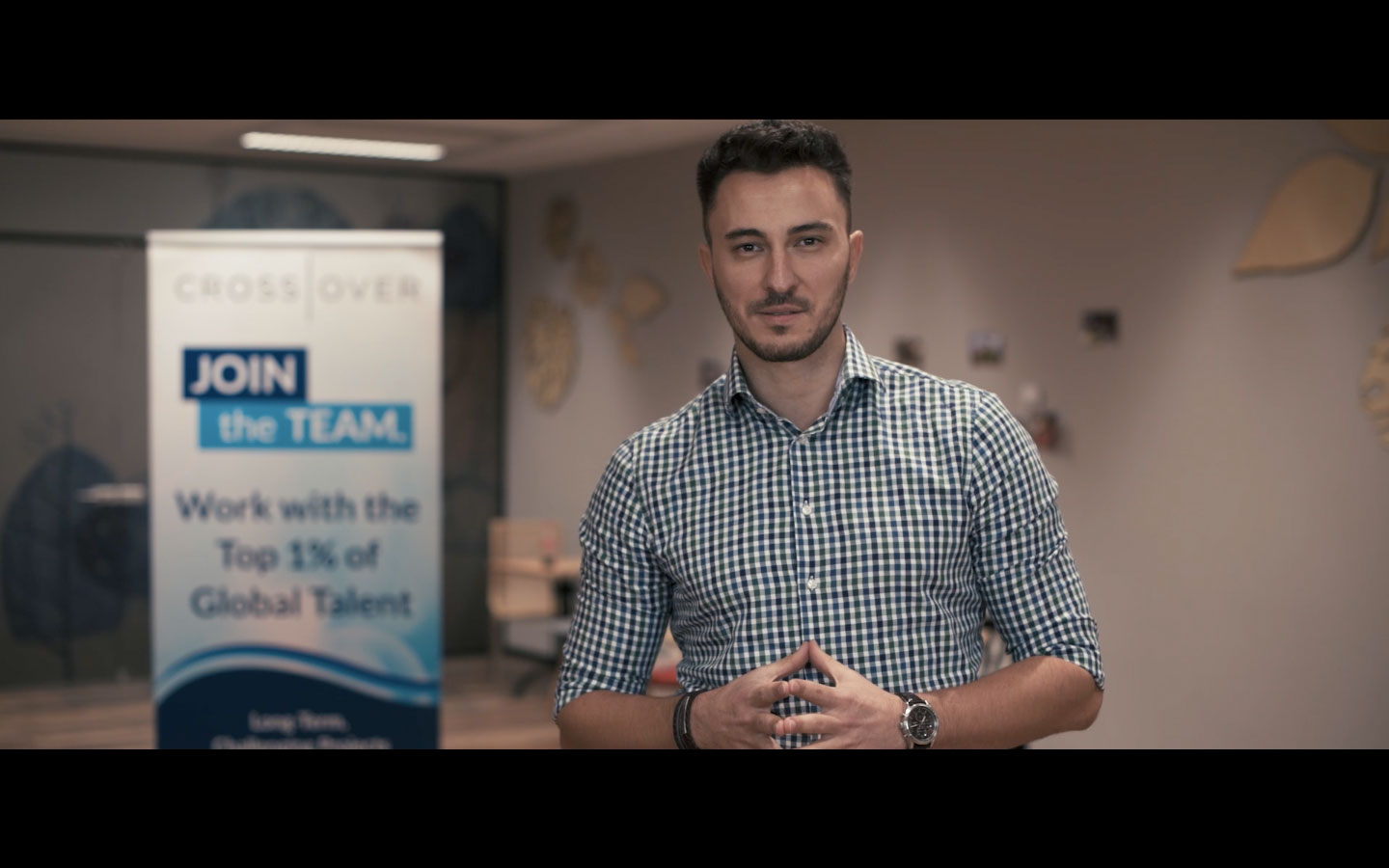 Watch the Pre-Event Checklist Video: