SVHealth July – Networking, StartUps and Keynote by Leonard Kish, CEO of Yo...
Description



SVHealth July 2017 Agenda:
Welcome to SVHealth.co is the largest health tech innovation group in the SF bay area. Welcome to our monthly event!
6-7pm Networking
7-7:30pm Startup 5&5.
Three health startups will have five minutes to present and five minutes for Q&A and resource sharing from the audience.
SmartHandSanitizer.com - Harmandeep Madra & Spencer Miller
HealthLinkages.com - Robert Barkovich
7:30-8pm Keynote Talk

Leonard Kish, CEO of YouBase.io
Leonard Kish is a known patient advocate and thought leader in the space of patient data ownership rights. He was named a Top 50 Health IT influencer. Kish's passion is to build an individual-centric health system by applying the science of networks to the problem. One-time neuroscience researcher studying the neuronal network effects of Parkinson's disease, with international project experience in China and Brazil, Leo's also an entrepreneur, digital strategist, writer, and consultant specializing in digital health as healthcare undergoes a generational shift from institutional care and reimbursement for medical procedures to individual control and empowerment.

He co-authored an article in Nature Biotech with Dr. Eric Topol explaining how a shift to patient-controlled health data networks could benefit current players: http://www.nature.com/nbt/journal/v33/n9/full/nbt.3340.html. Shortly after they founded YouBase which uses technology to enable some of the basic principles Leonard was able to extract thru his work.
8-9pm Networking
Stay in the loop online:
SVHealth Hub: https://www.gethubapp.com/hubs/07f6bbec-622b-41eb-856d-af885517d509

Facebook: www.facebook.com/groups/HSV20/
Twitter: https://twitter.com/SVHealth20
LinkedIn: www.linkedin.com/groups/Health-20-Silicon-Valley-4573855
Thank you to our 2017 Sponsors: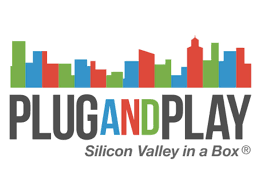 Plug and Play is a business accelerator that specializes in growing tech startups. Headquartered in Sunnyvale, CA, Plug and Play's global network includes 300+ tech startups, 180+ investors and a community of leading universities and corporate partners. From unique industry networking events, education and immersion programs to M&A, Plug and Play has everything tech startups need to get organized, connect and grow.