SVHealth Aug – Networking, StartUps and Keynote by Amanda Goltz, Digital In...
Description



SVHealth August 2017 Agenda:
Welcome to SVHealth.co is the largest health tech innovation group in the SF bay area. Welcome to our monthly event!
6-7pm Networking
7-7:30pm Startup 5&5.
Three health startups will have five minutes to present and five minutes for Q&A and resource sharing from the audience.
Sentiance.com - Nicholas Fuller
7:30-8pm Keynote Talk
Amanda Goltz, Digital Innovation, BTG
"
HOW DO HEALTHCARE ORGANIZATIONS DEFINE VALUE, AND WHAT ARE THE OPPORTUNITIES?

"




Amanda L. Goltz, MPA is the Vice President of Digital Innovation at BTG, a global medtech firm, managing the portfolio of digital initiatives combining medicines, device technology, and digital services to incorporate the patient experience and improve measurable outcomes. Previously, Amanda was the Director of Product Strategy and Innovation at Aetna, sourcing emerging solutions from the digital health and innovative networks marketplace, pairing them with employer clients, and directing implementation of the solutions at scale. Amanda has also managed the Innovation and Consumer Engagement portfolio at Pacific Business Group on Health (PBGH), a coalition of 60 employers who collectively provide self-funded health coverage to over 10M employees and dependents at an annual cost of $12B. Prior to PBGH, Amanda was senior advisor to the national healthcare practice at Manatt Health Solutions. From 2005 to 2009, Amanda served as Program Director at Partners Healthcare, the integrated delivery network founded by Brigham and Women's Hospital and Massachusetts General Hospital, managing a system-wide quality improvement initiatives. Amanda advises several start-up companies as a mentor at 500Startups, Rock Health, and StartXMed, health and life sciences incubator for Stanford University. Amanda received her MPA in Health Finance and Management from New York University and her BA from Columbia College of Columbia University.

Follow her on:



8-9pm Networking
Stay in the loop online:
Facebook: www.facebook.com/groups/HSV20/
Twitter: https://twitter.com/SVHealth20
LinkedIn: www.linkedin.com/groups/Health-20-Silicon-Valley-4573855
Thank you to our 2017 Sponsors: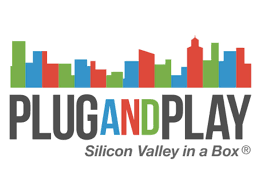 Plug and Play is a business accelerator that specializes in growing tech startups. Headquartered in Sunnyvale, CA, Plug and Play's global network includes 300+ tech startups, 180+ investors and a community of leading universities and corporate partners. From unique industry networking events, education and immersion programs to M&A, Plug and Play has everything tech startups need to get organized, connect and grow.