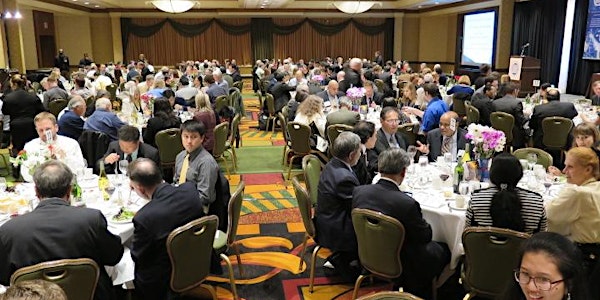 SVEC Engineers Week Banquet (2/22) with Dale Dougherty, founder and CEO of...
Event Information
Location
Hyatt Hotel
5101 Great America Parkway
Santa Clara, CA 95054
Description
The Silicon Valley Engineering Council (SVEC) proudly presents its 2017 Silicon Valley Engineers Week Banquet on Wednesday, February 22, 2017. The SVEC honors outstanding individuals for their contributions by welcoming them into its Hall of Fame. The banquet will also feature a distinguished keynote speaker and award several scholarships for academic excellence. The Hall of Fame ceremony recognizes local engineers for their outstanding professional achievements, both in engineering and technology-- and for significant contributions to the community. Tickets are $125 through 2/5 and $140 thereafter. Full tables accommodate 10 diners. If you belong to an SVEC member society, contact techelise@gmail.com for a discount code.

5:30 PM Networking Reception and No-Host Bar
7:00 PM Dinner with Friends
Keynote by Dale Dougherty, founder and CEO of Maker Media, Inc. "Free to Make"

DALE DOUGHERTY has been a champion of makers and a leader of the Maker Movement, claiming in a TedTalk that "All of Us are Makers." In 2005 he founded MAKE: Magazine and a year later organized the first Maker Faire in the San Francisco Bay Area in 2006, both of which were catalysts for a global Maker Movement. At the 2014 White House Maker Faire he was introduced by President Obama as an American innovator making significant contributions to the fields of education and business. Dougherty is the author of "Free to Make: How the Maker Movement Is Changing our Jobs, Schools and Minds" with Adriane Conrad. He is founder and CEO of Maker Media, Inc. in San Francisco, CA
2017 Hall of Fame Inductees

Dr. Chenming Hu
TSMC Distinguished Professor Emeritus
University of California, Berkeley

Dr. Richard J. Stuart
CEO, ARES Holding Corporation

Dr. David N.K. Wang
Former CEO, SMIC, Former EVP, Applied Materials

Lemon chicken with Saffron Vegetable Risotto, Baby Carrots, Sweet Roasted Pepper Coulis, Spinach Chips

Grilled salmon with Olive Oil Whipped Potatoes, Grilled Asparagus, Ratatouille Ragu, Basil Chips

Vegetarian Whole Wheat Penne with Eggplant and Tomato-Olive Ragout


Dinner includes a w

inter greens salad with Spiced Pears, Fennel, Sonoma Goat Cheese, Candied Cashews, Cherry Vinaigrette plus

wine, coffee, and international teas. Dessert is

Apple Caramel Cheesecake, Cinnamon Crème Anglaise



No walk ins please. Tickets can also be purchased by sending a check to:
Silicon Valley Engineering Council, c/o Metin Ozen, Treasurer
1210 E Arques Ave #207 Sunnyvale, CA 94085

Inductee Bios:
Dr. Chenming Hu
Chenming Hu is TSMC Distinguished Professor of Microelectronics Emeritus at University of California, Berkeley and Chairman of Friends of Children with Special Needs based in the Silicon Valley. Dr. Hu was the lead inventor and developer of the 3D transistor, FinFET, that has allowed the semiconductor technology to advance beyond 20nm and the Moore's Law extended. He leads the development of the BSIM family of transistor models. They are industry-standards and have bridged integrated circuits (IC) design and IC manufacturing around the world since 1996. He also developed IC reliability tests and models that have been widely used by the semiconductor industry since 1980's. Dr. Hu received the National Technology and Innovation Medal from President Obama in the White House in 2016. Institute of Electrical and Electronic Engineers called him "Microelectronics Visionary – achievements critical to producing smaller yet more reliable and higher-performance integrated circuits." It awarded him the Jack Morton Award, the Solid State Circuits Award, and the Nishizawa Medal. He is a member of the US Academy of Engineering, Chinese Academy of sciences, Academia Sinica, and The World Academy of Sciences. Dr. Hu has published five books on solar cells, semiconductor devices, FinFET and BSIM models as well as 1000 research articles. Among the education awards that he has received are the SRC Aristotle Award, IEEE EDS Education Award, and UC Berkeley's highest honor for teaching – the Berkeley Distinguished Teaching Award. Chenming Hu received his B.S. degree from National Taiwan University and M.S. and Ph.D. degrees from UC Berkeley.
Dr. Richard J. Stuart

Dr. Stuart is a graduate of the University of Connecticut and Stanford University with his PhD in Engineering Mechanics. Dr. Stuart's PhD dissertation was "Vibration of Edge-Reinforced Plates" and he focused much of his early career solving vibration problems and improving seismic safety. He served as a military officer in the US Army Corps of Engineers and was decorated in both Germany and Vietnam. Later, at the US Nuclear Regulatory Commission (NRC) he managed the structural, seismic, and mechanical engineering, and materials safety for US nuclear operating reactors. Dr. Stuart was part of a team that implemented the first Probabilistic Risk Assessment (PRA) on a commercial nuclear power plant.
Dr. Stuart has spent the balance of his career applying quantitative risk assessment computer tools and techniques within "high-consequence" industries such as: commercial nuclear power, the US Department of Energy (DOE), the US Department of Defense – Defense Threat Reduction Agency, NASA human space flight, NASA satellites and boosters, environmental cleanup of mixed-wastes (radiological and toxicological wastes), and, vulnerability assessments of terrorists risks. Dr. Stuart formed ARES Corporation in 1992 to implement Applied Research & Engineering Sciences on engineering and design, risk management, project management and security assessments in "high-consequence" industries. Today, ARES has more than 800 employees with operations throughout the US and overseas. ARES' software products are widely used to reduce the risks of terrorist attacks on critical infrastructure and to manage the design and construction of large capital projects.
Dr. David N.K. Wang

Dr. Wang is a pioneer and inventor with over 100 patents for breakthrough products in etch and CVD technologies which enabled the steady progress of Moore's Law. He received the first ever lifetime achievement award from Semiconductor Equipment and Materials International (SEMI).
Dr. Wang began his career at Bell Laboratories where he conducted research in plasma etch, plasma CVD and X-ray lithography. He joined Applied Materials in 1980 and was principal developer of the AME 8100 and AME 8300 plasma etch systems that catapulted Applied Materials from 0% to over 50% market share in etch. He was appointed President of Applied Materials Asia in 2004. Dr. Wang was a co-developer of the Precision 5000 (CVD and Etch) systems, the industry's most successful product ever. In 1993, the product was inducted into the permanent collection of the Smithsonian Institute in Washington, D.C.
Dr. Wang joined Huahong Group as Chairman & CEO in 2005, driving a 7-fold increase in profitability in 2 years and establishing the company as a leader in China. In 2009, as President and CEO of Semiconductor Manufacturing International Corporation (SMIC), he successfully executed a massive turnaround and brought the company to profitability for the first time in its history.
Dr. Wang received his B.S. degree in Chemical Engineering from Chung Yuan University, Taiwan, M.S., Metallurgical Engineering, University of Utah, and his Ph.D. in Materials Science & Engineering from UC Berkeley.
Outside of his professional career, Dr. Wang has been very supportive of related professional societies and universities. He has also been a dedicated benefactor for the arts and charitable organizations in Silicon Valley, and continues to build bridges between the US and China.
Date and time
Location
Hyatt Hotel
5101 Great America Parkway
Santa Clara, CA 95054