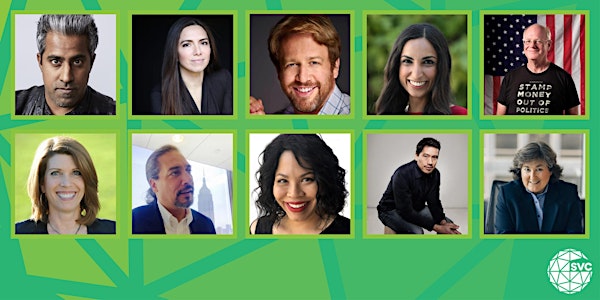 SVC 2019: Welcome to the NEXT Economy
When and where
Location
Claremont Club & Spa 41 Tunnel Rd. Berkeley, CA 94705
Description
A Convening of Business Leaders & Impact Investors
Early confirmed speakers include (view the full list of confirmed speakers and our program here):
Anand Giridharadas (Author, Winners Take All; Special Correspondent, TIME)
Nathalie Molina Niño (Investor; Author, LEAPFROG: The New Revolution for Women Entrepreneurs)
Cheryl Contee (CEO, Do Big Things; Author, Mechanical Bull: How You Can Achieve Startup Success)
Melanie Dulbecco (CEO, Torani)
Bruce Poon Tip (Founder, G Adventures)
Erika Karp (Founder & CEO, Cornerstone Capital Inc.)
Damon Torres (Inventor & President, Robocast Inc. & Interactive Media Universe LLC)
Valarie Kaur (Civil Rights Activist; Author, Revolutionary Love)
Joe Sanberg (Co-Founder, Aspiration.com)
Jeffrey Hollender (Co-Founder & Former CEO, Seventh Generation; Founder, Sustain Natural)
Ben Cohen (Co-Founder, Ben & Jerry's; President, Stamp Stampede)
Valerie Red-Horse Mohl (Executive Director, SVC; Founder, Red-Horse Financial Group Inc.)
About
Social Venture Circle (SVC) is a membership network that equips entrepreneurs, impact investors, and capacity-builders with connections, money, and expertise in order to build businesses that drive the NEXT economy: one that is regenerative, equitable and prosperous for all. Join us and hundreds of your peers November 13-15 in Berkeley, CA for SVC's annual convening of business leaders and impact investors.
For over 30 years, high-impact business leaders, social entrepreneurs, and impact investors have convened at SVC conferences to have authentic conversations with values-aligned peers and get deals done. SVC's unique conference experience creates an environment where the real challenges, insights, and best practices of leading mission-driven businesses and engaging in impact investing can be discussed and put into action. SVC conferences facilitate peer-to-peer relationship building, and create a community where attendees can enhance their leadership, improve their businesses, build their portfolios, and expand their impact.
At SVC 2019, "Welcome to the NEXT Economy," expect:
Facilitated and open networking opportunities

Interactive discussions and proactive, action-oriented dialogue among peers

Opportunities to meet select early-stage social entrepreneurs raising capital, and begin the due diligence process onsite with other impact investors

Sessions that offer key takeaways and practical advice on best practices for social enterprises and impact investors

Inspiring and experiential presentations from innovative leaders on the future of mission-driven business

A deep cultural foundation that welcomes values-aligned business leaders and investors from a wide range of perspectives
Learn more about the conference, including speakers and program features, at conference.svcimpact.org.
Note: The conference will begin Wednesday, November 13 and run through Friday, November 15 with the likelihood of additional local activities held Saturday, November 16. We recommend reserving a hotel room for at least three total nights, November 13-15, departing on November 16. We will hold a closing circle the morning of November 16th for all of those able to attend.
Questions? Contact isaac@svcimpact.org.
Sustainability Commitment
SVC is committed to hosting an event that is as close to zero waste as possible and will be working with Inward Point in 2019 to achieve our sustainability goals. We will share more specific details as the event comes together regarding this commitment and aim to be as transparent as possible in this process to create an event that reflects the values our members and attendees hold.
Hotel Details
SVC has arranged a discounted group rate of $269/night (+tax) at the Claremont Club & Spa for single and two bed rooms. Reserve your room at this special rate here. Limited rooms at this discounted rate are available. We strongly encourage all attendees to reserve their rooms ASAP.
Conference Attendance Policy
SVC conferences are open to SVC members and prospective members. Prospective members may register as a non-member before joining our network. If you are not an SVC member and would like to join, please purchase the membership/registration ticket bundle. You can learn more about membership here. Former members can renew here and then register at the discounted member rate.
Cancellation Policy
SVC is happy to fully refund your event reservation, minus a 5% administrative fee, through July 1, 2019. Between July 2 and October 1, we are happy to offer a 50% refund after deducting the 5% administrative fee. In the final six weeks before the event, beginning October 2 we are not able to offer any refunds. If you need to cancel your registration, please contact isaac@svcimpact.org.
Can I Speak at SVC 2019?
Thank you for your interest in SVC 2019. We are not currently soliciting speakers for our 2019 conference. Our 2020 call for speakers, proposals, and ideas will be sent exclusively to SVC members. To ensure you are considered for 2020, please consider joining as a member at svcimpact.org/membership/.