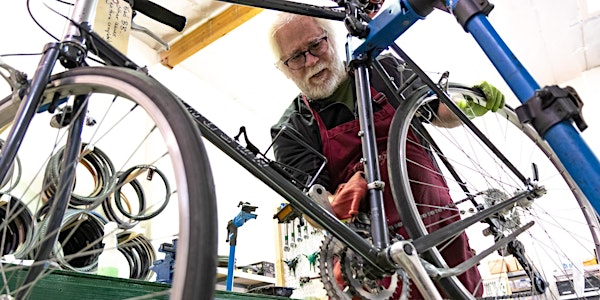 SVBE 4th Saturdays Volunteer Event: 10-3pm, Full Vaccination Required
Location
3961 E Bayshore Rd
3961 East Bayshore Road
Palo Alto, CA 94303
SVBE Saturdays! 10am-3pm. Ourdoors, max 15 people. You must be fully vaccinated and boosted if eligible. Please wear a N95/KN95 mask.
About this event
Come participate in our small Saturday volunteer event, 10am-3pm in our parking lot, rain or shine, under pop-up tents.
We'll wrench on bikes with a few fully-vaccinated and boosted (if eligible) SVBE friends.
Experience is required for 12 of the 15 spots, as mentorship is difficult with social distancing. How do we define experience? You should be comfortable fixing a flat tire, adjusting index shifting and brakes by yourself. Please note that the overall event size is larger than 15 as we have volunteers arriving from venues other than Eventbrite.
Please wear an N95 or KN95 mask.
Bring your own water bottle and food.
By registering for or attending any Silicon Valley Bicycle Exchange (SVBE) volunteer event, you acknowledge the risk of contracting a contagious disease and you assume this risk and release SVBE, its staff, board, and other volunteers from any liability. This agreement is in addition to any previous release of liability you have signed.
Also please print and fill out this waiver if you have not already: https://bikex.org/images/pdfs/volunteer-release-fillable.pdf