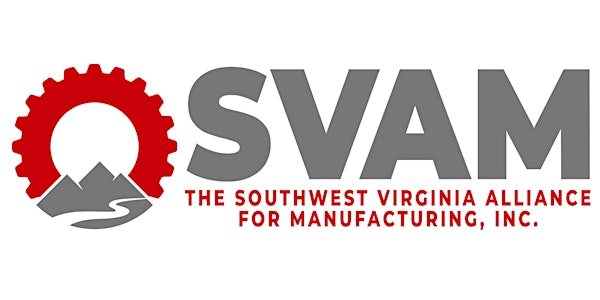 SVAM Annual Meeting
Learn about The Southwest Virginia Alliance for Manufacturing and its accomplishments from the past fiscal year.
About this event
The Board of Directors of the Southwest Virginia Alliance for Manufacturing (SVAM) invite you to attend its Annual Public Meeting. The SVAM Board hosts this meeting each year to provide the community an opportunity to learn more about SVAM and what the organization does to fulfill its mission.
During the meeting, attendees will hear presentations about accomplishments for SVAM over the last fiscal year as well as hear plans for the upcoming fiscal year. SVAM will also be revealing its 2021-2022 Annual Report and 2022-2023 Strategic Plan.
Agenda:
Welcome
Presentation of SVAM Board Members
State of the Organization Report
Presentation of 2021-2022 Financial Report
Presentation of 2022-2023 Budget
Presentation of 2022-2023 Strategic Plan
Summary of 2022-2023 Operating Objectives and Initiatives
Public Comments
_____________________________________________________________________________
About SVAM:
The Southwest Virginia Alliance for Manufacturing, Inc. is a non-profit organization established to strengthen and grow manufacturers operating in Southwest Virginia. Led by manufacturers, SVAM utilizes its resources to provide support services to manufacturers to meet a wide variety of needs.
SVAM's Mission Statement: Supporting the sustainment and advancement of manufacturing in Southwest Virginia through regional collaborations, improving the image of manufacturing, and closing the skills gap.
SVAM'S GOALS:
1. To establish and promote regional collaboration in support of manufacturing and its careers as part of an educational and economic development initiative.
2. To redefine the image of manufacturing with young people, their parents, their educators, the community, and policy makers in a manner that increases the number of young adults and other members of the workforce who pursue manufacturing-based careers.
3. To close the skills gap for regional manufacturers by aligning educational and workforce training resources with the most pressing demands of area industry.
SVAM works with manufacturers across the region to meet their ongoing needs. SVAM provides direct services such as resources support, providing opportunities for manufacturers to share best practices with one another, promoting job openings, offering trainings, and much more. SVAM also offers a menu of benefits exclusive to its membership.
In its efforts to increase the number of job seekers in manufacturing SVAM provides manufacturing tours, videos, awards, scholarships, presentations and demonstrations to various groups, and much more.