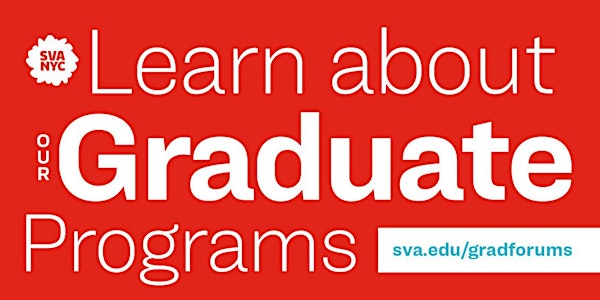 SVA Graduate Admissions Atlanta (GA) Forum
School of Visual Arts is hosting this in-person event in Atlanta (GA) for prospective students to learn about our 21 graduate programs.
When and where
Location
The Woodruff Arts Center (Memorial Arts Building, Beauchamp Carr Room) 1280 Peachtree Street NE Atlanta, GA 30309
About this event
Graduate Admissions at the School of Visual Arts (SVA) is pleased to host this event in Atlanta (GA) for prospective graduate students, educators or professionals.
We welcome anyone interested in learning about SVA's graduate programs, how to prepare an application and the Manhattan campus experience. This event can benefit those that know graduate school is definitely in their future as well as those curious about graduate study at SVA.
This is an in-person event where you can meet with Graduate Admissions staff, discuss your interests and pick up some SVA swag!
There are many benefits for attending:
Get tips about SVA's graduate application process.
Meet Graduate Admissions staff.
Receive an application fee waiver for 2023 entry. ($80 value)
Enjoy a private viewing of the Mod-Con Exhibit at the High Museum of Art.
Important Notes:
The 2023 application fee waiver will be applied to the email address used to register for this event. It is important to use the same email address consistently throughout the entire SVA graduate application process.
The private viewing of the Mod-Con Exhibit at the High Museum of Art is valid only on the date of the SVA event. To take advantage of this opportunity, please plan to arrive at the High Art Museum as early as 6pm on November 16th to enjoy the exhibition until the SVA program officially begins at 7pm in the Beauchamp Carr Room in the Memorial Arts Building at The Woodruff Arts Center.
The Mod-Con Exhibit is located on the skyway level of the Wieland Pavilion within the High Art Museum. The Memorial Arts Building houses Atlanta Symphony Hall and the Coca-Cola Stage at the Alliance Theatre. There will be directional signage to assist guests in wayfinding. Both the High Museum and The Memorial Arts Building are located at 1280 Peachtree Street NE, Atlanta, GA 30309.
SVA offers 21 graduate arts programs, including practice-based MFA, MPS and MAT programs, as well as MA programs, taught by our internationally renowned faculty. SVA's location in New York City and its state-of-the-art facilities offer graduate students exceptional opportunities for advanced studies in the arts.
MA Art Education
MAT Art Education
MFA Art Practice
MPS Art Therapy
MPS Branding (in-person and online programs)
MFA Computer Arts
MA Curatorial Practice
MFA Design
MFA Design for Social Innovation
MA Design Research, Writing and Criticism
MPS Digital Photography
MPS Directing
MPS Fashion Photography
MFA Fine Arts
MFA Illustration as Visual Essay
MFA Interaction Design
MFA Photography, Video & Related Media
MFA Products of Design
MFA Social Documentary Film
MFA Visual Narrative