Description


Join us for our September event and learn about Robo-Advisors and Stock Screening from an AAII-HQ analyst!!
---
Session 1:
Robo-Advisers: What They Do and How to Beat Them


Online advisory services, or robo-advisers, are a new phenomenon in today's investing world. With their growing capacity, services and assets under management, it's important to understand not only what they are but how they work. Many robo-services are attempting to cater to individual investors, but are they better than human advisers?
If you are considering a robo-advisory service, there are several important elements to look for before handing your money over. While many of the services are intriguing, Jaclyn McClellan, associate financial analyst at AAII, will also show how you might get better returns on your own than by using a robo-service.
YOU WILL LEARN:
What robo-advisers are, along with their benefits and caveats

How the services handle portfolios in changing market conditions

How the performance of robo-advisers compares to human advisers



Session 2:
Finding a Stock Winner: First Step Screening
While successful money managers may differ in their investing philosophy, a disciplined approach to selecting and pruning investments is a common characteristic. Jaclyn McClellan will show how computerized stock screening systems can be used to reduce a large universe of stocks into a manageable group of prospects that match your investment style. She will walk through the process of developing and implementing both a value and a growth screen using AAII's Stock Investor Pro fundamental stock screening and research database program.
YOU WILL LEARN:
How to develop a screening strategy that fits with your horizon, risk tolerance, analytical skills and time

Which value and growth strategies have had the best performance in AAII's fifteen-year-plus study of over 50 strategies

How to identify good investment prospects using value and growth screening strategies
Our speaker....
Jaclyn N. McClellan, Associate Financial Analyst, AAII; Product Manager, AAII Dividend Investing
Jaclyn contributes articles and reviews to Computerized Investing and writes for the AAII Journal.
Jaclyn is also editor for Dividend Investing and serves on the advisory committee for the Stock Superstars Report. She also analyzes the fund data and writes the commentary for the Top Mutual Funds Guide, the ETF Guide and the Quarterly Low-Load Mutual Fund Update.
Jackie is an honors graduate from DePaul University with a bachelor of science in business with a major in finance.
---
Our New Location:
The Garden House at Shoup Park
Our new home will be at the Garden House at Shoup Park in Los Altos. The Garden House represents a significant upgrade...
The facility can accommodate up to 150 people

It features a raised stage with a large drop-down screen and projector

The location features light airy outdoor view in a forested park setting

Plenty of free parking is available

Easy to find, central location

And much more...
There is one drawback: There is no Wi-Fi access at the location. Those of you who need Wi-Fi access will need to bring your own hotspot.
If you haven't been to the Garden House here is a photo of the interior...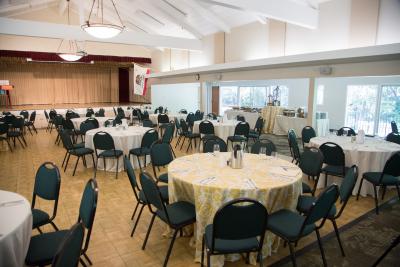 ---
Getting to the Garden House at Shoup Park
Below are a few maps with links to the Google maps -- starting with getting there from South San Jose...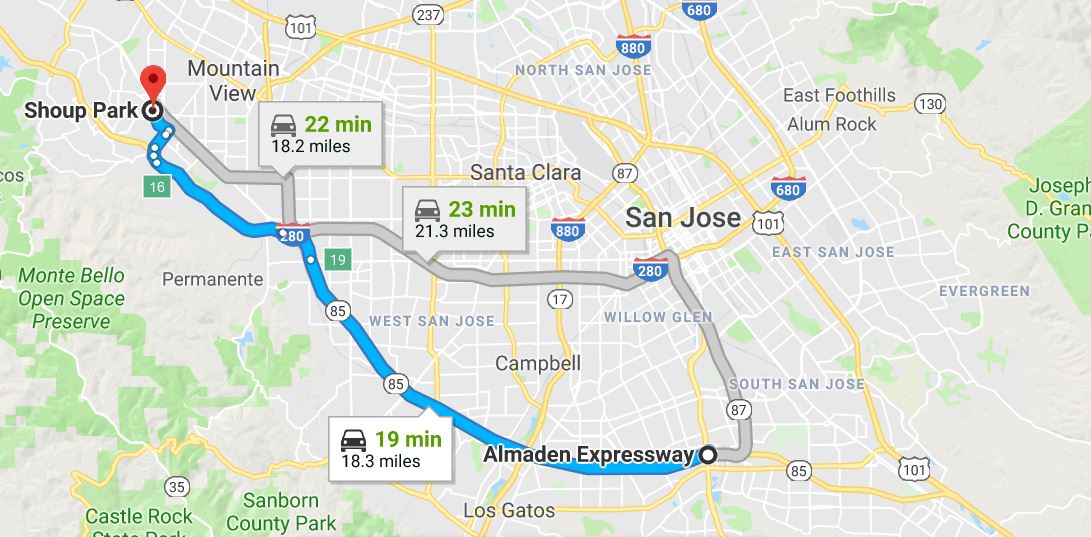 Getting there from the east bay...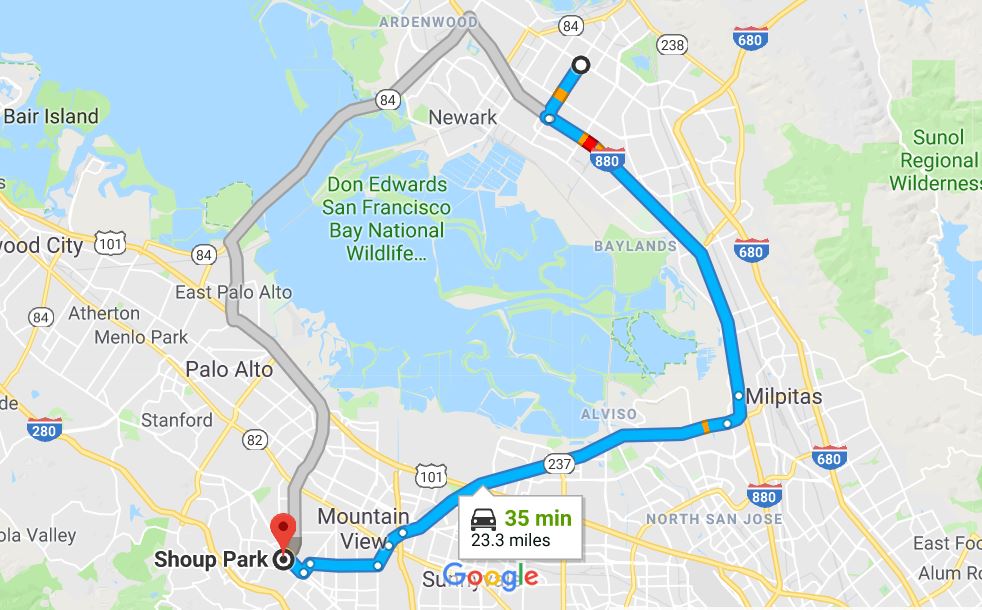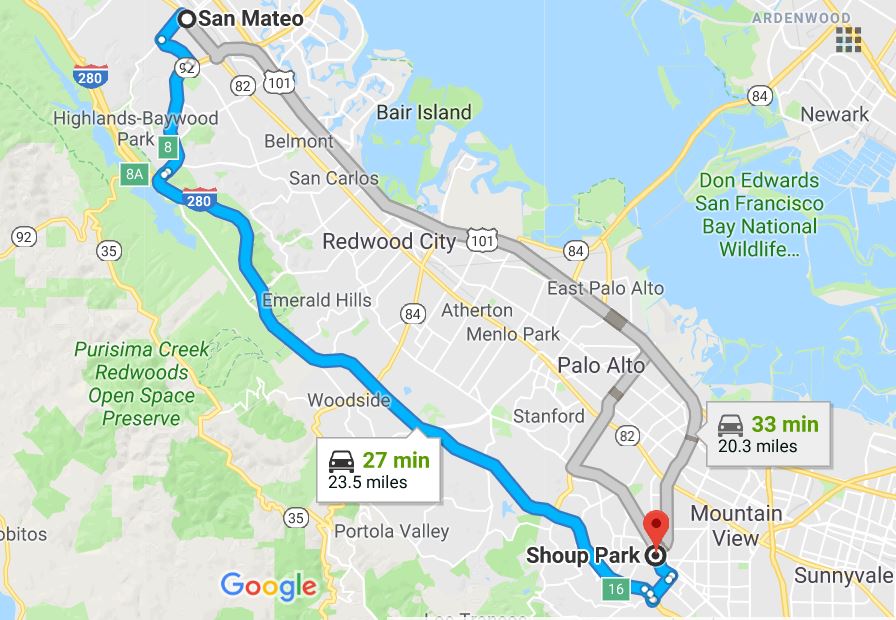 And a close up once you get into the area...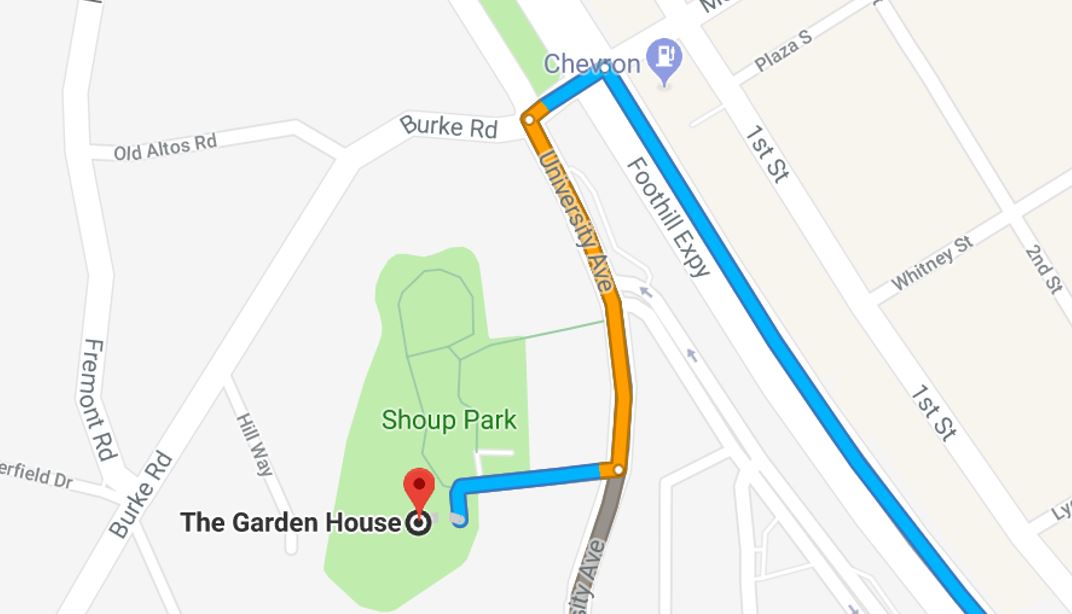 and the layout of theinterior, parking and such...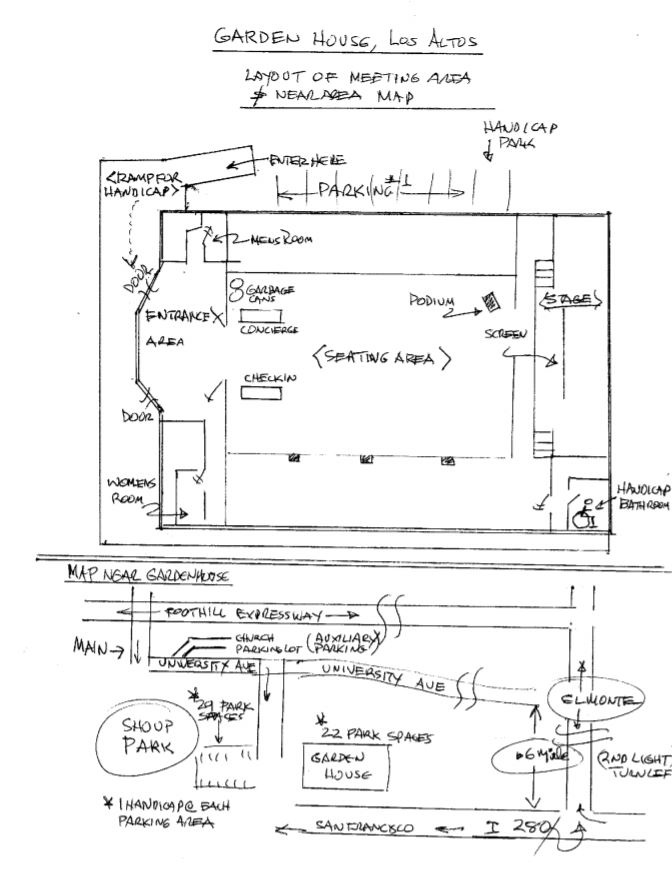 ---


We're webcasting this session live....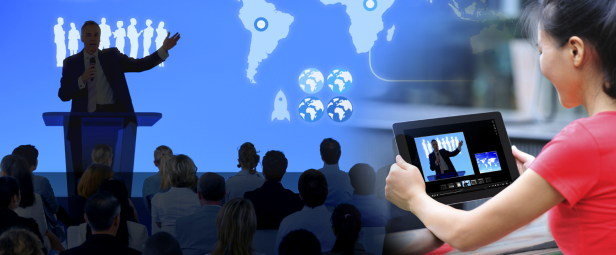 This season the chapter will be webcasting as many of our events "live" from our Shoup Park Garden House location as circumstances allow. We strongly encourage you to attend our events in-person if you're in the area and your schedule permits. (We love seeing and interacting with our members.) However, if you're out of area or your Saturday schedule can't afford the extra commute time, feel free to attend via webcast.
All participants will get the option to attend in person or remotely via the webcast -- the choice is yours!
If you're participating live at our Shoup Park Garden House location our speaker will be presenting live just as in the past.

If you're participating via webcast, you'll be able to interact with the speaker, ask questions, etc. via the webcast chat window. (Board members will ask your questions on your behalf.)

With the speaker's permission, we'll have copies of the speaker's slides available for download at our website before the event begins

After the event all participants -- live at Shoup Park or remote via webcast -- will get access to recording of a session.
We're working hard to allow our members the choice to particpate live or via webcast based on their needs. We hope this makes our events both more enjoyable and accessible to you.
-- The AAII-SV Chapter Board
---
OK, so how does this webcast thing work???
It's pretty simple, really...
You buy your ticket, you get an email confirming your purchase, and we log your email address.

On the Thursday before the event we send you an email with the link to the event and directions on how to log on to Zoom (our webcast tool). We'll repeat this email on Friday.

The morning of the event we'll send you the password to enter the event (you can enter starting at 8:30)

When you enter the webcast you'll see some of our slides on the screen. (BTW, we'll mute your audio and disable your camera so there aren't any distracting pictures, videos or sounds.)

You can ask questions at any time via your chat window. (You must use the Zoom applicaiton to use the chat window.) Your hard-working Board members will capture your questions and ask our speaker your questions.

That's it!!
For those eager-beavers who just have to study ahead and find out more....
Let us know if you have any questions!
---
More Information on the event...
If you haven't visited us in a while, You'll notice that we've lowered our pricing so early registration is $20 and late registration is $25

Students under 25 (with ID) enter Free. (No registration required, show ID at Registration Desk)

No refreshments (e.g., coffee) are provided -- plan accordingly.

To have a bit of fun, we raffle off investment books, event tickets and other items

If you are a 4Ever ticket holder or hold a Guest Pass we ask you to register by mailing your 4Ever ticket or Guest Pass in with the registration form. If you don't pre-register you can still bring your 4Ever ticket or event pass to the registration table -- but you're subject to space availability restrictions.

Our concierge table provides you with speaker and AAII-SV handouts, AAII information, a book swap area (bring a book, take a book), hand outs from past speakers, and other "good stuff". Better yet, there is always a Board member or two present where you can ask questions, provide event feedback, make suggestions, etc.
---
EVENT SCHEDULE
8:30 AM - Registration (The webcast will be up at this time)

8:45 AM - Meet the Board Session
8:55 AM - Chapter Announcements, Speaker Introduction
9:00 AM - Session 1 Presentation
10:15 AM - Break
10:30 AM - Session 2 Presentation

11:30 AM - Q & A