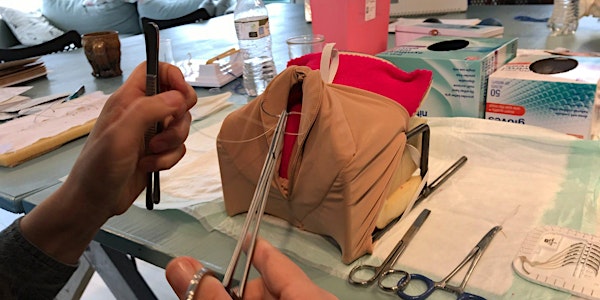 Suturing for Midwives: Repair of Birth Lacerations at Community Birth
For midwives novice to expert who want to refine their suturing skills & learn the latest recommendations for repair of birth lacerations
Refund Policy
Contact the organizer to request a refund.
Eventbrite's fee is nonrefundable.
About this event
This videoconference hands-on workshop builds on the basic competencies for suturing, knot-tying, and repair of birth lacerations. Focus is on effective instrument handling, relevant anatomy, and systematic assessment and approximation of lacerations that occur during birth. Education and simulation are combined so that everyone learns by doing. To ensure everyone gets individualized mentoring, workshops are limited to 6 participants.
Workshop Fee $195 – 3.5 contact hours. MEAC Specialty credit applied for. Fee includes instruments, flat model, and suture. Discounts available, please see below.
*Registration closes two weeks before event begins to allow time for supplies to arrive.* Additional information & information on other workshops can be found at www.nelltharpecnm.com
There is 1 Reparations Ticket per session for a Black or Indigenous midwife whose ancestors were affected by historic enslavement or genocide. Ticket cost is $19.50 (10% of full ticket price) and includes all materials.
There is 1 Pay-What-You-Can-Ticket so that financial need is not a barrier to attending. Financial documentation is not required. Recommended minimum donation is $50 to partially cover the cost of materials and shipping ( $75 value). In determining what to pay for a Pay-What-You-Can-Ticket, consider your own financial situation as well as acknowledging the cost of materials and the services of your midwife educator. Just as I will encourage you not to undervalue your own midwifery skills in practice, so too I encourage you to recognize the value and the opportunity we offer that supports midwives while we earn a living.
Discounts:
Midwives of Color discount: All self-described BIPOC may receive a 15% discount. Use code: MOCEquity
Membership discounts: ACNM, NACPM members may receive a 10% discount. Use the appropriate code for you: ACNMMember; NACPMMember.
Student discount: Current students may receive a 35% discount. Use code: MWStudent.
HOW TO USE DISCOUNT CODES: The blue link to enter your promo code in Eventbrite is located at the top of the first screen shown when checking out, above the 'Tickets' heading. You'll need to know the code and enter it before you choose your ticket and check-out.
The link to enter your promo code is located at the top of the first screen shown when checking out, above the 'Tickets' heading. You'll need to know the code to submit.
For membership discounts, your Membership number is required.
One discount allowed per purchase.
Nell Tharpe is a Certified Nurse Midwife who has been teaching suturing skills to midwives since 1996. Nell is the original author of Clinical Practice Guidelines for Midwifery & Women's Health now in its 6th edition. Nell is committed to building midwifery suturing skills for midwives at all levels and all practice sites. Workshop teaching techniques include PowerPoint lectures, demonstrations and return demonstrations, simulation of clinical situations, self-assessment, and interactive discussion.