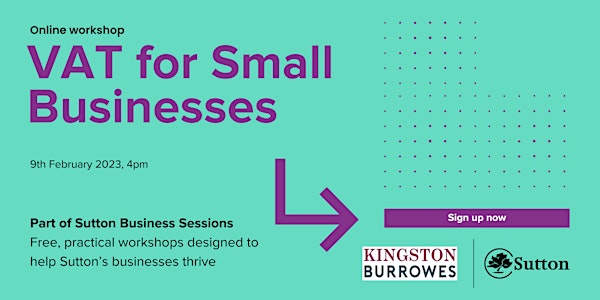 Sutton Business Sessions: VAT for Small Businesses
Sutton Business Sessions is a series of free, practical workshops designed to help local businesses thrive.
By London Borough of Sutton Business Support
When and where
Date and time
Thu, 9 Feb 2023 08:00 - 09:00 PST
About this event
About this event - VAT for Small Business
If VAT is a mystery and you're wondering how it might apply to your business, then this online session has got it covered. Explore the VAT essentials, from what it is and where it applies, to the practicalities of completing a VAT return.
Gain a clear understanding of what to do when your business reaches the VAT threshold and the factors you need to consider if you are planning to register for VAT.
Part of Sutton Business Sessions
Sutton Business Sessions is a series of free, practical workshops designed to help local businesses thrive. The workshops are being delivered in partnership between Sutton Council and business experts including Kingston Burrows
Topics include:
Saving money on your energy bills
Business Planning
Planning for growth
VAT for small businesses
Find all the events and register on Sutton Council's Eventbrite page.
Find out more about how the Council is supporting local businesses, and how it can help you grow yours, at https://www.sutton.gov.uk/businesses-and-licensing
For all the latest information relating to businesses in Sutton sign up to our newsletter Sutton Business Scene https://www.sutton.gov.uk/-/sutton-business-scene
About Kingston Burrows
Founded on expert knowledge, quality customer service and value for money, Kingston Burrowes has been providing accountancy services and tax advice for more than ten years.
They aim to understand the priorities of their clients to achieve the most effective solutions and as a small business, they have an understanding of the challenges faced by their customers.
They provide a wide range of services including accountancy and taxation advice, VAT returns, bookkeeping, payroll, and financial planning.
Data Protection
I consent to the information given in this form and details of the support I receive being shared with the London Borough of Sutton, and relevant partners for the purpose of support and reporting. Please be advised that you may be contacted for research purposes by the London Borough of Sutton, the Government or their third parties. The London Borough of Sutton's full privacy notice is available at Sutton.gov.uk.