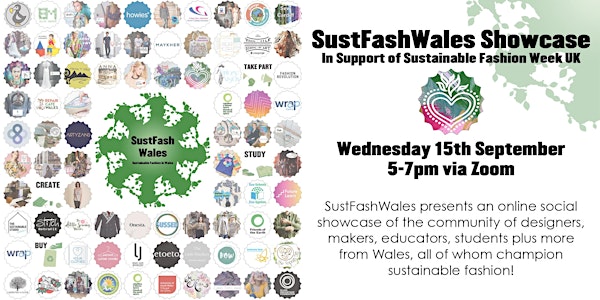 SustFashWales Community Showcase for Sustainable Fashion Week UK
SustFashWales presents a showcase of designers, makers, educators, students and more from Wales.
About this event
To celebrate Sustainable Fashion Week UK between 11th-19th September, SustFashWales will be presenting an online evening showcase featuring designers, makers, educators, students plus more, from across Wales all of whom champion sustainable fashion!
Hosted by SustFashWales founder, Helen O'Sullivan it will be a perfect opportunity to both see the work and connect with the designers, makers and educators from the SustFashWales directory of Welsh sustainable fashion. You will get to hear their experiences, their challenges and top tips/advice for making more responsible choices when shopping for fashion. There will also be time for questions from the public.
The evening will cover:
📚 Education
🛍️ Accessories
👗 Fashion
💪 Action
Presenters include:
• AMC/Creative Orange Studio💪
• Bridgend College Fashion📚
• Carpenter & Cloth👗
• Elena Conti Wear Not Waste📚👗
• G.O.S.H GIRL👗
• Lesley Jane Jewellery🛍️
• Lifeforms Art👗
• Onesta👗
• Ophelia Dos Santos👗
• Penyrheol Comprehensive Pupils📚
• Rainbow Heart Designs👗
• Repair Cafe Wales💪
• Rubbish Reinvented🛍️
Check your inbox for the Zoom joining link, including your spam folders!