This training will provide an understanding of how to sustain yourself in the work by providing key learnings and mindset shift.
About this event
Sustaining Yourself at Work
Webinar - Wednesday, July 28th 9:00 - 10:30 am
Current research supports that we, employees of systems and organizations, cannot produce desired outcomes for those we serve without a stable, engaged, and healthy workforce. As helping professionals, our wellbeing is affected; we oftentimes take care of others and forget to tend to our own needs in the process. This training will provide an understanding of how to sustain yourself in the work by providing key learnings and mindset shift.
Learning Objectives
· Gain a deeper understanding of the meaning of workforce well-being and individual resilience
· Gain an understanding of warning signs and signals, as well as remedies, for burnout and compassion fatigue.
· Gain ideas of how to attend to and improve your own well-being
_________________________________________________________________________________________________
Who Should Attend:
Professionals working within healthcare, social services, substance misuse and mental health providers across a continuum of care, representatives of community based organizations and state agencies that serve youth, families and adults across the lifespan, local and state policy makers, and people with lived experience
_________________________________________________________________________________________________
Presenter:
Dr. Amelia Franck Meyer is the founder and CEO of the national non-profit, Alia: Innovations for people and systems impacted by childhood trauma. Amelia and Team Alia are leading a national movement to keep children safe with, not from, their families.
Alia works with child welfare leaders who are innovators and early adapters in jurisdictions around the country and the globe to create transformational change child welfare. The new way of work is referred to as an "UnSystem;" although we don't know what the new way will eventually be called, we know it's not this system.
Amelia was named as one of People Magazine's "25 Women Changing the World" in 2018, and in 2020, Amelia was also named by AARP MN and Pollen Midwest as a 50over50 Honoree—System Reformer in the Disruptor Category. Amelia has a widely viewed TEDx Talk on the Human Need for Belonging. Along with many awards from her alma maters, Amelia has also been honored was a Bush Fellow and an Ashoka Fellow.
There is no cost to attend.
This webinar is being Offered by the VT Suicide Prevention Center under funding from the Vermont Department of Mental Health as a component of the 2021 Vermont Suicide Prevention Symposium.
To register for the webinar click on the green "Register" button above.
_________________________________________________________________________________________________
Vermont Suicide Prevention Symposium 2021
OFFERED VIRTUALLY
August 4th, 2021
For more Information and to register for the full Symposium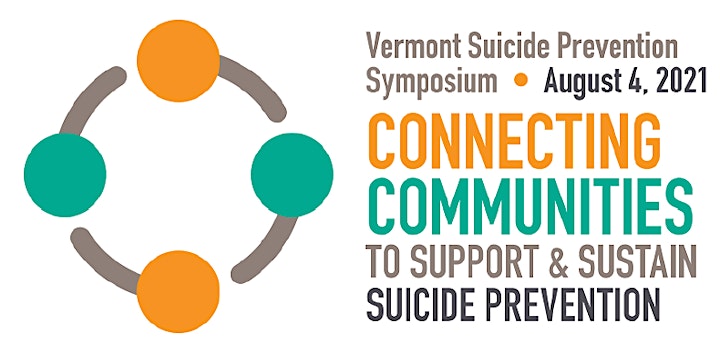 Organizer of Sustaining Yourself at Work