Sustaining Nature in an Urbanizing Landscape

Thursday, November 8, 2012 from 9:00 AM to 4:00 PM (EST)
Event Details
On-line registration is required for all attendees.  A hot lunch and morning coffee will be provided for all registered attendees.  Registration deadline is November 1st.  Contact Christine Conn at (410) 260-8785 or cconn@dnr.state.md.us for additional information.  
---
Explore how nature, growth and the built environment can coexist in ways that benefit us all.  Join us in this conversation with national, state and local leaders in Smart Growth and Regional Planning.  Learn how members of the Baltimore-Washington community are working to sustain nature in this urbanizing landscape.
---
9:00    Registration
9:30    Workshop Overview and Induction of New BWPFS Members
Gary Allen, BWPFS Co-Chair, Center for Chesapeake Communities
9:45    Our Keynote Speaker:  Governor Parris N. Glendening, President of the Smart Growth Leadership Institute
Governor Parris N. Glendening provides the foundation for today's workshop by inspiring us to achieve healthy, green cities and suburbs that are well integrated with the natural environment.  The Governor will reflect upon experiences, initiatives, challenges and successes across the nation and here at home.
Morning Session:  Setting the Stage for Maryland's Future
10:30  Maryland's Challenges and our Pathway Forward
Richard E. Hall, Secretary, Maryland Department of Planning
Jon Laria, Chair, Maryland Sustainable Growth Commission
This one hour special session calls upon our State leaders in Smart Growth to forecast the growth pressures that the Baltimore-Washington corridor is facing and how Maryland is poised to address this through existing and new initiatives such as the 2012 Septics Bill, PlanMaryland and Chesapeake Watershed Implementation Plans
11:30  Making the Case for Regional Environmental Planning
C.J. Lammers, Master Environmental Planner, MNCPPC-PG
Our local government expert will discuss why regional environmental planning is necessary to address environmental conservation, a strong regional economy and healthy citizens and why all three factors need to be considered in growth management plans.  She will emphasize the importance of regional green infrastructure planning as the needed response to regional growth management and examine how this has been achieved through green infrastructure planning in Prince George's County. 
12:00  LUNCH
Afternoon Session:  When Infrastructure Invades Nature - How to Maintain and Rebuild Nature
This session highlights programs and "boots-on-the-ground" case studies of sustaining nature in the Baltimore-Washington Corridor's urbanizing landscape
1:30    Transportation Improvement Projects – Avoidance, Minimization, Mitigation and Environmental Stewardship
Rob Shreeve, Deputy Director, Office of the Intercounty Connector, Maryland State Highways Administration
2:00    Transmission Line Right of Ways – Managing for Nature's Benefits
Rick Johnstone, President, IVM Partners, Inc.
2:30    Greenbelt Urban Forest Garden Partnerships
Kim Walsh, Chesapeake, Education, Arts and Research Society
3:00    Balancing Nature and Growth at Fort Meade
John Houchins, Natural Resources Program Manager, DPW, Environmental Division, Fort George G. Meade
3:30    Planning for Climate Change Adaptation and Healthy Forests at the NASA Goddard Space Flight Center
Molly Brown, Research Scientist, NASA Goddard Space Flight Center
4:00    ADJOURN
When & Where

Patuxent National Wildlife Visitors Center
10901 Scarlet Tanager Loop
Laurel, MD 20708-4027


Thursday, November 8, 2012 from 9:00 AM to 4:00 PM (EST)
Add to my calendar
Organizer
Baltimore Washington Partners for Forest Stewardship (BWPFS)
The Baltimore Washington Partners for Forest Stewardship (BWPFS) is a unique collaboration among federal, state and local government and non-profit agencies, working together, to promote healthy forested ecosystems.
Among all partners combined, the area of contiguous managed landscape is nearly 108 square miles.  These unique ecological resources under this management umbrella are among the last significant tracts of contiguous forest land in this highly urbanized region and provide important ecosystem services to Marylanders such as clean air and water, soil erosion and flood control, biodiversity and recreational and educational opportunities.  
BWPFS partner agencies include the Maryland Department of Natural Resources, Center for Chesapeake Communities, U.S. Department of Agriculture Beltsville Agricultural Research Center, U.S. Fish and Wildlife Service Patuxent Research Refuge, NASA/Goddard Space Flight Center, U.S. Army Fort George G. Meade, Cities of Greenbelt, Bowie and Hyattsville, Town of Cheverly, Maryland-National Capital Park and Planning Commission, University of Maryland, U.S. Secret Service, U.S. Forest Service, U.S. Geological Survey and U.S. Food and Drug Administration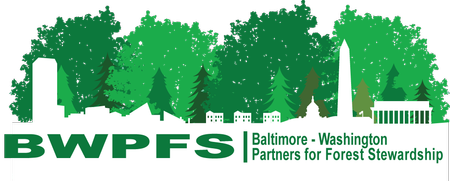 Sustaining Nature in an Urbanizing Landscape