Description
The Conflict Center is at the forefront of introducing Restorative Practices into Colorado schools.
We define Restorative Practices as a process by which an individual acknowledges wrongdoing, takes steps to repair harm, and is welcomed back into the community. This, in effect, fosters a culture that elevates dialogue and values relationships.
This workshop focuses on the intervention aspect of Restorative Practices, specifically when conflict arises or harm occurs. RP 101 and 201 teach the informal language and dialogue used to create culture and prevent greater harm. 301 picks up when a greater harm has been caused and addressing this harm requires a more intentional facilitation process. This workshop is specifically designed for those who have attended RP101 and RP201, or for those who are looking for formal circle facilitation practice. Ultimately, this session provides attendees with the ability to conduct formal Restorative Practice circles.
You will leave this training confident in the following areas:
Formally pre-conferencing students

Facilitating a formal circle

Following up with students and gaining feedback for greater insight

Using restorative language within the facilitation of a formal circle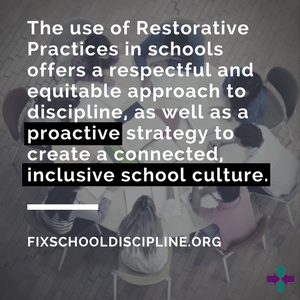 Breakfast and light snacks provided. One hour designated for lunch. Feel free to bring your lunch or we can suggest favorite nearby places to grab a bite to eat.
If you are looking for more information about the basics of Restorative Practices check out our 101 workshop. Seeking a more formal facilitation practice? Take our Restorative Practices: 301 workshop.